THE COSTA VERDE
The Costa Verde, translated as the Green Coast, is essentially the coastal areas of Sao Paulo and Rio de Janeiro states. This loosely runs from Santos in the south of Sao Paulo state to Buzios as you travel further north to the edge of Rio de Janeiro state. It's an area of beaches, mountains, lush rainforests, wildlife and the sparkling Atlantic Ocean.  
The 3 most popular areas in this region are Paraty, Ilha Grande and Buzios, all of which are similar but very different. Roughly 4 hours equidistant from both Rio de Janeiro and Sao Paulo is the colonial town of Paraty. It's a UNESCO heritage site and one of Brazil's best preserved and most loved towns. The historical centre, where most people stay is a grid of cobbled streets, pastel coloured buildings and churches which are wedged between the ocean and the rainforest. The bay of Paraty is the perfect location where to hire a boat for the day and head out to a secluded bay for a picnic lunch. There are lots of activities on offer in the town from whitewater rafting and trails leading to cachaça distilleries through to stand up paddle and diving in the bays. There are some lovely boutique hotels or for something more exclusive, Paraty is a great location to hire a villa, especially if you're travelling in a family. The town is also home to the largest literary festival in Latin America, called FLIP, which is a brings numerous international authors to the town annually. Ilha Grande (the big island) is a short drive followed by a short boat ride and is another exceptional location to hire a villa. It's more of a backpacker destination in terms of infrastructure but there are some fabulous beaches and deserted bays for you to explore. Just south of Paraty, towards Sao Sebastiao and Ilhabela, and also just north of Paraty, towards Angra dos Reis, are some excellent boutique luxury hotels. These are also superb areas for private villa rentals which become hugely popular for a Christmas or New Year family getaway to Brazil.
In the opposite direction from Rio de Janeiro, you will find the town of Armação dos Búzios (or Búzios for short) which is set on a peninsula east of Rio de Janeiro. It's very different to Paraty and has much more of a Mediterranean beach town feel to it with numerous beaches. These include Ferradura, on a calm horseshoe bay with water sports, and Geribá, a popular surfing site. The town centre of Buzios consists of a few cobbled streets including the Rua das Pedras which is full of numerous boutique shops, restaurants and bars. During the summer months, this is where the livelier nightlife can be found. Often clients want to decide between Buzios and Paraty as a way to finish a holiday to Brazil before flying home from Rio de Janeiro. The choice is personal but if you are looking for a more lively finish then Buzios offers the better options, whereas for a quieter stay, try Paraty. Either way, you won't be disappointed.
WHERE TO STAY
Our favourite luxury hotels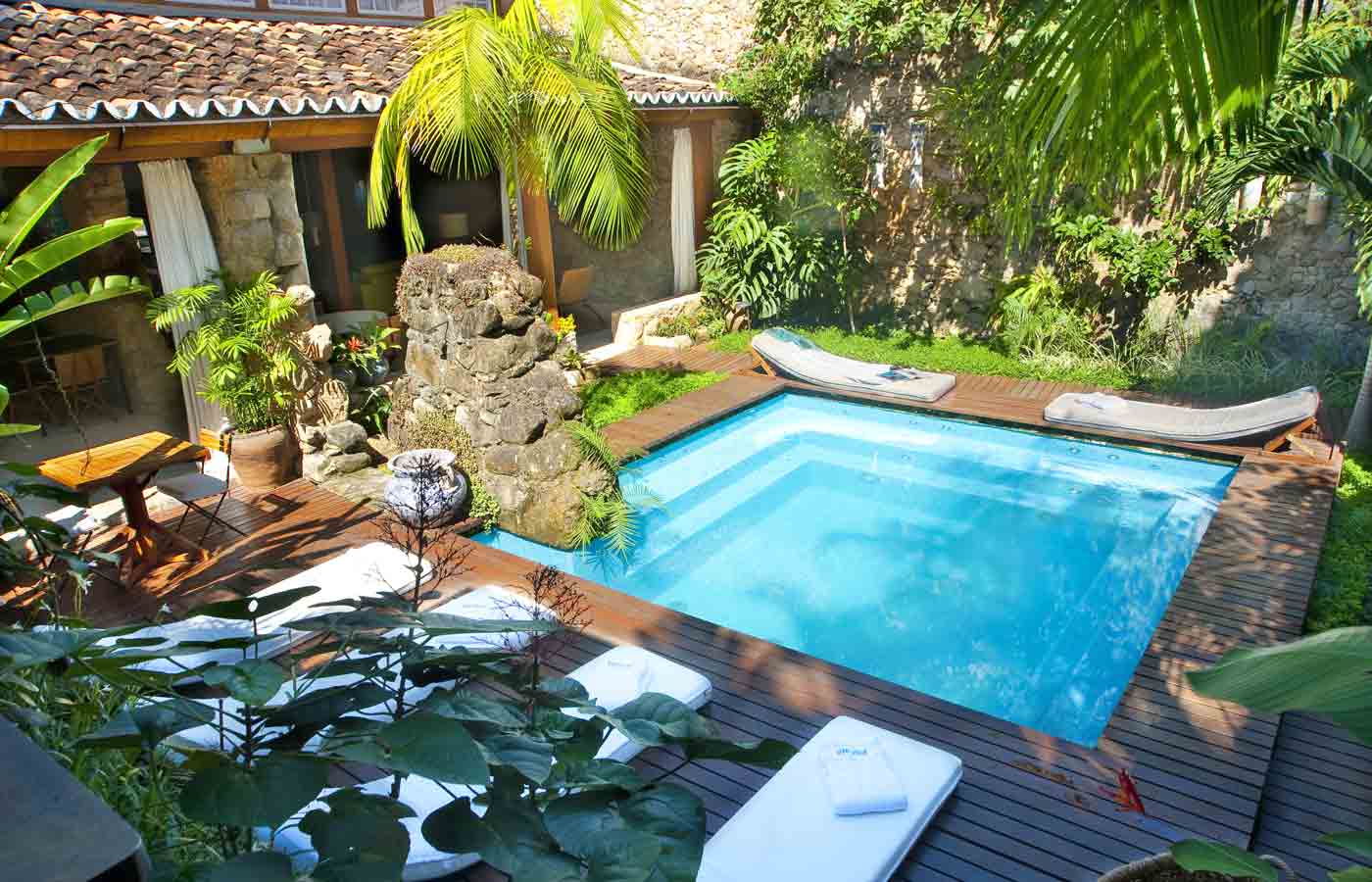 Casa Turquesa
The beautiful Casa Turquesa is situated in the colonial heart of historic Paraty and is a stunning property which combines charm and modernity to create a wonderful place to stay. The property is picture perfect and typically representative of Paraty's colonial past with its whitewashed walls and colourful windows and doors.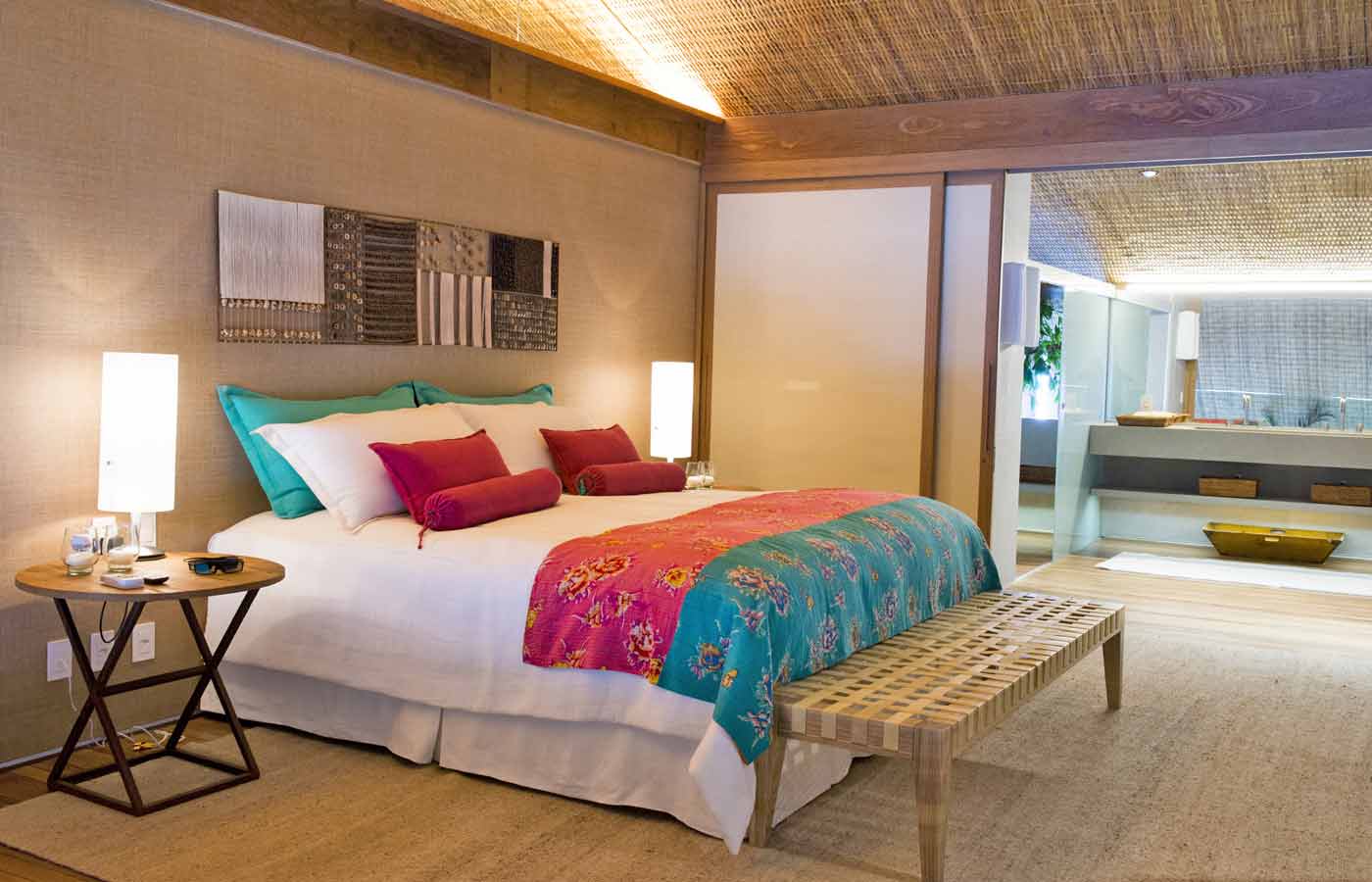 Pousada Literaria de Paraty
The Pousada Literária de Paraty is located in the historical centre of Paraty and occupies a fully restored colonial house.  The property is surrounded by cultural richness and natural exuberance and only 300 metres from Paraty pier. The luxury pousada has been decorated and refurbished by Jacobsen Arquitetura and all rooms at Pousada Literária de Paraty have excellent amenities.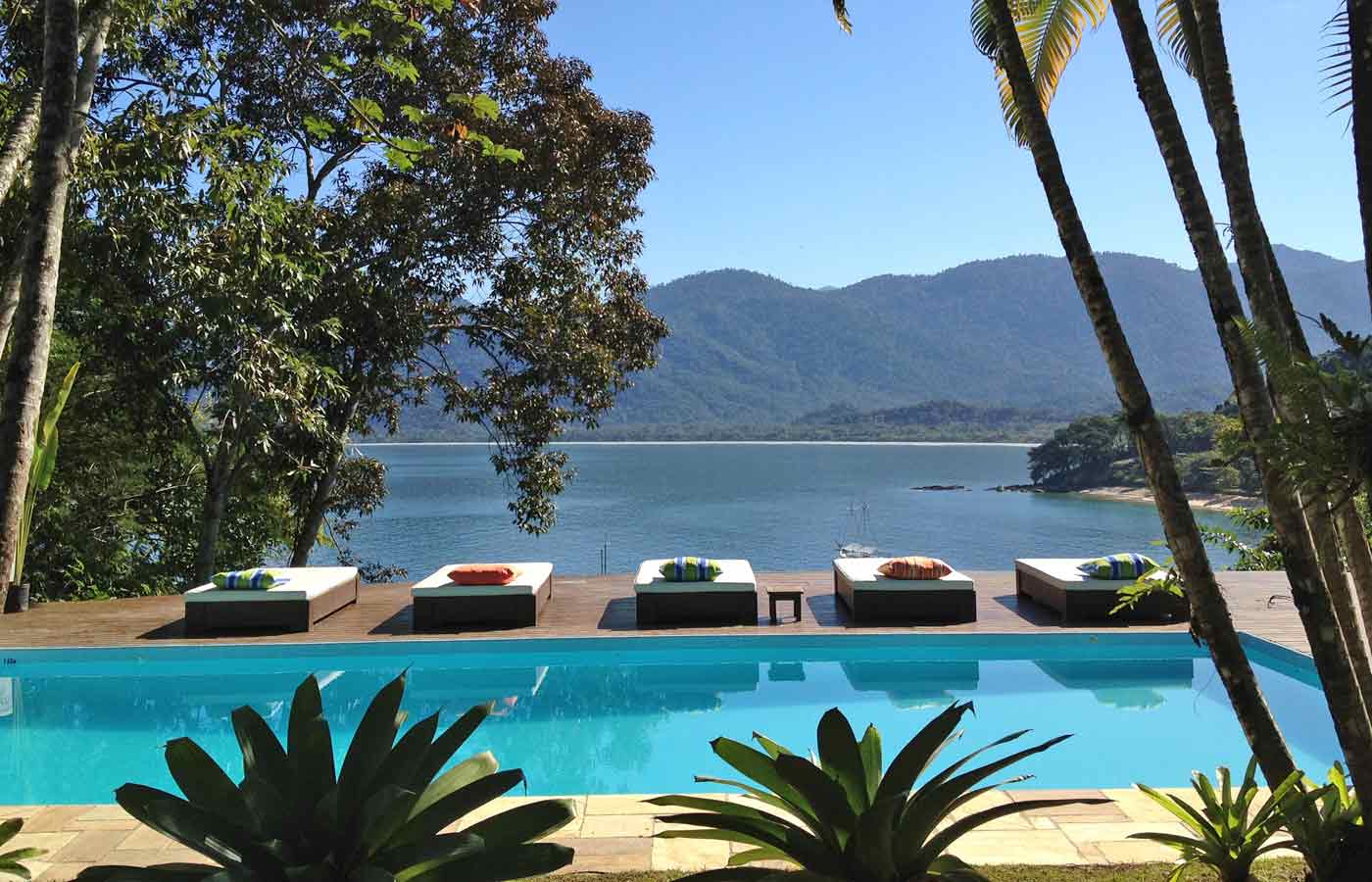 Pousada Picinguaba
Pousada Picinguaba is a secluded, private and very special place to stay. Situated just south of Paraty inside a forested area and looking out towards a tranquil bay it makes for an incredible location and ideal for those seeking a waterfront hideaway.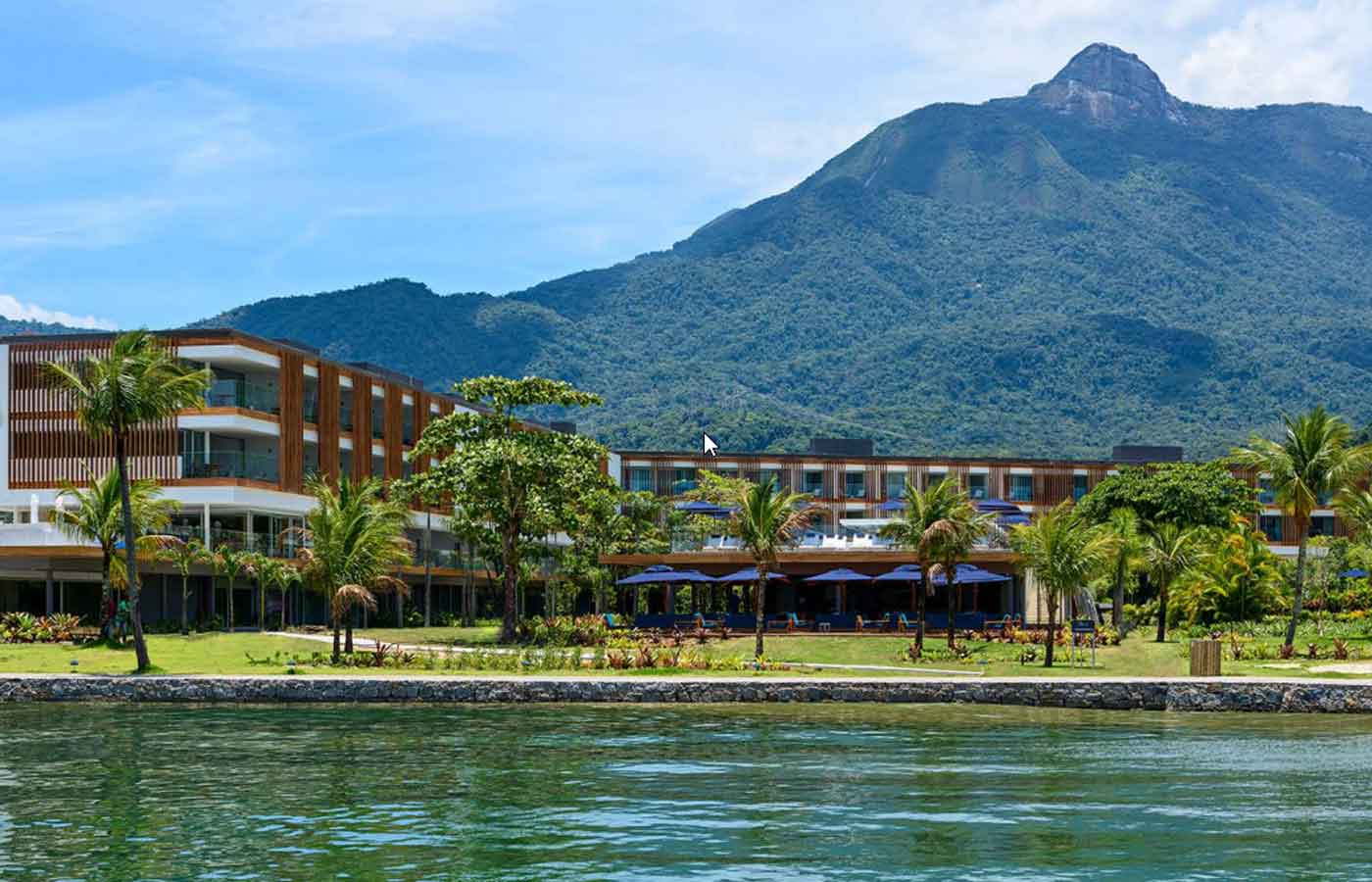 Fasano Angra dos Reis
The highly respected Fasano hotel group now offer guests the Fasano Angra dos Reis is a new luxury property. A stunning beachfront hotel, 30 minutes from historic Paraty. It makes a perfect combination with Rio de Janeiro or a city and beach break.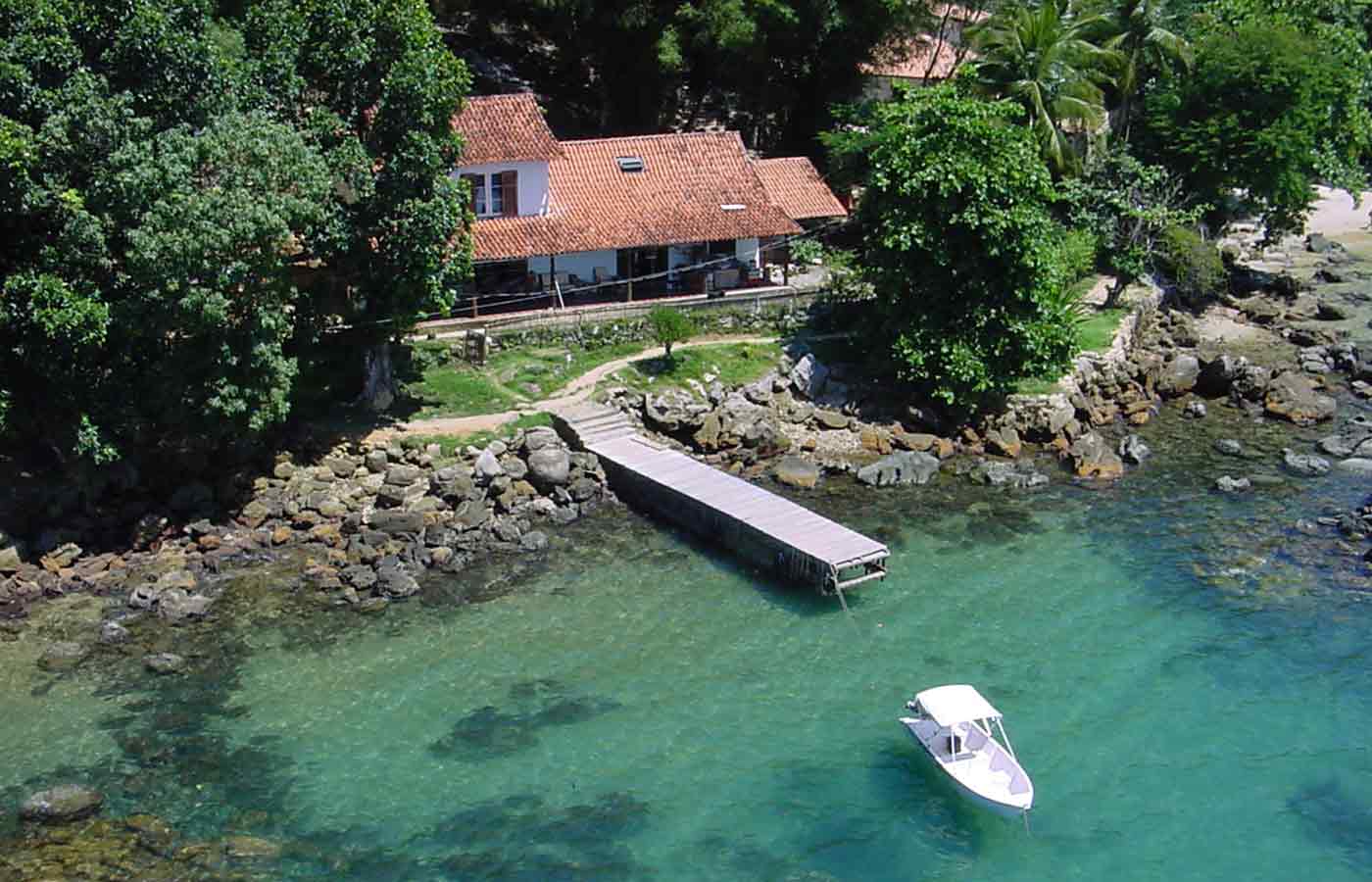 Sagu Mini Resort
The Sagu Mini Resort on Ilha Grande is nestled in the lush Atlantic Rainforest, with a view of the calm waters of the Bay of Abraão, 10 minutes away from the village, between Comprida and Brava Beaches. Designed in the traditional style of a colonial Portuguese fishing village with an intimate plaza detailed with inlaid terracotta, and light yellow décor, typical of the island.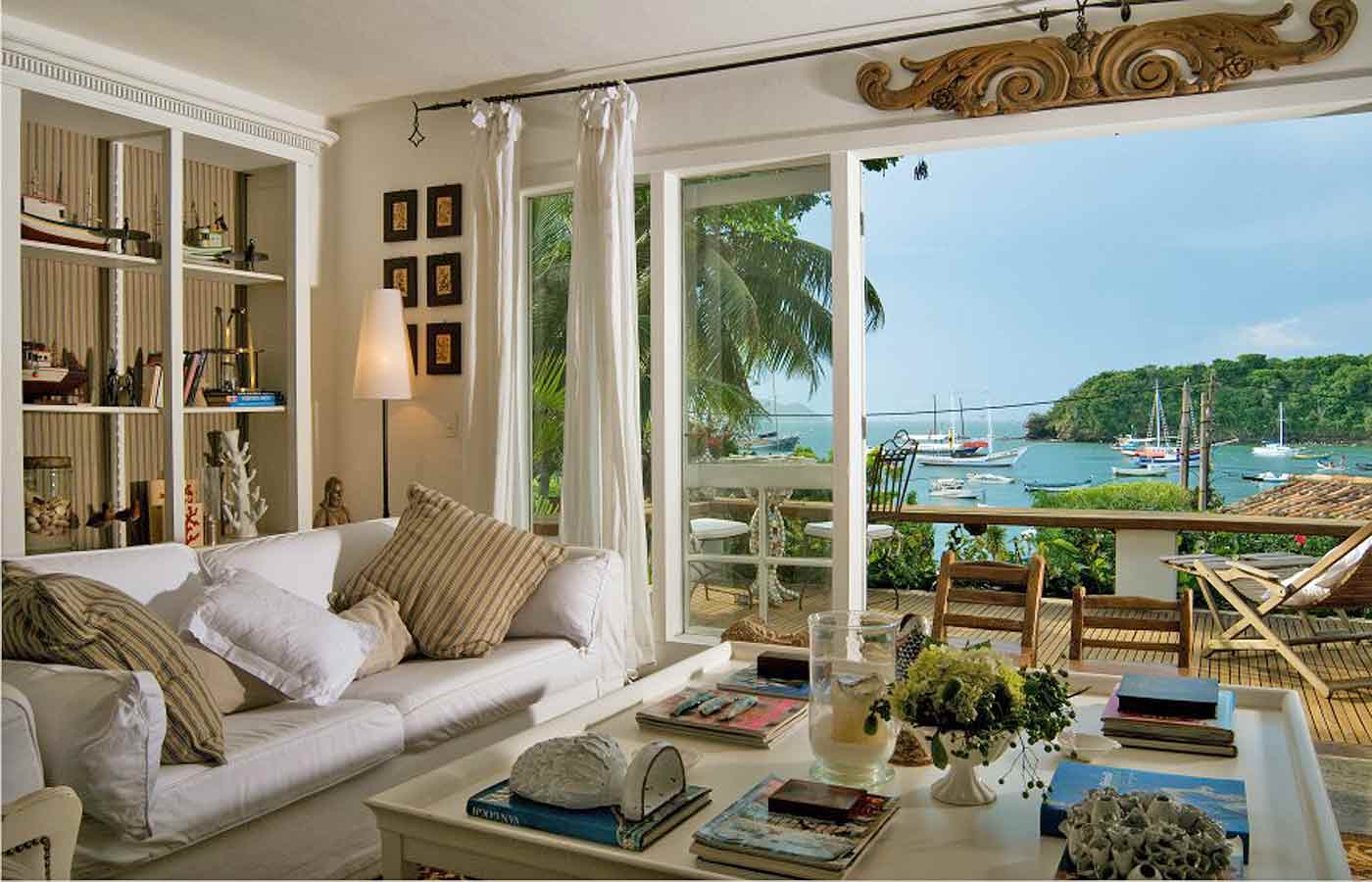 Vila da Santa
Vila da Santa Hotel Boutique & Spa is decorated in bright, fresh colours with a retro style and has an air of Mediterranean romance about it. Located in the historical heart of Búzios with the beautiful Ossos beach just a stones throw away and the Santa Ana church, built in 1743, next door. The hotel dates back to 1942, and charms guests with its 'fishermans house' appeal and chic interiors.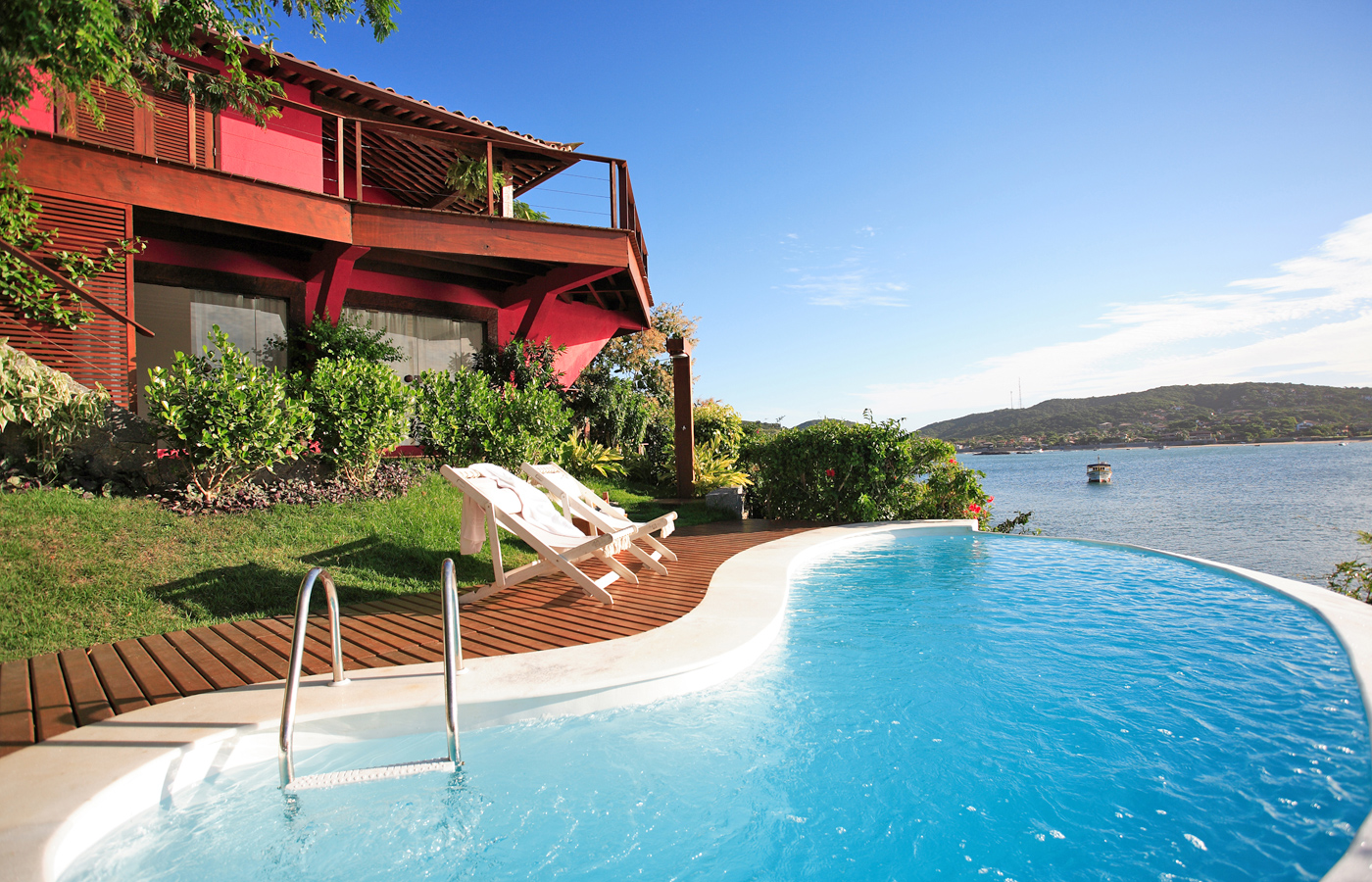 Insolito Boutique Hotel
It is easy to see why Insolito is regarded as one of the top luxury hotels in Brazil. Located in a beautiful setting with wonderful decoration it is an incredible place to stay on a Brazil holiday. This incredible property was voted as the Best Beach Hotel 2012 in South America at the World Travel Awards. The award was certainly justified.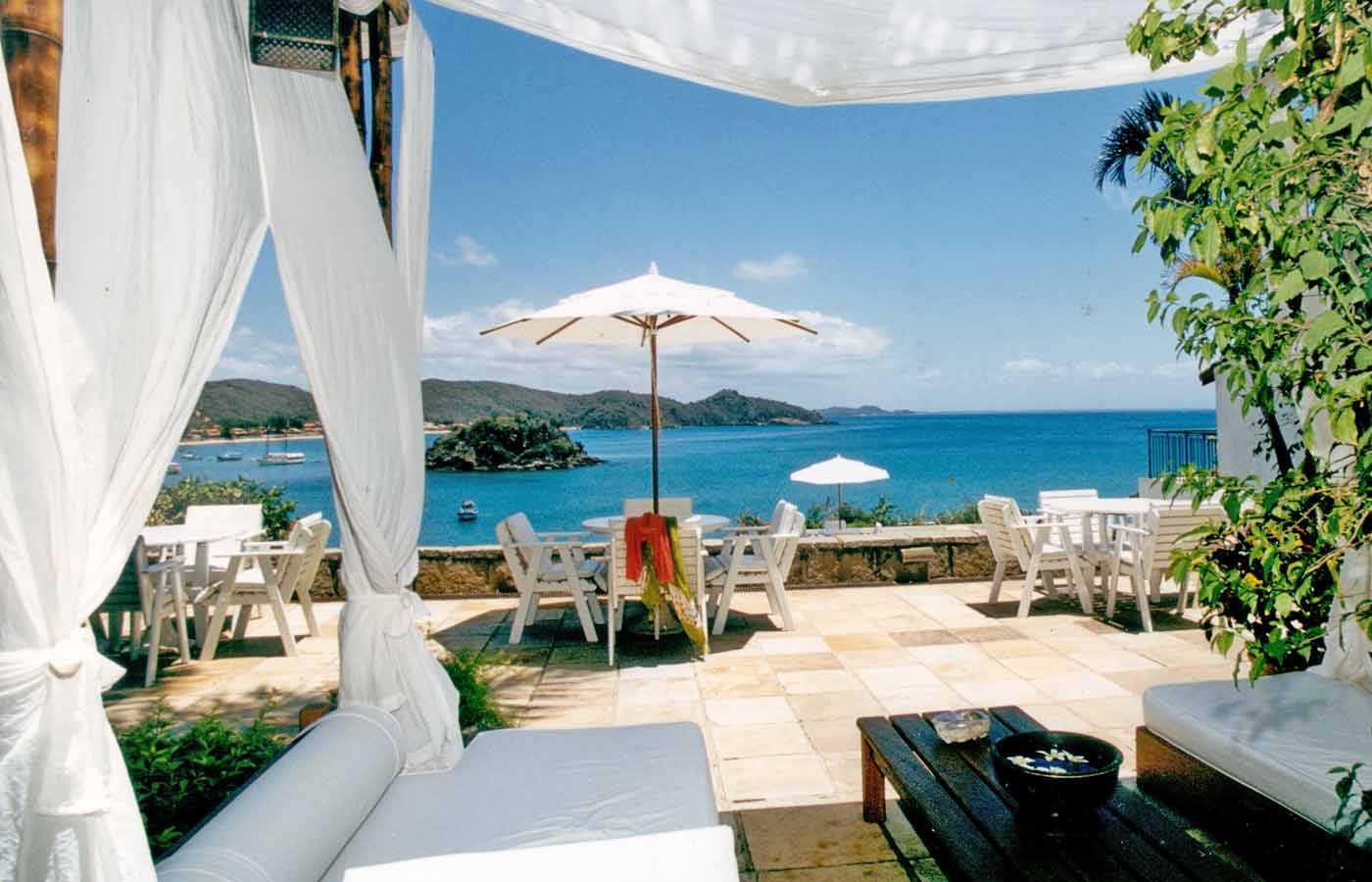 Casas Brancas
This luxury boutique hotel and spa is nestled in the hills and overlooking the bay of Buzios. It is one of the trendiest places to stay in this incredibly fashionable beach town. Casas Brancas Boutique Hotel and Spa is a beautiful Mediterranean-feel property boasting immaculate design.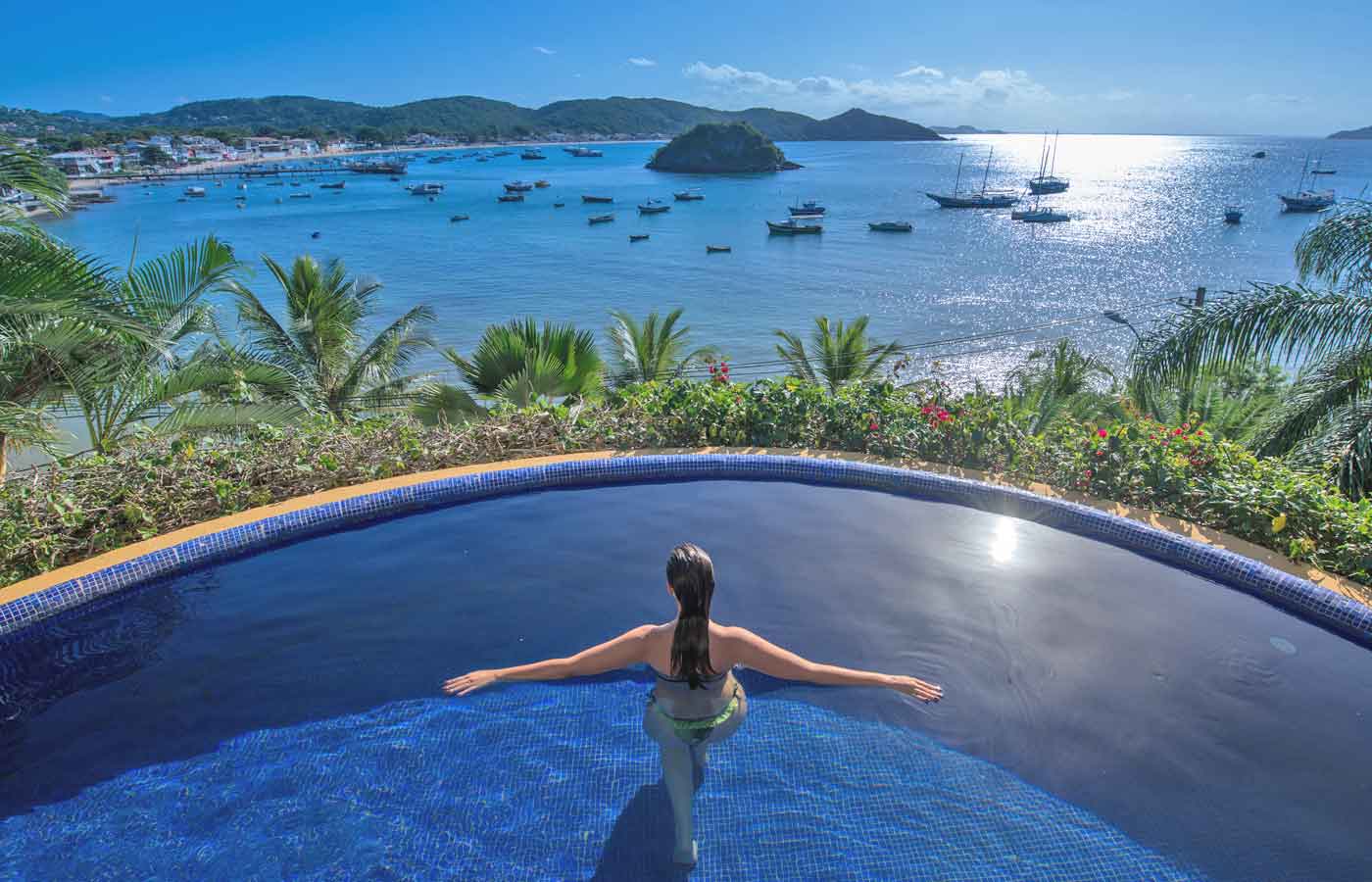 Vila D'Este
The Vila D'Este hotel is one of Buzios's finest luxury hotels. Perched atop a cliff, occupying a wonderful location which provides magnificent views of the bay from the pool deck, the bar or the tropical gardens.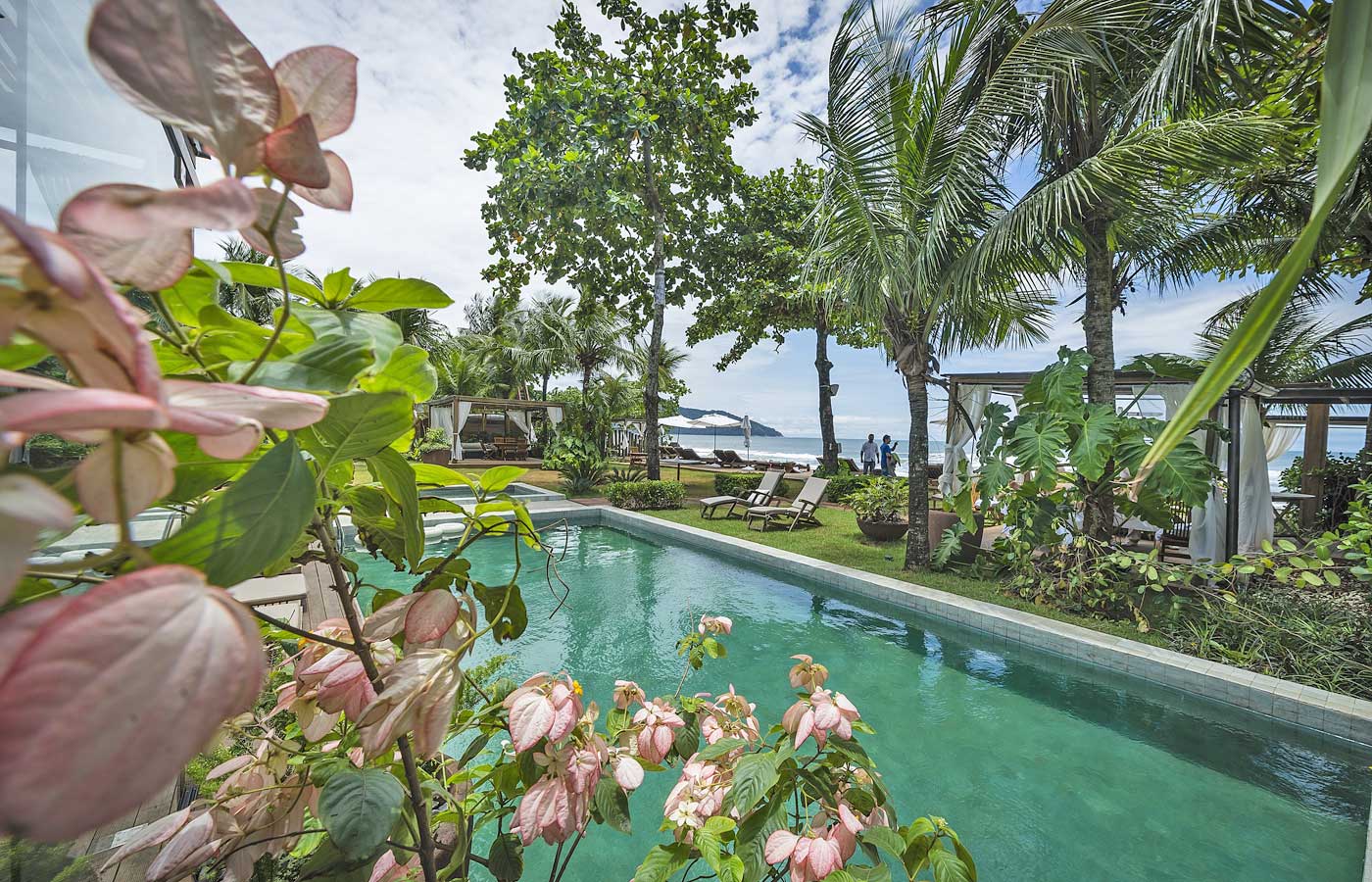 Nau Royal Hotel Boutique and Spa
Nestled between Atlantic rainforest and the vast Atlantic Ocean, Nau Royal Hotel Boutique and Spa is a brand new hotel eager to welcome guests to this beautiful part of the world. With excellent eco credentials and a beachside location, this is a charming place to stay.