THE ATACAMA
It may be the driest desert in the world, but the remote Atacama is full of surprises.
A visit to San Pedro de Atacama will unveil indulgent hotels and astounding photographic opportunities, a great escape on a luxury holiday to Chile. The people who live in this unforgiving habitat, still maintain many of the traditions that date back to their Incan heritage. The region is widely regarded as one of the best places on earth for stargazing, and a project to create the most powerful telescope is currently underway here. Take a trip deep into the desert after nightfall to marvel at the countless stars that together form the spectacular Milky Way, and gaze through huge telescopes at planets in incredible detail. By day the main town is a laid back place, the centre of San Pedro has a bohemian feel, and the dusty streets are home to an eclectic mix of boutique shops, terraced cafes and local markets. As quaint as this little town is, the true desert treasures are found outside of civilisation and in the remote high altitude landscapes that surround San Pedro. The unearthly scenery plays host to huge white salt lakes, energetic geysers producing large swathes of steam, turquoise lagoons dotted with bright pink flamingos and richly coloured jagged rocky outcrops. There are areas which are so highly coloured and vast, that they can only be likened to a Salvador Dali painting. Jump in a 4×4 with a local guide for an exciting off road journey into the wilderness, where you can observe bizarre rock formations in areas such as Moon Valley. The best thing about this area of Chile, is the outstanding luxury hotels that grace the region. From romantic private huts with thatched roofs to boutique properties with fully equipped spa's, you are sure to find somewhere unforgettable to stay in the Atacama.
WHERE TO STAY
Our favourite luxury hotels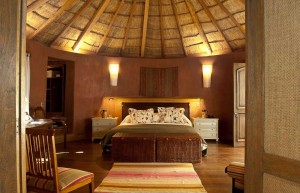 Awasi Atacama

Hidden away in the immense Atacama Desert, the most arid place on earth, this hotel oozes luxurious simplicity. This tiny hotel, a cosy and secluded haven in a historic setting, has been designed to fit harmoniously into the local culture and environment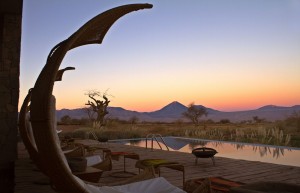 Tierra Atacama

A wonderful mix of beautiful modern architecture and cultural influences, this hotel provides guests with the best amenities and comfort. The interior is simple, elegant with a warmth created by the authentic pieces which have been sourced from local villages. Outside, the property has large open air lounges with fire pits and Jacuzzis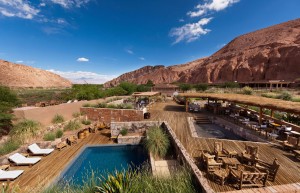 Nayara Alto Atacama

Nayara Alto Atacama's design was influenced by local village architecture and conceived to blend seamlessly into its environment and appear as a part of the terracotta-colored ridge that rises behind it. The setting, the sweeping views, the tranquility and silence, and the hotel's wonderful outdoor lounge spaces make the Alto Atacama a destination unto itself.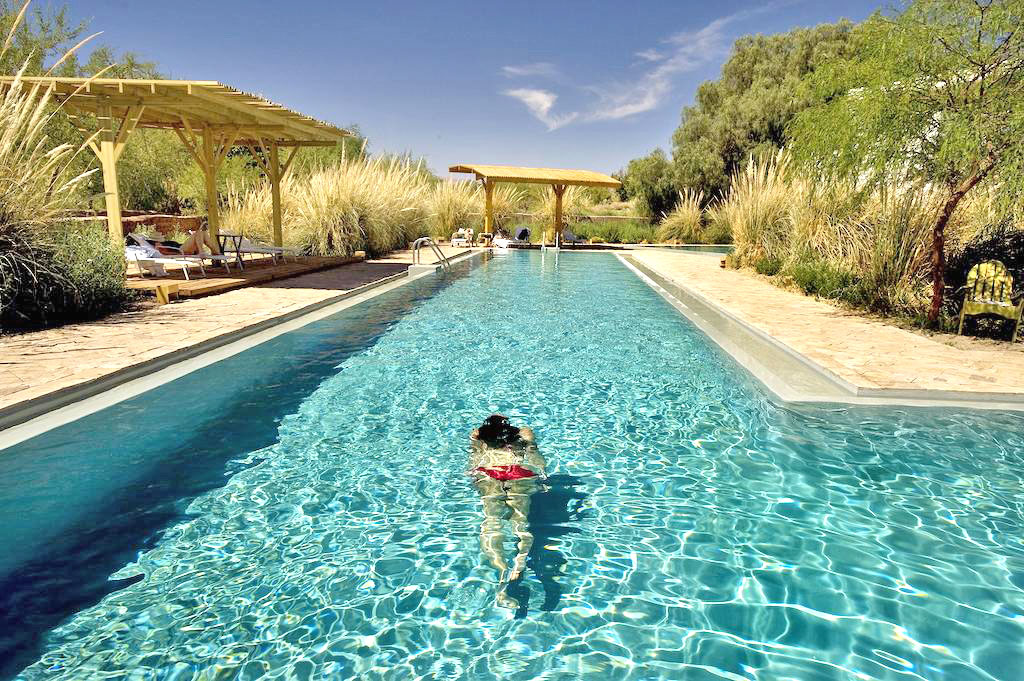 Explora Atacama
A stunning mix of modern technology, pioneering concepts and local charm. Situated just outside of the small town of San Pedro de Atacama, this hotel is perfectly located for taking adventures into the Atacama – the driest desert in the world.