BANOS & THE AVENUE OF VOLCANOES
Banos & the Avenue of Volcanoes offers activities galore for thrill seekers and wildlife enthusiasts.
Beautifully situated in a deep valley, surrounded by verdant cloud forest and overlooked by a towering volcano, Banos holds great appeal to visitors. The town is small, quaint and busy with colonial style squares and plenty of shops and restaurants. Any visitor should take time to watch the locals of the town use a very unique 'throwing' method to make a sweet treat known as 'melcocha', which is similar to toffee, and there's an abundance of street traders selling delicious deep fried empanadas. Despite these culinary delights, the best of Banos is further afield, with multiple activities available from ziplining and canyoning, to horse trekking and incredible bird watching. Just outside the town, many spas and thermal springs which give the town its name are perfect for relaxing in after a busy day.  To the north of Banos and at 5900m elevation, and within easy reach of Quito, the Cotopaxi Volcano is widely known in trekking and climbing circles. A highly active strato-volcano, it is one of many situated in this narrow corridor that forms the Avenue of Volcanoes. Aside from attempting to summit these impressive peaks and craters, visitors can enjoy warm hospitality from the friendly Andean people who live in this fragile environment. Cotopaxi National Park offers world class birdwatching opportunities, including the chance to spot the magnificent Andean cock-of-the-rock and the ample hot springs provide welcome relief to aching muscles.
WHERE TO STAY
Our favourite luxury hotels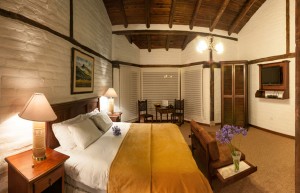 Hacienda Abraspungo
This traditional colonial style hacienda is perched high in the Andes at 2754 metres above sea level and is surrounded by magnificent mountain scenery.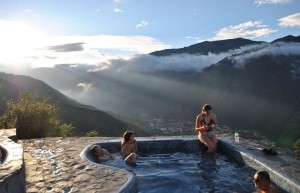 Luna Volcan
This romantic hotel boasts incredible views over the town of Banos from its high mountainside location. Guests will not be disappointed with the impressive views and the surrounding 310 acres of private unspoilt forest.