THE GREG MORTIMER
Built with adventurous luxury in mind, the Greg Mortimer is an sleek and modern cruise ship offering guests an outstanding array of activities and superior comfort.

Named after the legendary Australian explorer, the Greg Mortimer is designed for unforgettable expeditions throughout Antarctica and the rest of the world. Launching in 2019, this will be one of the finest cruise ships on the water and has a long list of brand new technology that is featured on board. In addition, it has been created with sustainability in mind, making it ideal for low-impact and non-intrusive voyages. With a small capacity of just 120 travellers in polar regions, this small ship will ensure that guests get the maximum time ashore and a first class service.
The experts on board are highly skilled and respected in their field, from historians and scientists, to naturalists and expedition leaders. Each day, 2/3 excursions are planned, and the Greg Mortimer has a fabulous selection of activities including sea kayaking, snowshoeing, climbing, camping, ski touring, polar diving and photography workshops to name a few. Back inside, the quality finish is reflected throughout the public areas which include a gym, spa, sauna, observation decks, library, bar and lecture theatre and all of the spacious cabins excel in comfort and luxurious amenities.
If you are looking to cruise Antarctica whilst also enjoying exciting activities and the finer details, the Greg Mortimer should be your first choice.
Why we like the Greg Mortimer

The first ship with X-BOW technology, which pierces waves for a smoother voyage

80% of cabins benefit from spacious outer balconies

The ship carries a maximum of 120 passengers, ensuring everyone can land together

The panoramic Observation Deck means you wont miss out on any action

All cabins are decorated by French interior designer Jean-Philippe Nuel

Kayaking, camping, snowshoeing, scuba diving & snorkelling available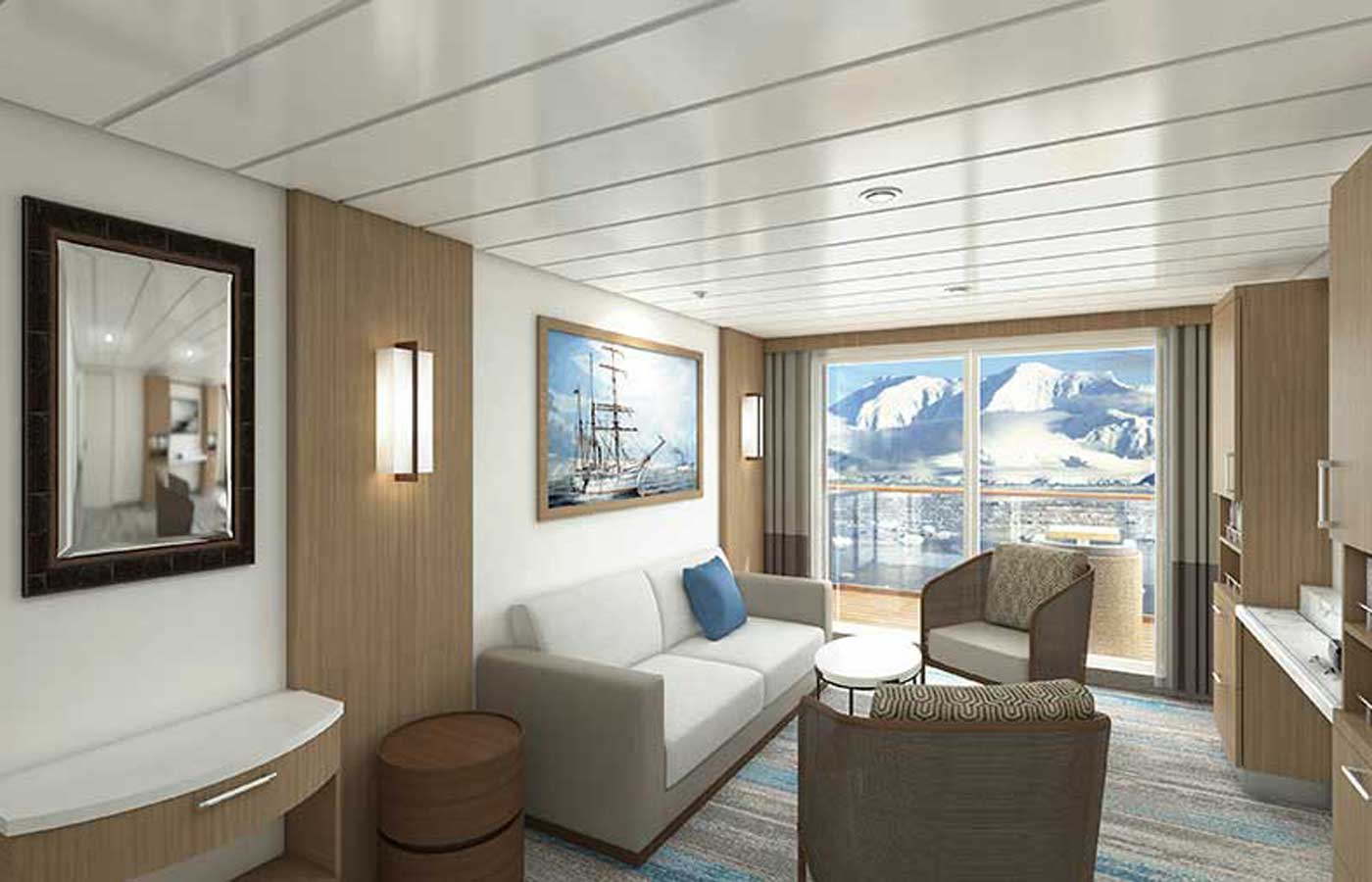 Captain's Suite
Located on Deck 4
Cabin and balcony combined size of 46.3 m2
Private balcony, ensuite and lounge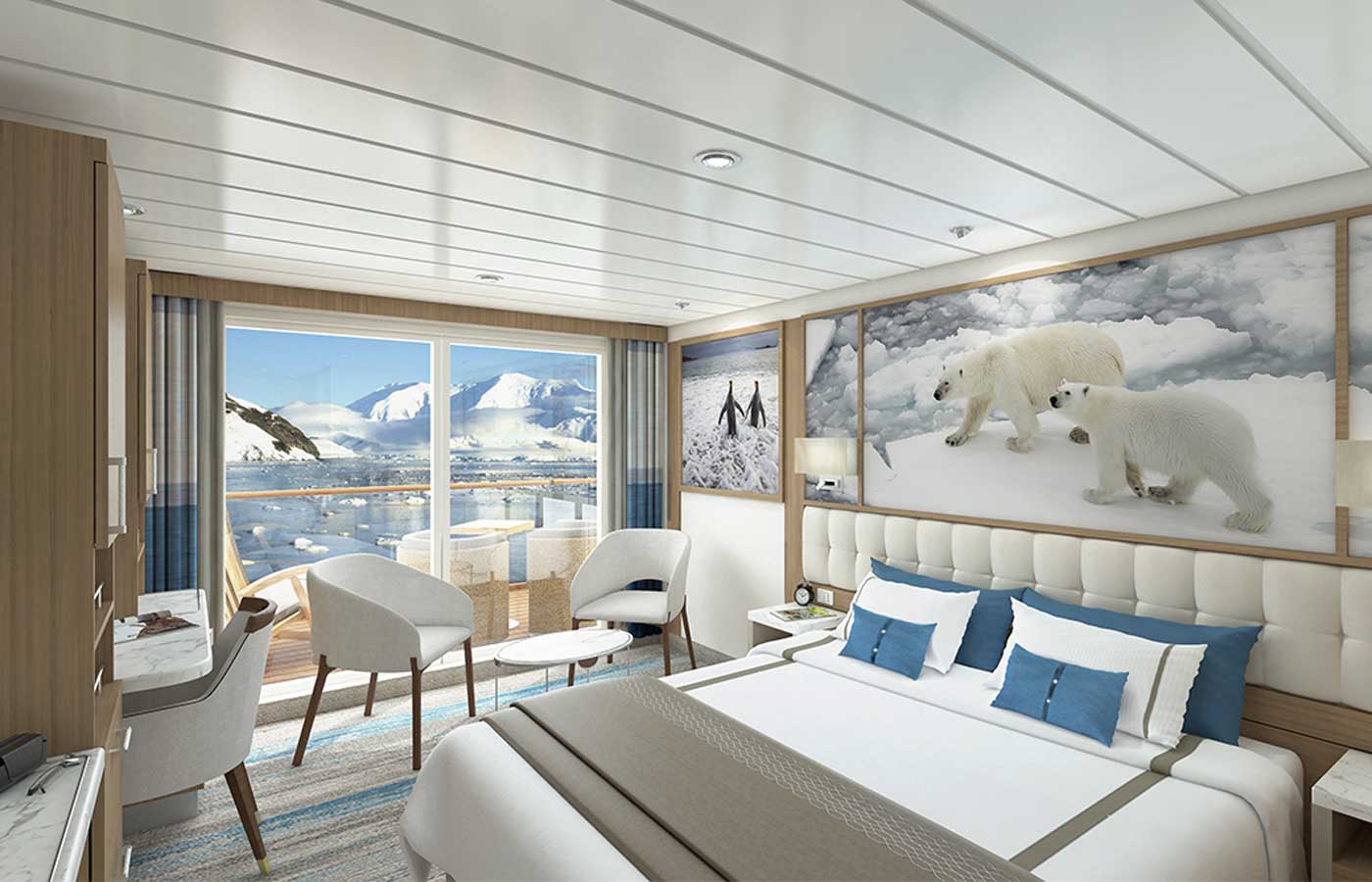 Junior Suite
Located on Deck 7
Cabin and balcony combined size of 44.4 m2
Private balcony, ensuite and lounge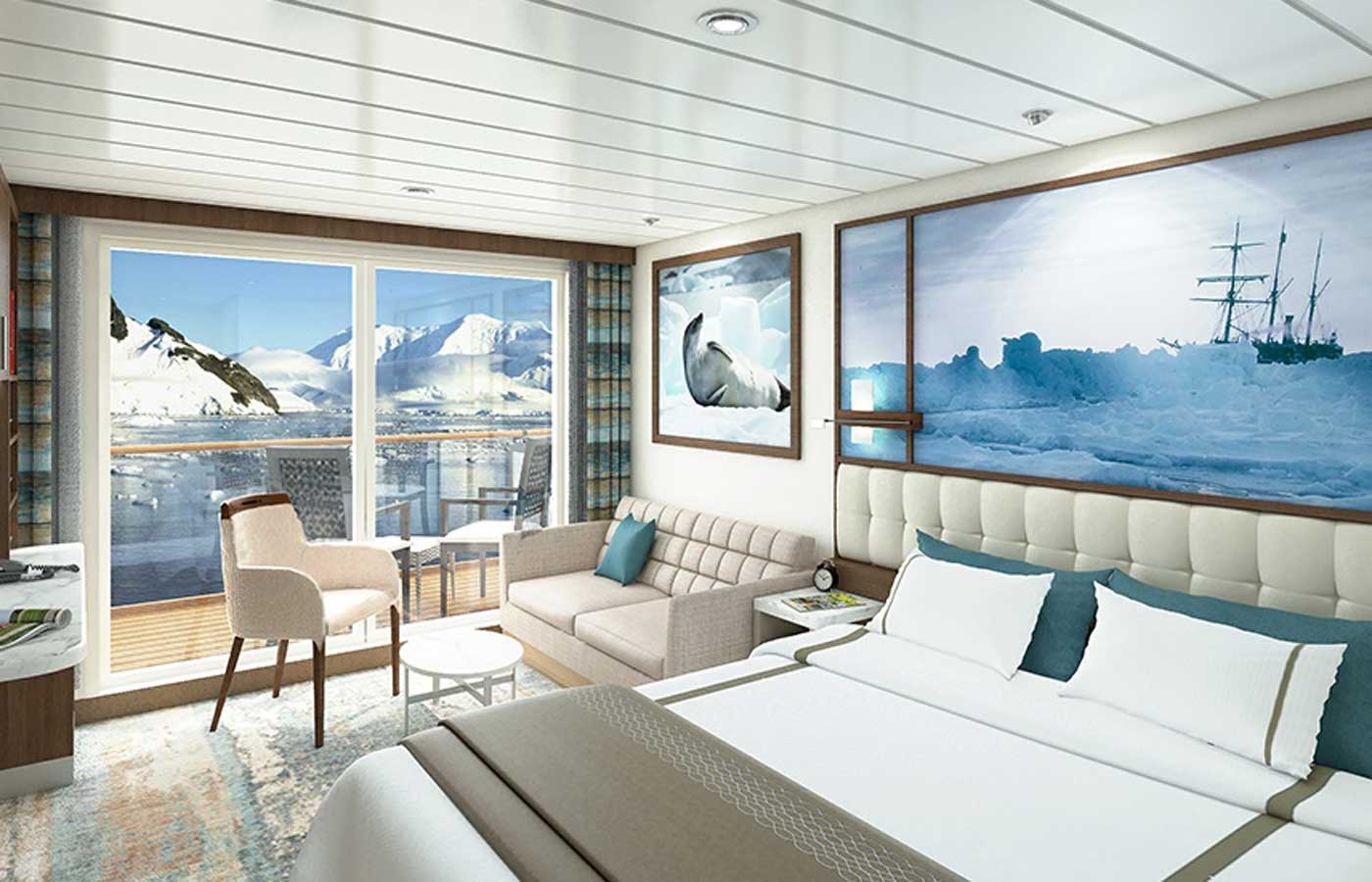 Balcony Suite
Located on Deck 4
Cabin and balcony combined size of 35.8 – 36.2 m2
Private balcony, ensuite and lounge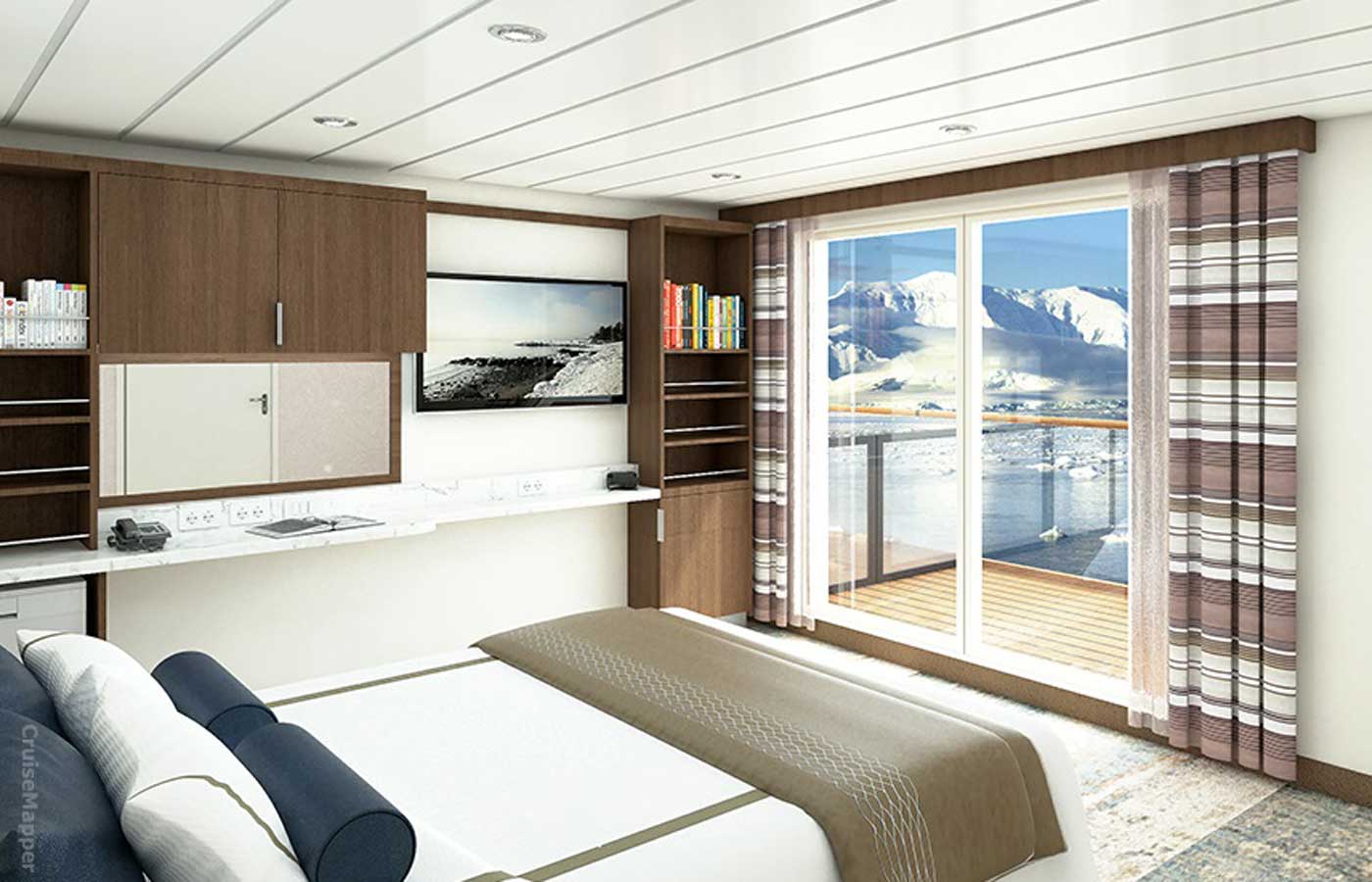 Balcony Stateroom

Located on Deck 4 and on Deck 6
Cabin and balcony combined sized of 23.1 – 28.9 m2
Private balcony, ensuite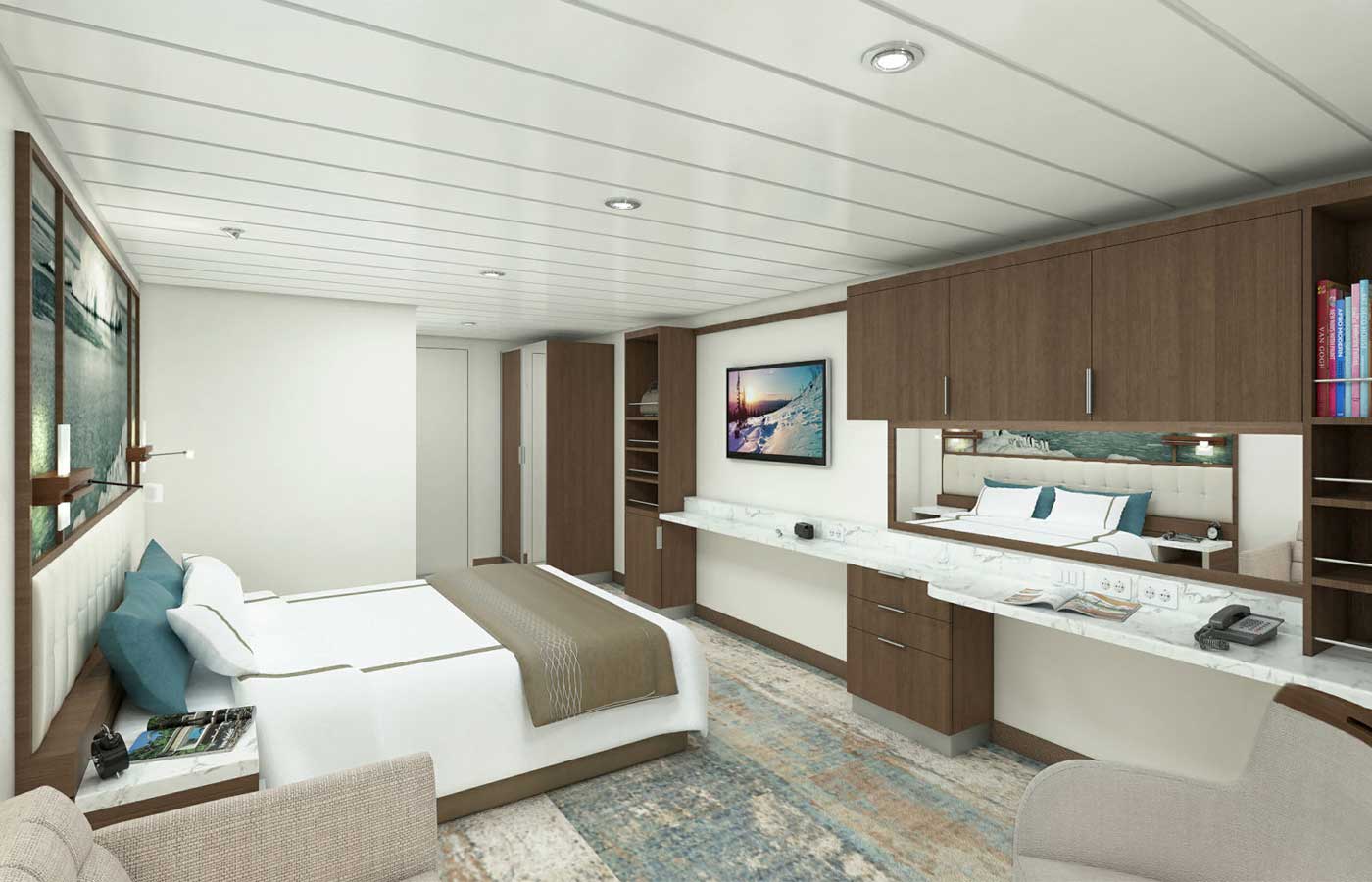 Porthole Stateroom
Located on Deck 3
Cabin size of 23.2 m2
Porthole, en suite
SAILING DATES
| Embarkation | Start Date | Destination | Disembarkation | No. of Days |
| --- | --- | --- | --- | --- |
| Ushuaia | 9th November 2020 | Falklands, South Georgia & Antarctic Peninsula | Ushuaia | 21 |
| Ushuaia | 28th November 2020 | Spirit of Antarctica | Ushuaia | 12 |
| Ushuaia | 8th December 2020 | South Georgia & Antarctic Odyssey (Christmas Voyage) | Ushuaia | 21 |
| Ushuaia | 27th December 2020 | Antarctic Explorer (New Year Voyage) | Punta Arenas | 12 |
| Punta Arenas | 5th January 2021 | Antarctic Explorer | Punta Arenas | 11 |
| Punta Arenas | 13th January 2021 | Antarctic Explorer | Ushuaia | 11 |
| Ushuaia | 22nd January 2021 | Antarctica Complete | Ushuaia | 23 |
| Ushuaia | 12th February 2021 | Antarctic Explorer | Punta Arenas | 12 |
| Punta Arenas | 21st February 2021 | Wild Antarctica | Punta Arenas | 11 |
| Punta Arenas | 1st March 2021 | Antarctic Explorer | Ushuaia | 11 |
| Ushuaia | 10th March 2021 | South Georgia & Antarctic Odyssey via Falklands | Puerto Williams | 21 |
| Ushuaia | 26th October 2021 | South Georgia & Antarctic Odyssey via Falklands | Ushuaia | 21 |
| Ushuaia | 14th November 2021 | Spirit of Antarctica | Ushuaia | 12 |
| Ushuaia | 24th November 2021 | Solar Eclipse in Antarctica | Ushuaia | 22 |
| Ushuaia | 14th December 2021 | Across the Antarctic Circle (Christmas Voyage) | Ushuaia | 15 |
| Ushuaia | 27th December 2021 | Spirit of Antarctica (New Year's Voyage) | Ushuaia | 12 |
| Ushuaia | 6th January 2022 | Spirit of Antarctica | Ushuaia | 12 |
| Ushuaia | 16th January 2022 | Antarctic Explorer (Cruise/Fly) | Ushuaia | 11 |
| Punta Arenas | 24th January 2022 | Antarctic Explorer (Fly/Fly) | Punta Arenas | 12 |
| Punta Arenas | 2nd February 2022 | Antarctic Explorer (Fly/Cruise) | Ushuaia | 12 |
| Ushuaia | 12th February 2022 | Across the Antarctic Circle (Cruise/Fly) | Punta Arenas | 12 |
| Punta Arenas | 21st February 2022 | Antarctic Explorer (Fly/Fly) | Punta Arenas | 12 |
| Punta Arenas | 2nd March 2022 | Wild Antarctica (Fly/Cruise) | Ushuaia | 13 |
| Ushuaia | 13th March 2022 | South Georgia & Antarctic Odyssey via Peninsula | Ushuaia | 21 |