HEBRIDEAN SKY
The Hebridean Sky is one of the finest small ships in the World, perfect for a luxury cruise to Antarctica.

Formerly known until March 2016 as the ship Sea Explorer, the vessel has undergone a multi-million dollar refit, emerging from dry dock in June of 2016 and re-christened as the Hebridean Sky. The vessel has always been known for her effortless elegance, impeccable service and atmosphere of charm and camaraderie. Hebridean Sky will continue that tradition, while adding a host of new amenities as well as state of the art stabilization, fuel efficiency, and upgraded communications systems whilst all suites and public spaces are completely redecorated.
The on-board team of world-class chefs offer breakfast, lunch and dinner menus that change daily. They have boat-loads of creativity, so you are sure to experience a variety of remarkable cuisine throughout your voyage. With a capacity for just 100 passengers, you are sure to receive a personalised service when cruising on the Hebridean Sky.
Why we like Hebridean Sky

Luxury at an affordable price

A very comfortable and elegant ship, but with an adventurous heart

Outstanding service coupled with top-of-the-line catering

Spacious cabins ranging from 20 – 34 m2 (215 – 366 square feet)

A stern step provides easy access into zodiacs as an alternative to the gangway

An on-board Customer Service Rep ensuring everyone is happy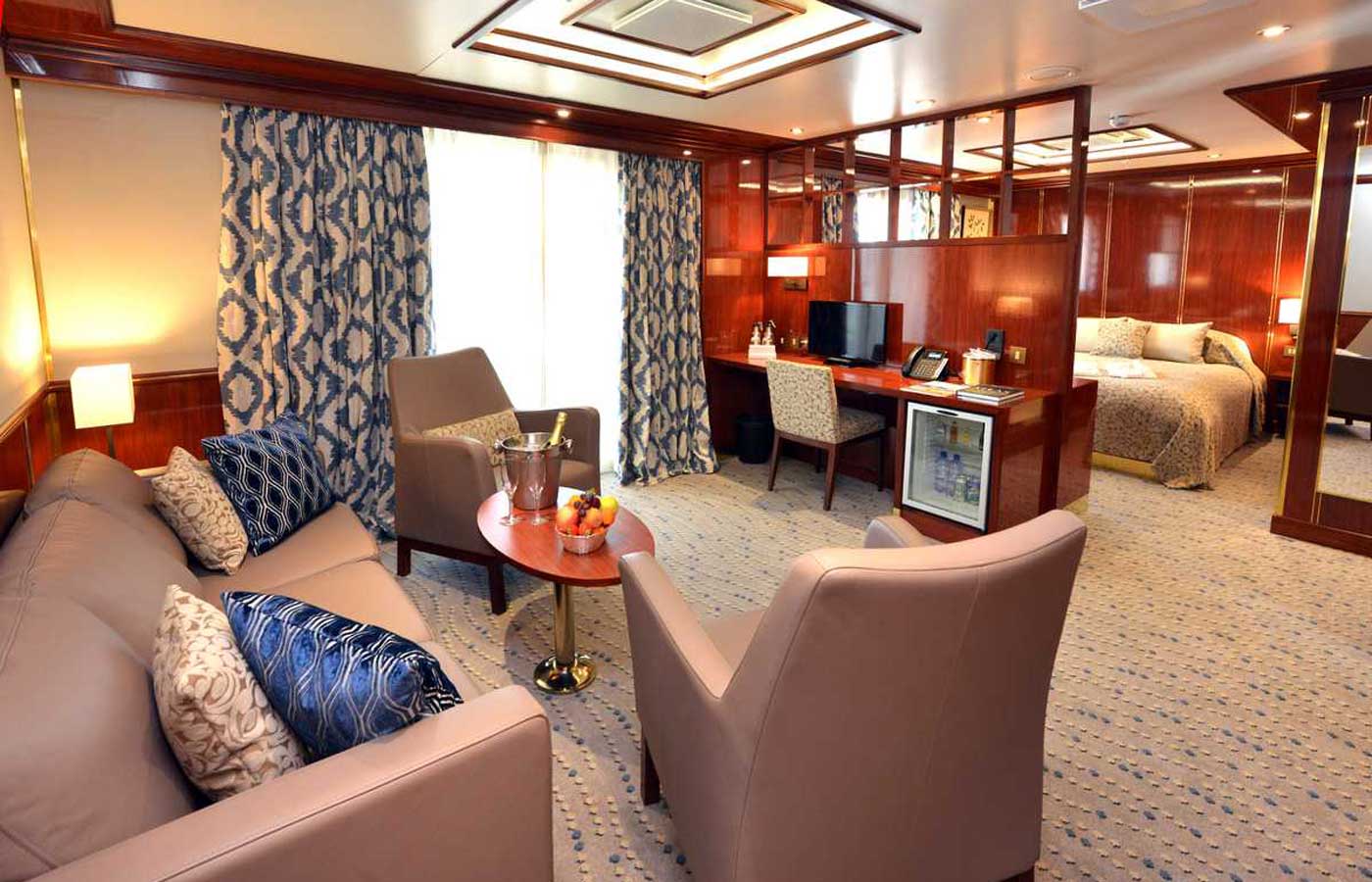 Owner's Suite
On the top cabin deck (6 – the Penthouse Deck)
Cabin size: 35.7 square meters (385 square feet)
2 square meter (110 square feet) private balcony
Two-room suite with separate lounge and bedroom
Choice of either Queen-sized bed or Twin beds
Sitting area with sofa & chair
Flat screen TV with DVD/CD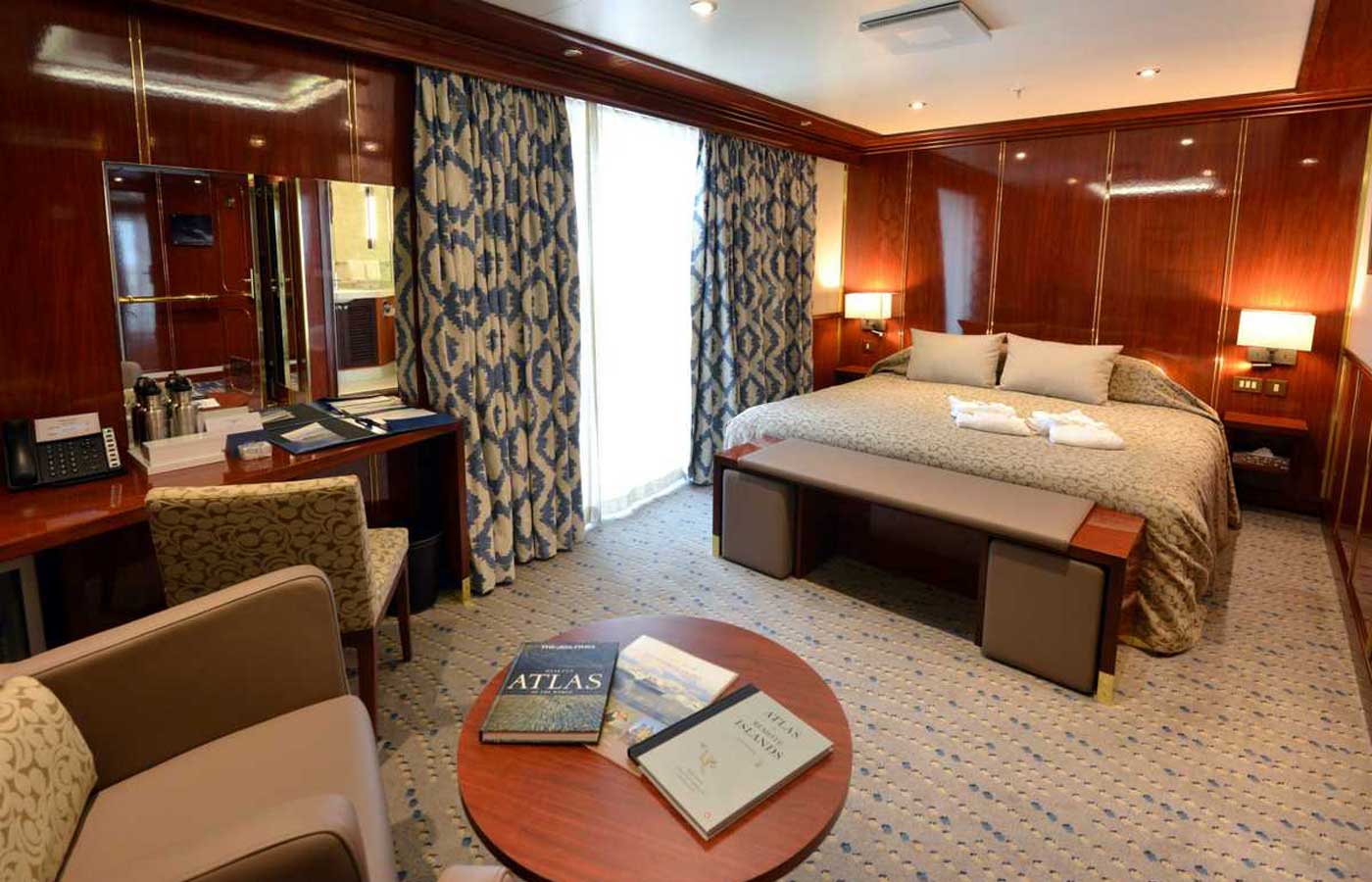 Penthouse Suite
All 5 are on the top cabin deck (6 – the Penthouse Deck)
Cabin size: 30 square meters (325 square feet)
4 square meter (80 square feet) private balcony
Choice of either Queen-sized bed or Twin beds
Sitting area with sofa & chair
Flat screen TV with DVD/CD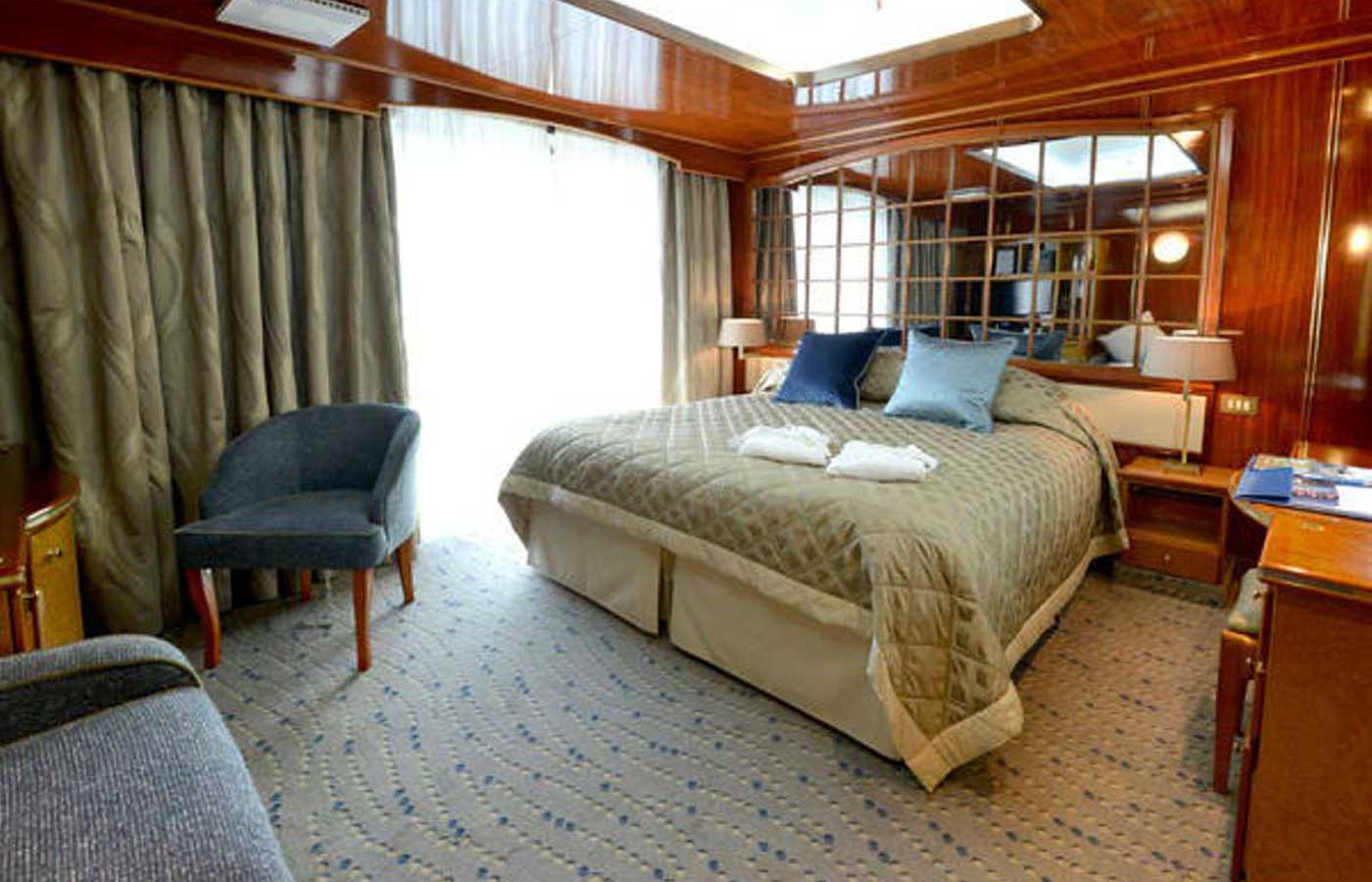 Veranda Suite
All 8 are on Deck 5 – the Veranda Deck
Cabin size: 24 square meters (260 square feet)
7 square meter (40 square feet) private balcony
Choice of either Queen-sized bed or Twin beds
Sitting area with sofa & chair
Flat screen TV with DVD/CD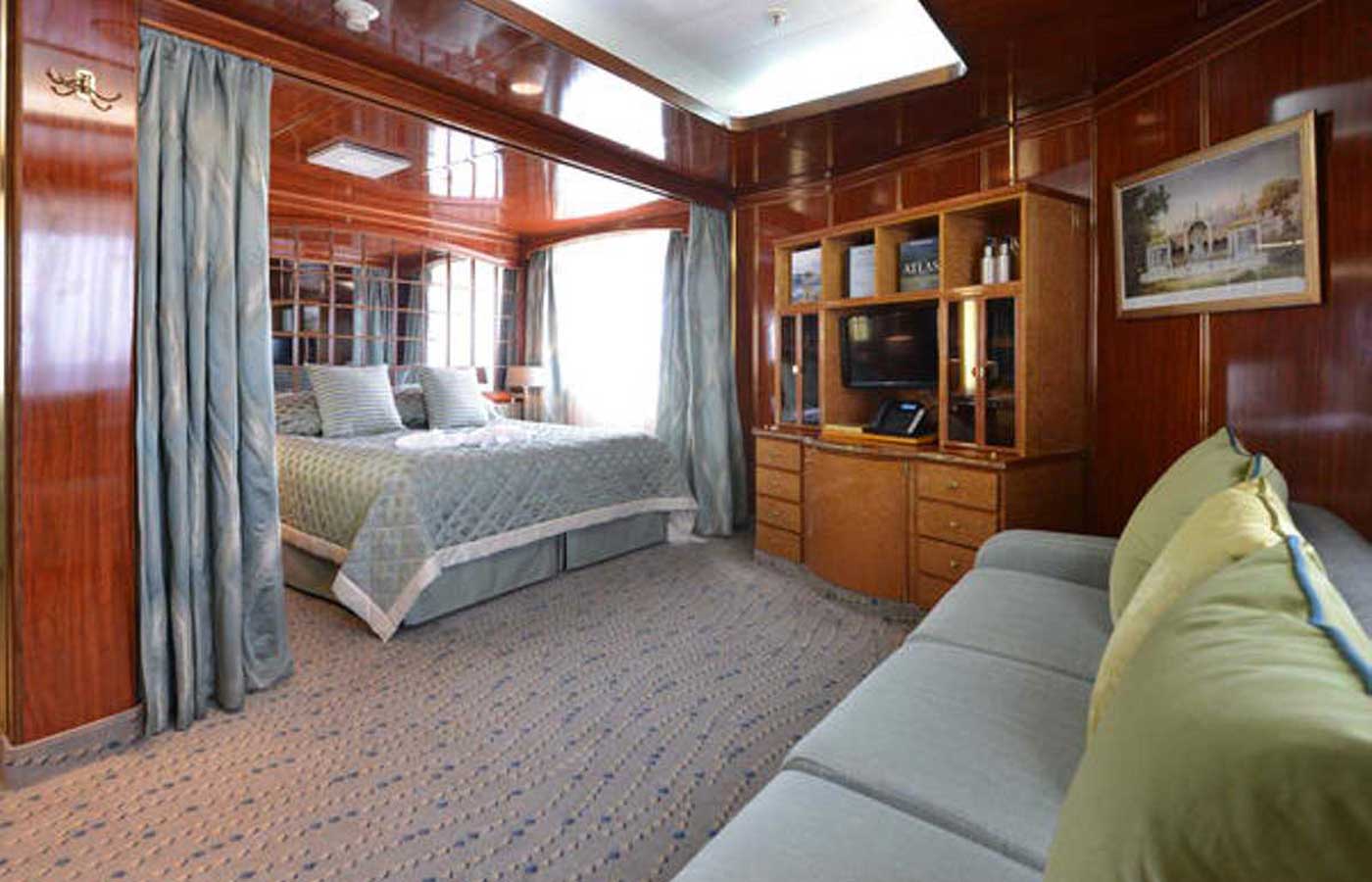 Deluxe Suite
Both the Deluxe Suites are on Deck 4 – the Promenade Deck
Cabin size: 22 square meters (240 square feet)
Suites with forward and side windows
Choice of either Queen-sized bed or Twin beds
Sitting area with sofa & chair
Flat screen TV with DVD/CD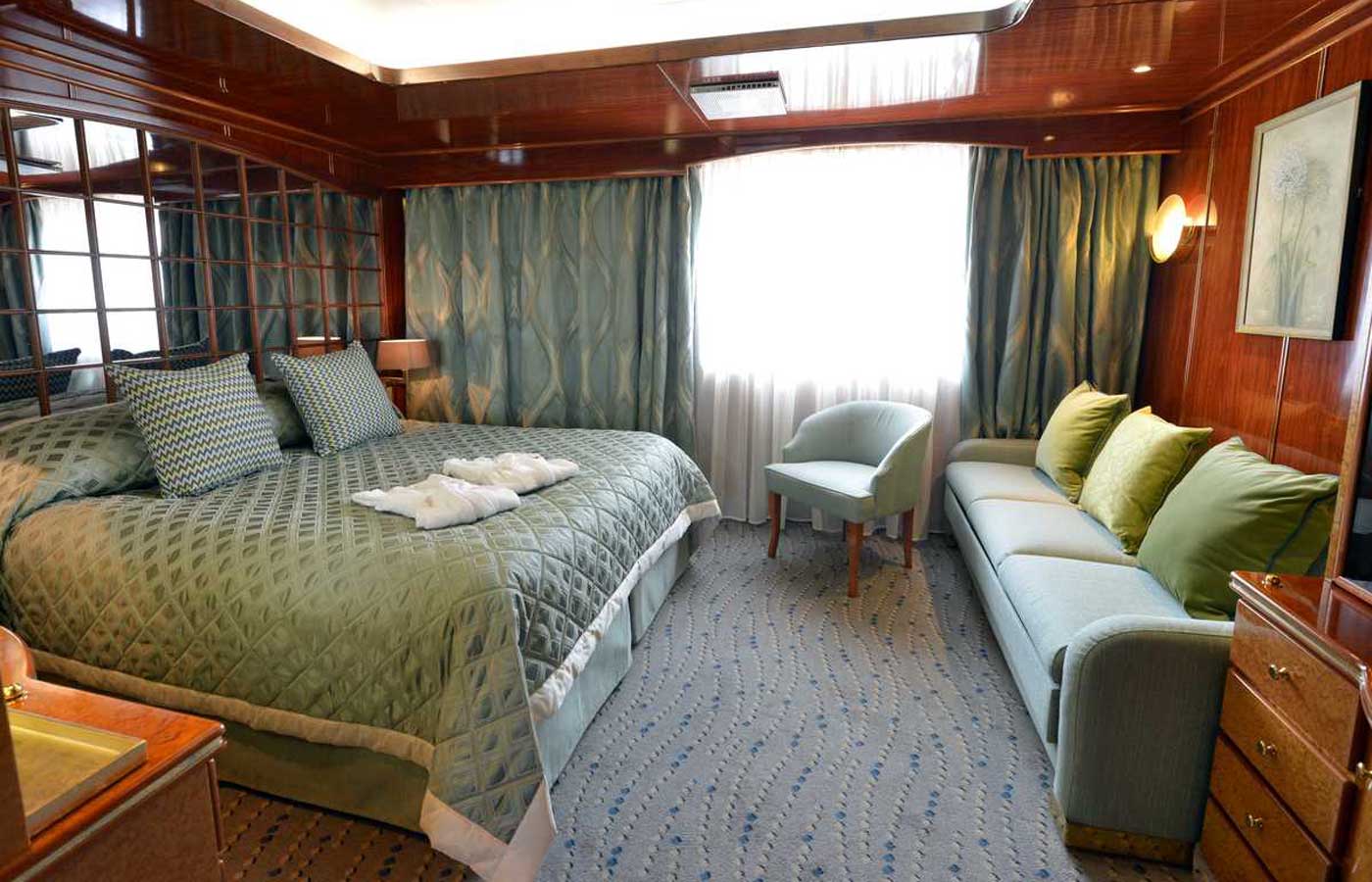 Promenade Suite
All 13 Promenade Suites are on Deck 4 – the Promenade Deck
Cabin size: 20.4 square meters (220 square feet)
Windows over the bows and to the side
Choice of either Queen-sized bed or Twin beds
Sitting area with sofa & chair
Flat screen TV with DVD/CD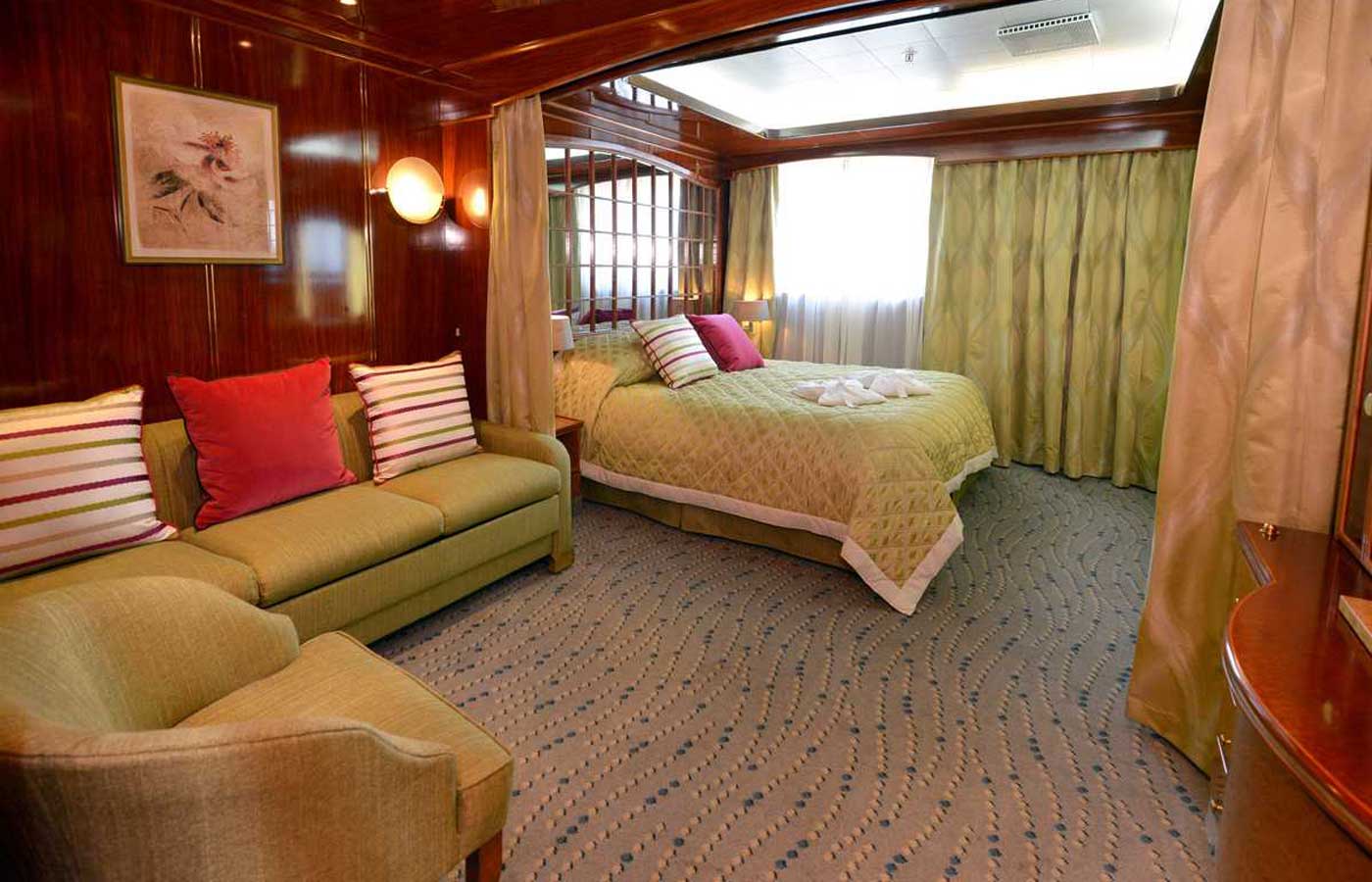 Window Suite
All 16 Window Suites are on Deck 3
Cabin size: 21 square meters (225 square feet)
Windows to the side of the ship
Choice of either Queen-sized bed or Twin beds
Sitting area with sofa & chair
Flat screen TV with DVD/CD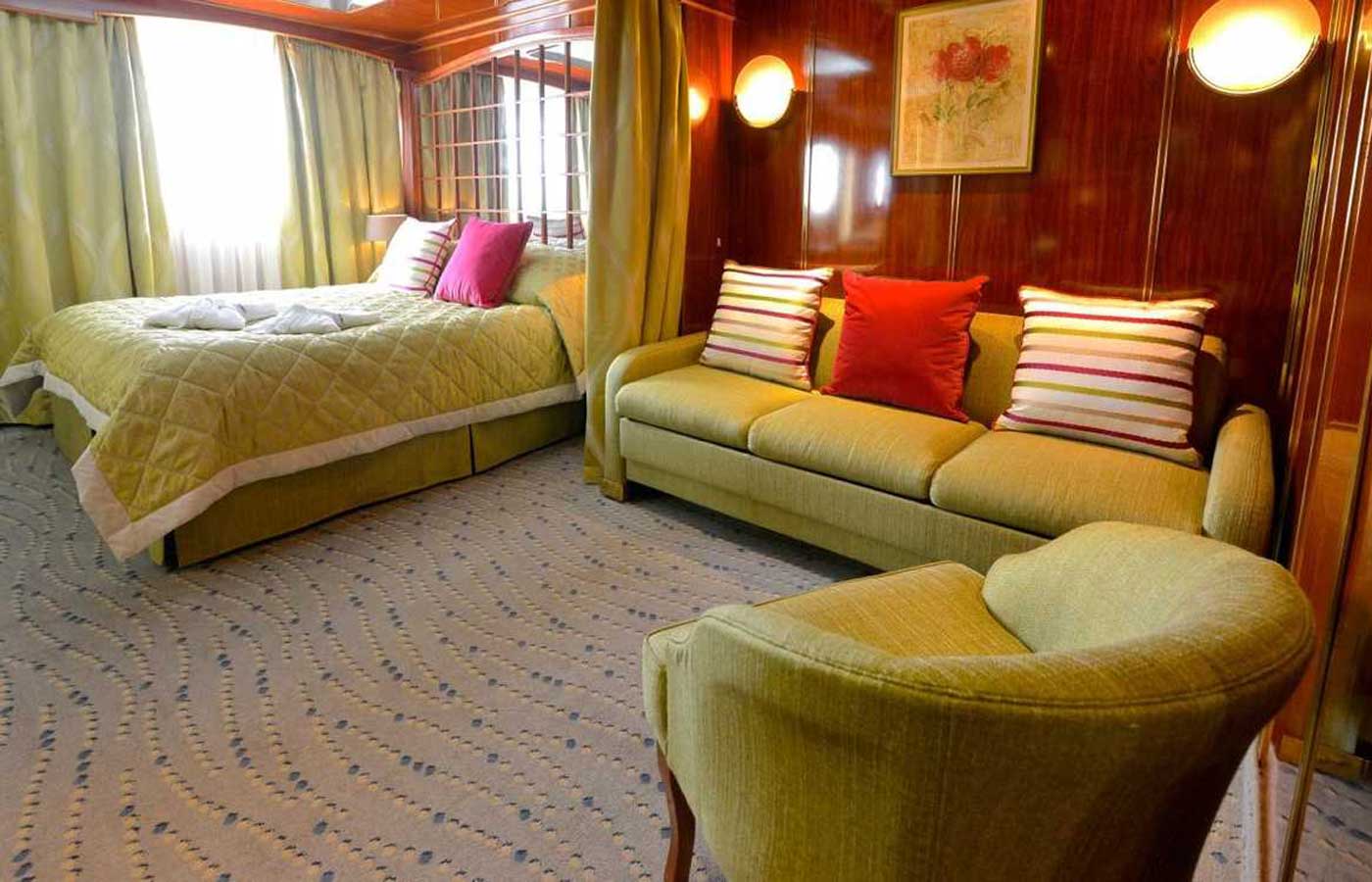 Triple Suite
Both of these cabins are on Deck 3
Cabin size: 21 square meters (225 square feet)
Window to the side of the ship
Twin beds
Sitting area with sofa & chair
Flat screen TV with DVD/CD
The third berth is suitable for those up 5′ 10″ in height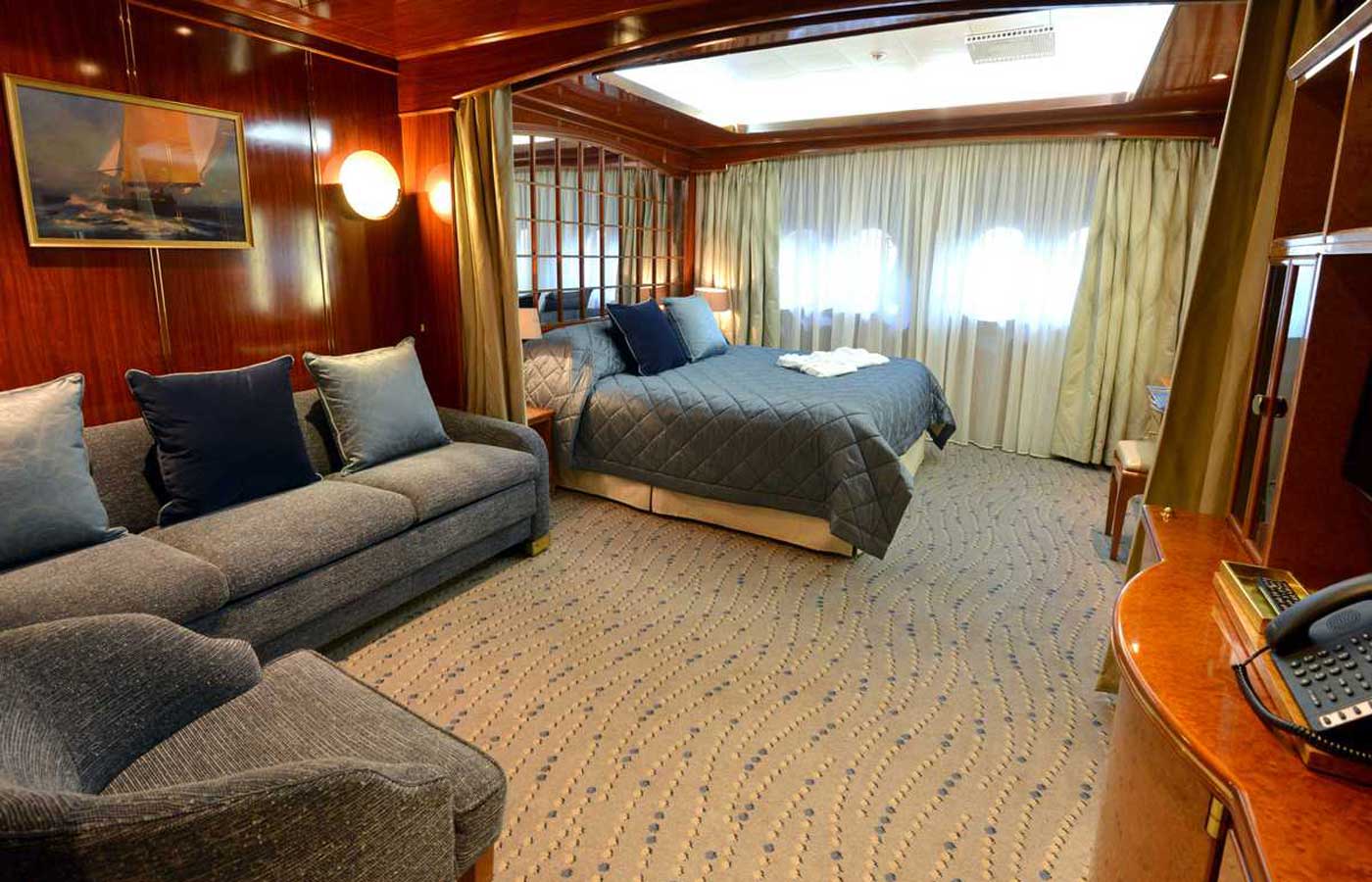 Porthole Suite
All 10 of these are on Deck 2
Cabin size: 22 square meters (240 square feet)
2 – 4 portholes per cabin, depending on specific cabin number
Sitting area with sofa & chair
Flat screen TV with DVD/CD
SAILING DATES
| Embarkation | Start Date | Destination | Disembarkation | End Date | No. of Days |
| --- | --- | --- | --- | --- | --- |
| Ushuaia | 1st November 2020 | Falklands, South Georgia & Antarctica | Ushuaia | 22nd November 2020 | 22 |
| Ushuaia | 20th November 2020 | Adventures in Antarctica | Ushuaia | 1st December 2020 | 12 |
| Ushuaia | 6th January 2021 | Antarctica Revealed | Ushuaia | 21st January 2021 | 16 |
| Ushuaia | 19th January 2021 | Falklands, South Georgia & Antarctica | Ushuaia | 8th February 2021 | 21 |
| Ushuaia | 6th February 2021 | Celebrating Antarctica | Ushuaia | 18th February 2021 | 13 |
| Ushuaia | 16th February 2021 | Celebrating Antarctica | Ushuaia | 28th February 2021 | 13 |
| Ushuaia | 26th February 2021 | Whale Science Voyage | Ushuaia | 12th March 2021 | 15 |
| Ushuaia | 15th December 2021 | Antarctica Express Air-Cruise | Ushuaia | 20th December 2021 | 6 |
| Ushuaia | 18th December 2021 | Classic Antarctica Air-Cruise | Ushuaia | 25th December 2021 | 8 |
| Ushuaia | 23rd December 2021 | Classic Antarctica Air-Cruise | Ushuaia | 30th December 2021 | 8 |
| Ushuaia | 28th December 2021 | Classic Antarctica Air-Cruise | Ushuaia | 4th January 2022 | 8 |
| Ushuaia | 2nd January 2022 | Classic Antarctica Air-Cruise | Ushuaia | 9th January 2022 | 8 |
| Ushuaia | 7th January 2022 | Antarctica Express Air-Cruise | Ushuaia | 13th January 2022 | 7 |
| Ushuaia | 13th January 2022 | Antarctica Express Air-Cruise | Ushuaia | 18th January 2022 | 6 |
| Ushuaia | 16th January 2022 | Classic Antarctica Air-Cruise | Ushuaia | 23rd January 2022 | 8 |
| Ushuaia | 21st January 2022 | Classic Antarctica Air-Cruise | Ushuaia | 28th January 2022 | 8 |
| Ushuaia | 26th January 2022 | Classic Antarctica Air-Cruise | Ushuaia | 2nd February 2022 | 8 |
| Ushuaia | 31st January 2022 | Classic Antarctica Air-Cruise | Ushuaia | 7th February 2022 | 8 |
| Ushuaia | 5th February 2022 | Antarctica Express Air-Cruise | Ushuaia | 11th February 2022 | 7 |