MAGELLAN EXPLORER
Magellan Explorer is a brand new, modern expedition vessel purposely built for Antarctic air-cruises.
For each air-cruise, Magellan Explorer has a capacity of 73 passengers in seven different cabin categories, including dedicated cabins for solo travellers. All cabins, except Porthole cabins, feature private balconies to allow for guests to take in the amazing views along the journey. All double cabins except two have two twin beds that can be configured as one king-size bed. All other cabins have two twin beds that can be configured as one queen-size bed. All cabins feature a wardrobe, individually controlled heating system, a sitting area, and a private bathroom with shower.
The ship features a glass-enclosed observation lounge and presentation room with state-of-the-art audio-visual equipment, a spacious and stylish dining room, a well-stocked bar, a library, meeting room, gym, sauna and a medical clinic. The forward-facing observation deck leads to the bow of the ship, which is accessible to guests to offer proximity to marine wildlife. The ship has a fleet of 10 Zodiac boats that are well suited for disembarking and wildlife watching.
Why we like the Magellan Explorer

Designed and operated by the original pioneers of the Antarctic Fly & Cruise concept

Built to the latest Polar Code specifications with Polar Class 6 ice-class


Limited to a maximum of only 70 passengers, making for a personal experience


Very spacious suites, most of which with floor to ceiling windows and balconies

State-of-the-art stabilizers built for passenger comfort

A waste heat recovery system built to minimize fuel consumption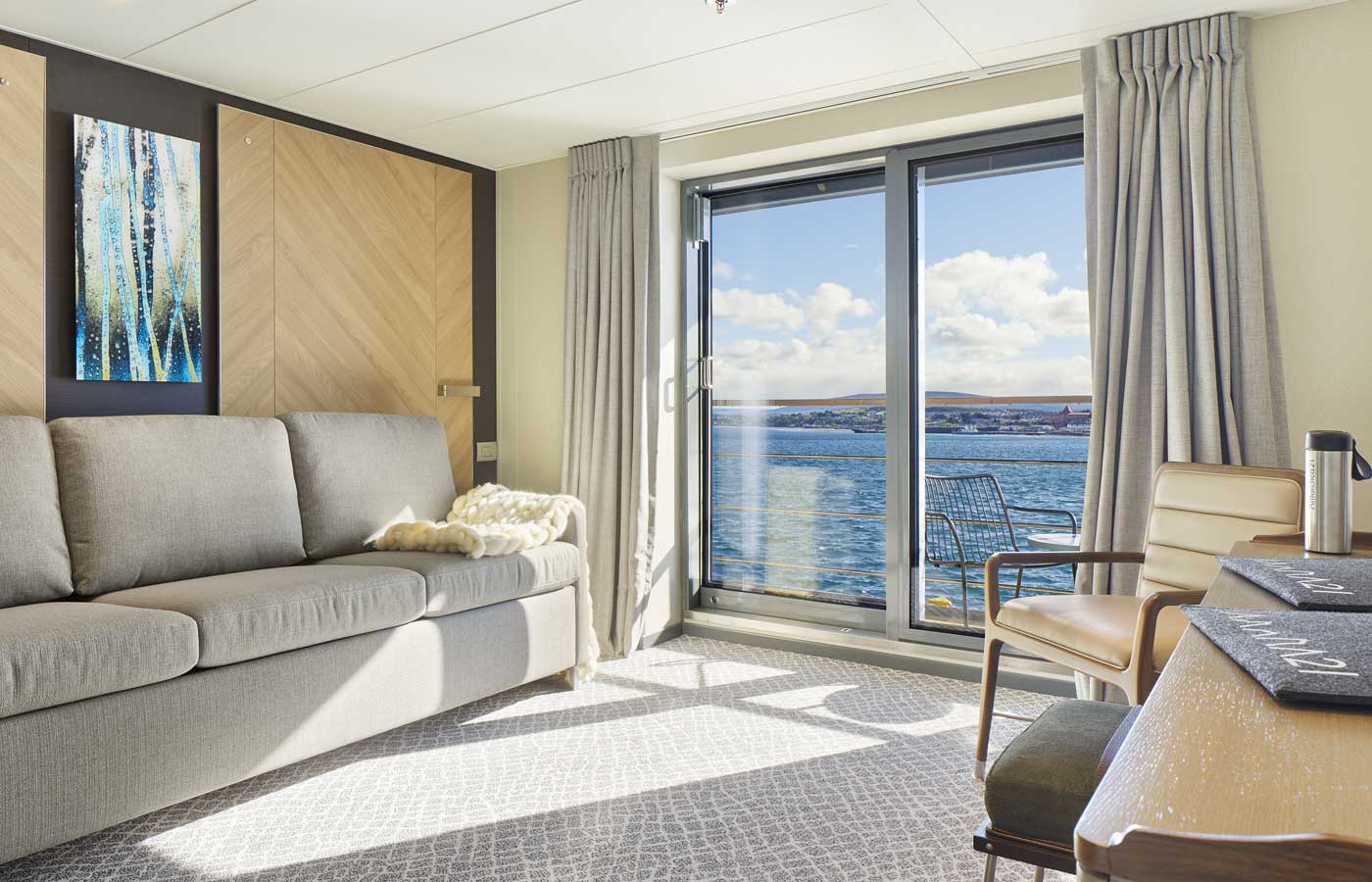 Grand Suite
40 m2 / 440 sq ft – located on deck 4
2 twin beds or 1 king-size bed
Separate living area with queen-size sofabed and coffee table
Desk and chair sets in both living and bedroom areas
2 armchairs with side tables
2 private balconies with sitting areas
2 larger private bathrooms with separate shower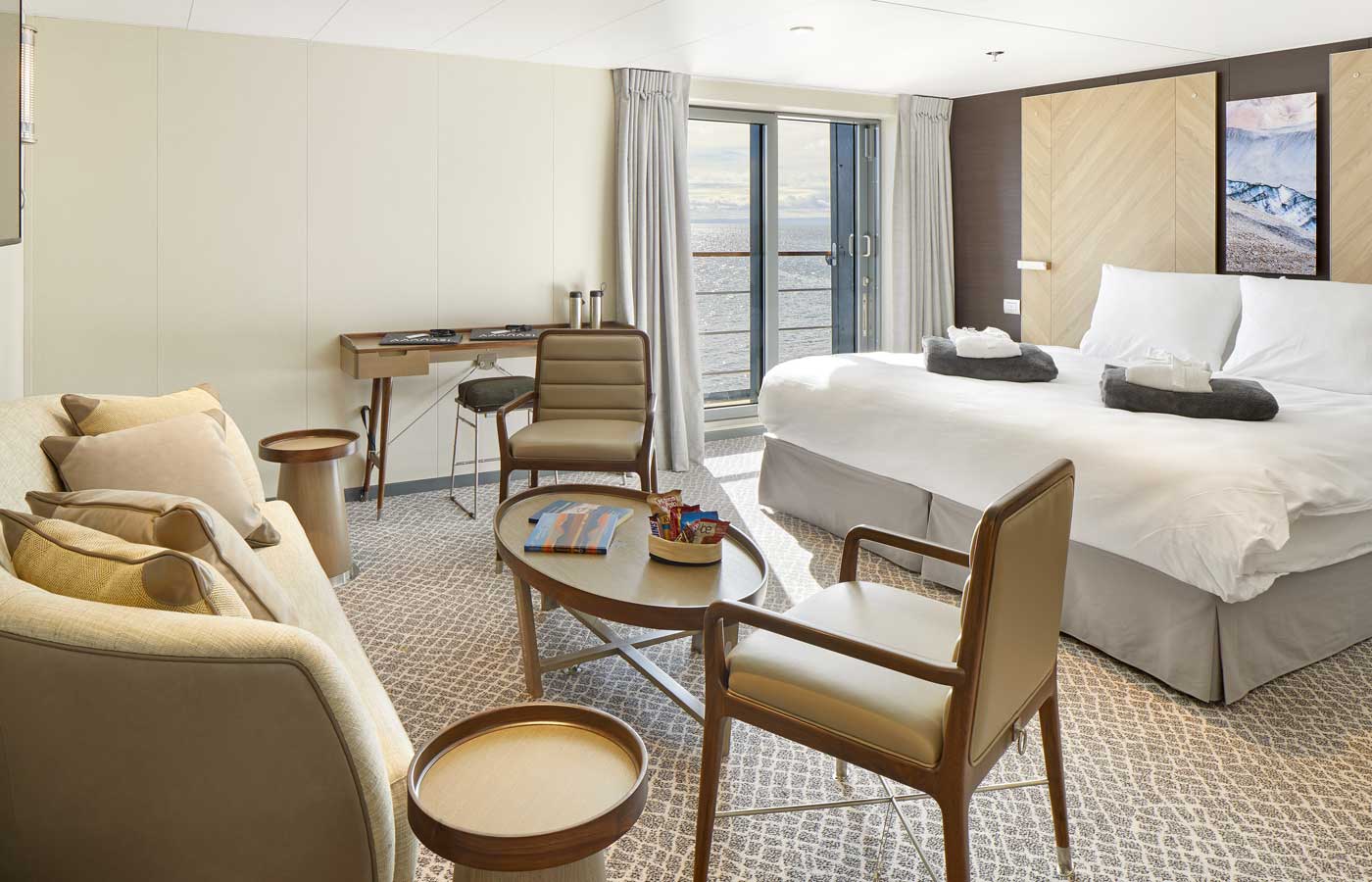 Penthouse Suite
30 m2 / 330 sq ft – located on deck 5
2 twin beds or 1 king-size bed
Separate sitting area with sofa and coffee table
Desk and chair
2 armchairs
Private balcony with sitting area
Larger private bathroom with separate shower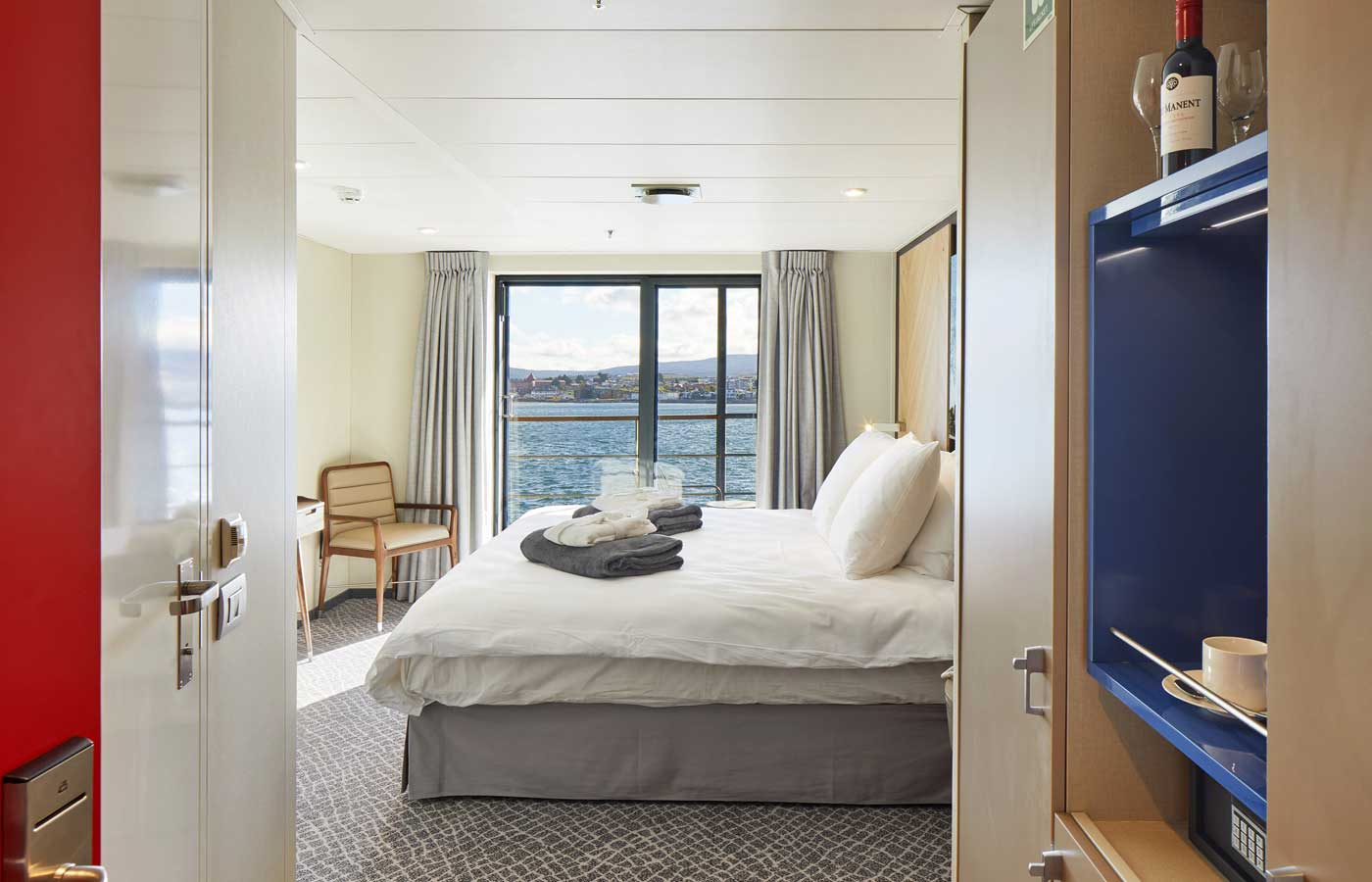 Deluxe Veranda
20 m2 / 220 sq ft – located on deck 4
2 twin beds or 1 king-size bed
Desk and chair
1 armchair with side table
Private balcony with sitting area
Larger private bathroom with separate shower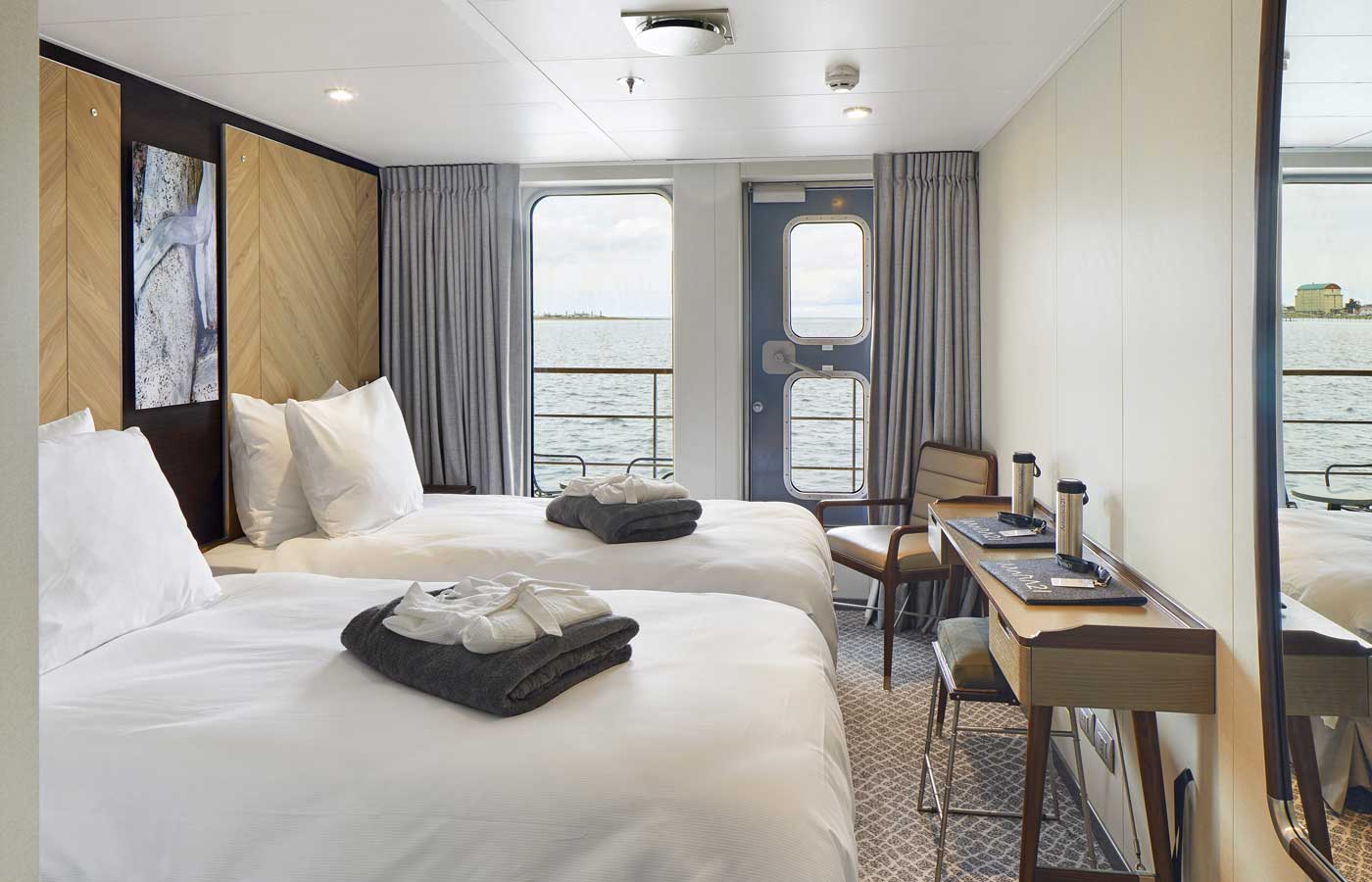 Veranda
20 m2 / 220 sq ft – located on deck 3
2 twin beds or 1 king-size bed
Desk and chair
1 armchair with side table
Private balcony with sitting area
Private bathroom with separate shower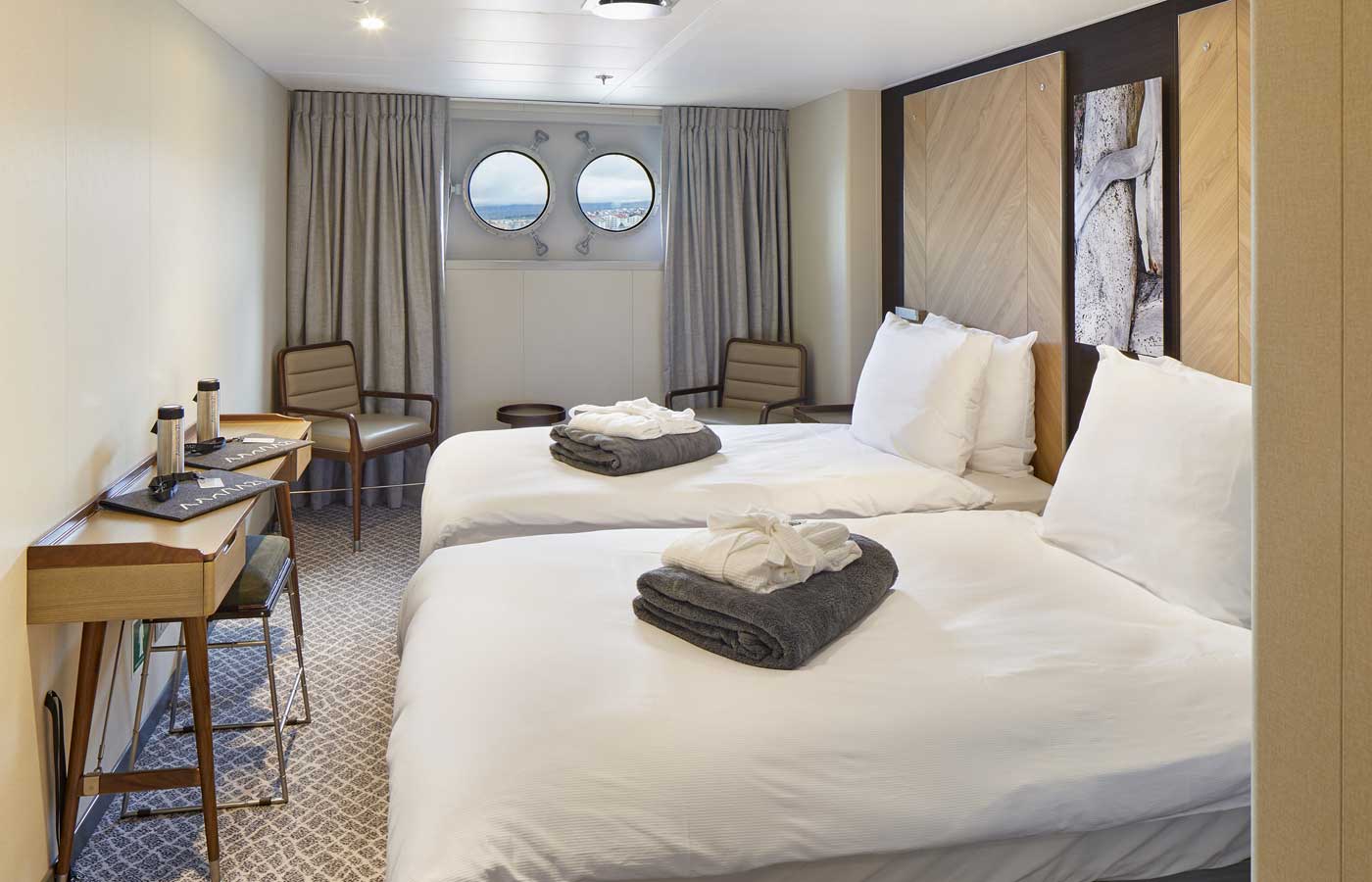 Porthole Suite

20 m2 / 220 sq ft – located on deck 3
2 twin beds or 1 king-size bed
Desk and chair
2 armchairs with side table
Private bathroom with separate shower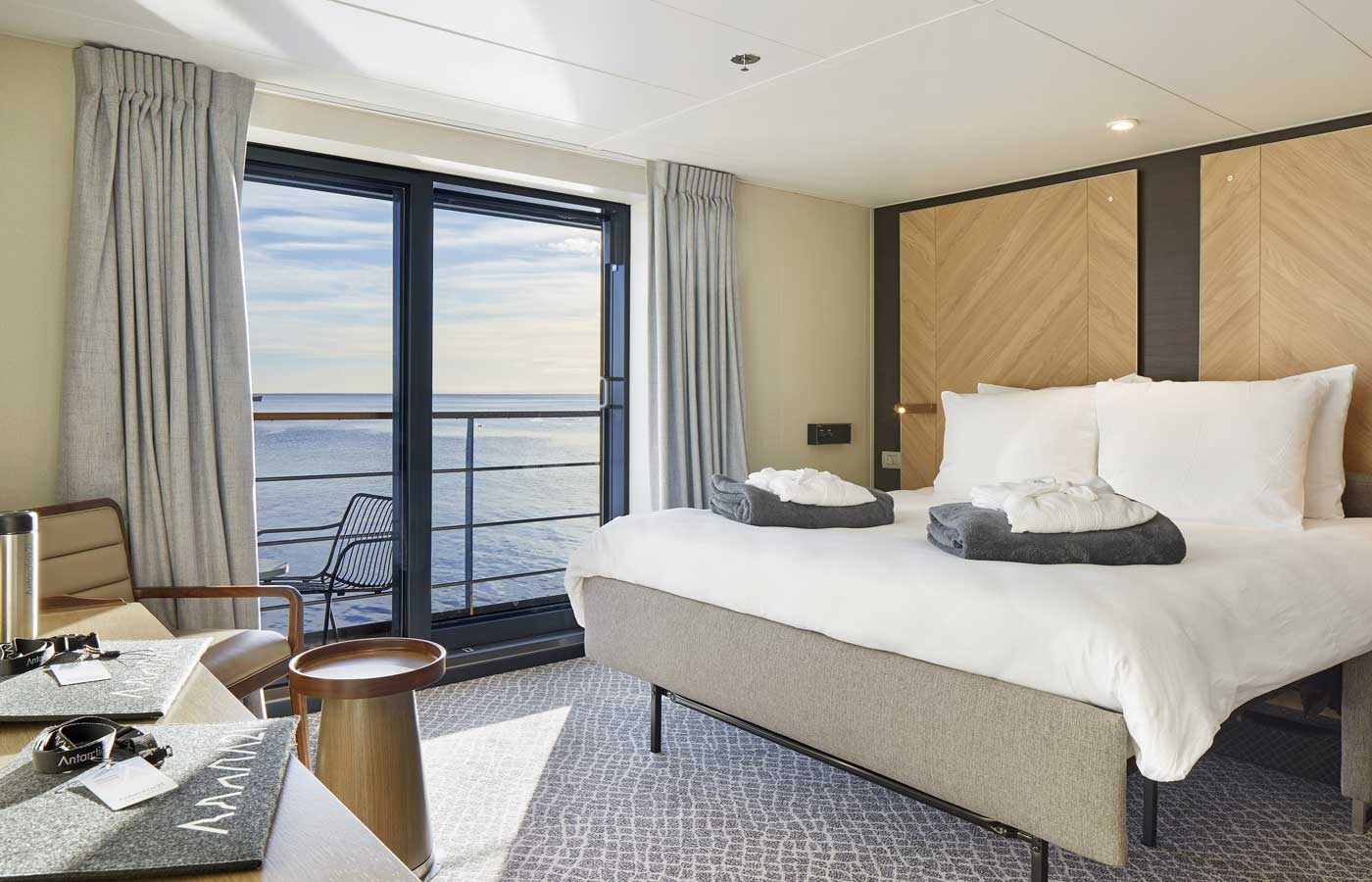 Triple Suite
40 m2 / 440 sq ft – Located on Deck 4
2 twin beds and 1 queen-size bed (max. occupancy 3 people)
Separate living area with sofa and coffee table
Desks and chair sets in both living and bedroom areas
2 armchairs with side tables
2 private balconies with sitting areas
2 larger private bathrooms with separate shower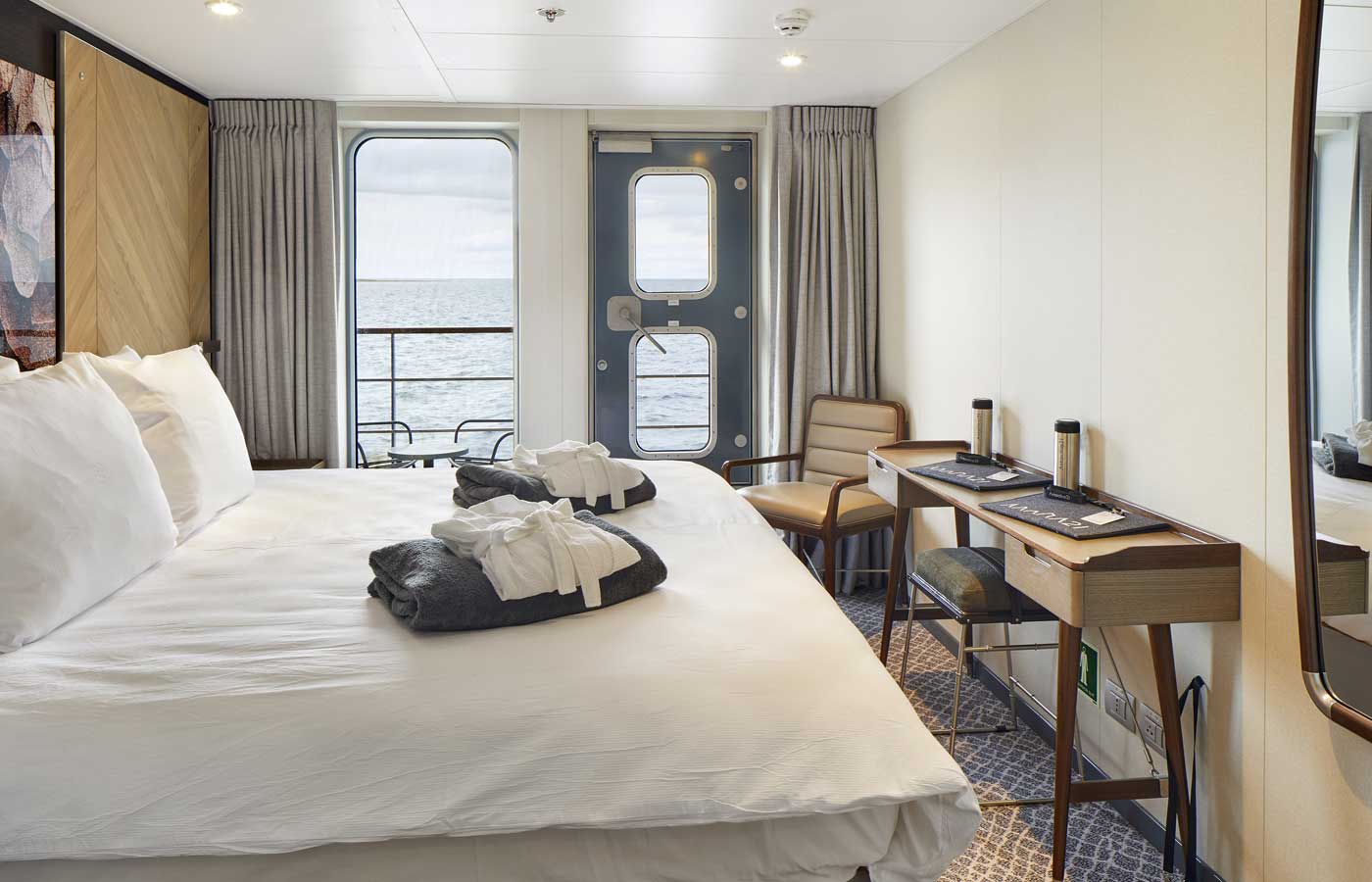 Single Veranda
20 m2 / 220 sq ft – located on deck 3
1 king-size bed
Desk and chair
1 armchair with side table
Private balcony with sitting area
Private bathroom with separate shower
SAILING DATES
| Embarkation | Start Date | Destination | Disembarkation | No. of Days |
| --- | --- | --- | --- | --- |
| Punta Arenas | 1st December 2020 | The Antarctic Peninsula | Punta Arenas | 8 |
| Punta Arenas | 6th December 2020 | The Antarctic Peninsula | Punta Arenas | 8 |
| Punta Arenas | 11th December 2020 | The Antarctic Peninsula | Punta Arenas | 8 |
| Punta Arenas | 16th December 2020 | The Antarctic Peninsula | Punta Arenas | 8 |
| Punta Arenas | 21st December 2020 | The Antarctic Peninsula | Punta Arenas | 8 |
| Punta Arenas | 26th December 2020 | The Antarctic Peninsula | Punta Arenas | 8 |
| Punta Arenas | 31st December 2020 | The Antarctic Peninsula | Punta Arenas | 8 |
| Punta Arenas | 14th January 2021 | The Antarctic Peninsula | Punta Arenas | 8 |
| Punta Arenas | 19th January 2021 | The Antarctic Peninsula | Punta Arenas | 8 |
| Punta Arenas | 31st January 2021 | The Antarctic Peninsula | Punta Arenas | 8 |
| Punta Arenas | 5th February 2021 | The Antarctic Peninsula | Punta Arenas | 8 |
| Punta Arenas | 10th February 2021 | The Antarctic Peninsula | Punta Arenas | 8 |
| Punta Arenas | 15th February 2021 | The Antarctic Peninsula | Punta Arenas | 8 |
| Punta Arenas | 20th February 2021 | The Antarctic Peninsula | Punta Arenas | 8 |
| Punta Arenas | 17th November 2021 | Antarctica & South Georgia Air-Cruise | Ushuaia | 17 |
| Punta Arenas | 1st December 2021 | Classic Antarctica Air-Cruise | Punta Arenas | 8 |
| Punta Arenas | 6th December 2021 | Classic Antarctica Air-Cruise | Punta Arenas | 8 |
| Punta Arenas | 11th December 2021 | Classic Antarctica Air-Cruise | Punta Arenas | 8 |
| Punta Arenas | 16th December 2021 | Classic Antarctica Air-Cruise | Punta Arenas | 8 |
| Punta Arenas | 21st December 2021 | Classic Antarctica Air-Cruise | Punta Arenas | 8 |
| Punta Arenas | 26th December 2021 | Classic Antarctica Air-Cruise | Punta Arenas | 8 |
| Punta Arenas | 31st December 2021 | Classic Antarctica Air-Cruise | Punta Arenas | 8 |
| Ushuaia | 11th January 2022 | Antarctica Express Air-Cruise | Punta Arenas | 6 |
| Punta Arenas | 14th January 2022 | Classic Antarctica Air-Cruise | Punta Arenas | 8 |
| Punta Arenas | 19th January 2022 | Classic Antarctica Air-Cruise | Punta Arenas | 8 |
| Punta Arenas | 24th January 2022 | Polar Circle Air-Cruise | Punta Arenas | 10 |
| Punta Arenas | 31st January 2022 | Classic Antarctica Air-Cruise | Punta Arenas | 8 |
| Punta Arenas | 5th February 2022 | Classic Antarctica Air-Cruise | Punta Arenas | 8 |
| Punta Arenas | 10th February 2022 | Classic Antarctica Air-Cruise | Punta Arenas | 8 |
| Punta Arenas | 15th February 2022 | Classic Antarctica Air-Cruise | Punta Arenas | 8 |
| Punta Arenas | 20th February 2022 | Classic Antarctica Air-Cruise | Punta Arenas | 8 |
| Punta Arenas | 25th February 2022 | Antarctica & South Georgia Air-Cruise | Ushuaia | 17 |