THE SILVER EXPLORER
There is something uniquely satisfying about a smaller ship. The intimacy. The friendly camaraderie. The excitement of exploring secluded harbours where others cannot go.
This intimate, ultra-luxury ship can sail up narrow waterways into the heart of a city, or tie up right at the pier while others must anchor off shore. And for those who yearn to explore the new and unknown, the Silver Explorer can transport you to the furthermost boundaries of the planet.
Equally gratifying is the experience on board this prestigious ship, for example the spacious suites with butler service. The delicious cuisine. The warm hospitality and European cachet that attract guests from around the globe. Travel is the elixir of life and every cruise is a voyage of discovery, and with a capacity of just 144 passengers, guests will feel at home.
The purpose-built luxury Silver Explorer expedition cruise ship has been designed specifically for navigating waters in some of the world's most remote destinations, including both of earth's polar regions.  A strengthened hull with a Lloyd's Register ice-class notation (1A) for passenger vessels enables the Silver Explorer Expedition Cruise Ship to safely push through ice floes with ease.
A fleet of Zodiac boats allows Silversea Expedition guests to visit even the most off-the-beaten path locations and an expert Expedition Team provides insight and understanding to each unforgettable Silver Explorer luxury cruise adventure.
Why we like the Silver Explorer

Arguably the most comfortable and luxurious ship in Antarctic waters

An unparalleled staff-to-guest ratio of almost 1:1

 High A1 ice class rating with active stabilisers for comfort in high seas

Outstanding cuisine through the operator's partnership with Relais & Chateaux

Comfortable all-suite cabins with the choice of an exterior balcony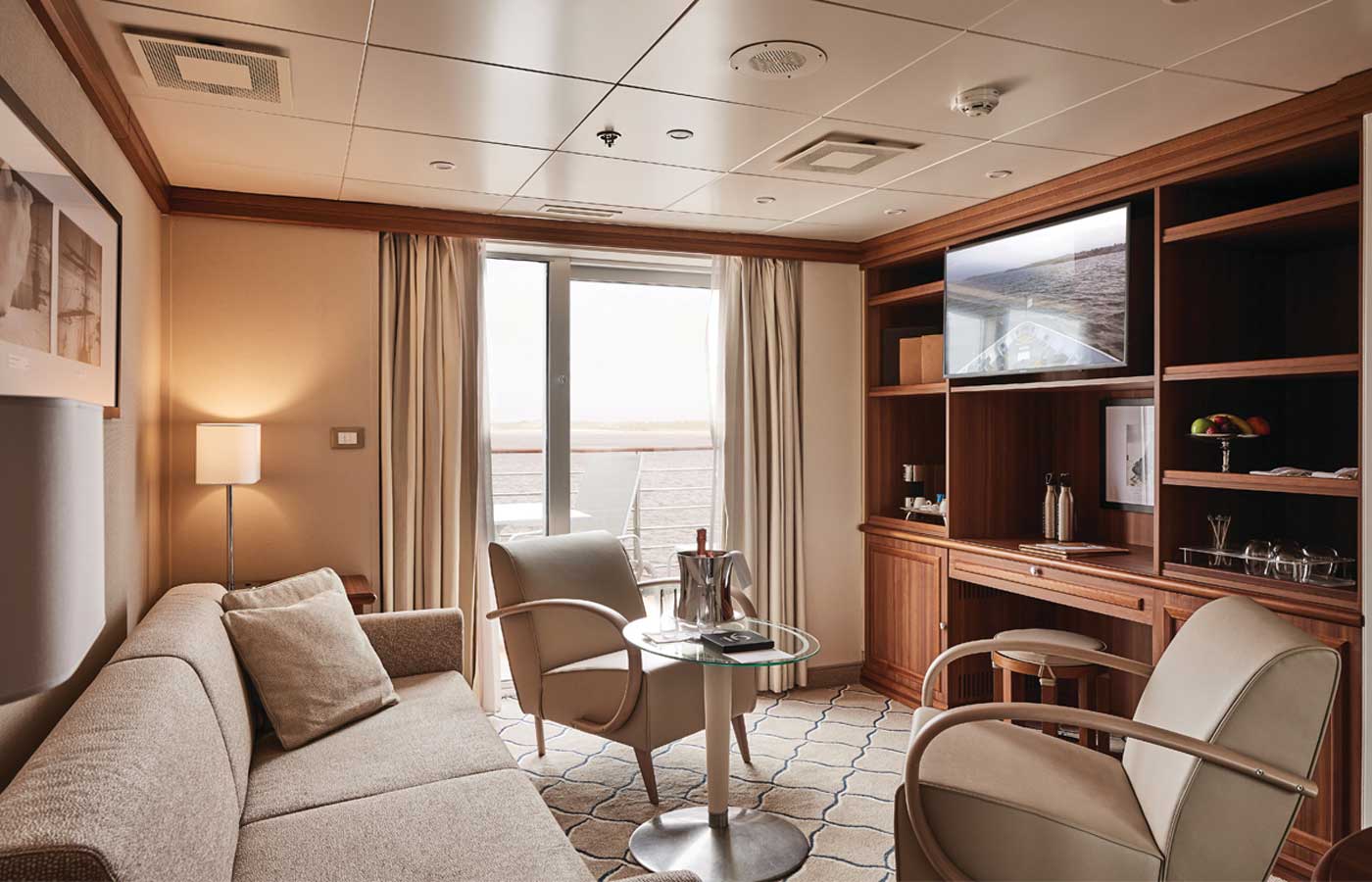 Owner's Suite
Balcony with wooden parquet and patio furniture and floor-to-ceiling glass doors
Living room with sitting area
Twin beds or queen-sized bed
Marbled bathroom, with full-sized bath and separate shower
728 sq ft including private balcony (158 sq ft)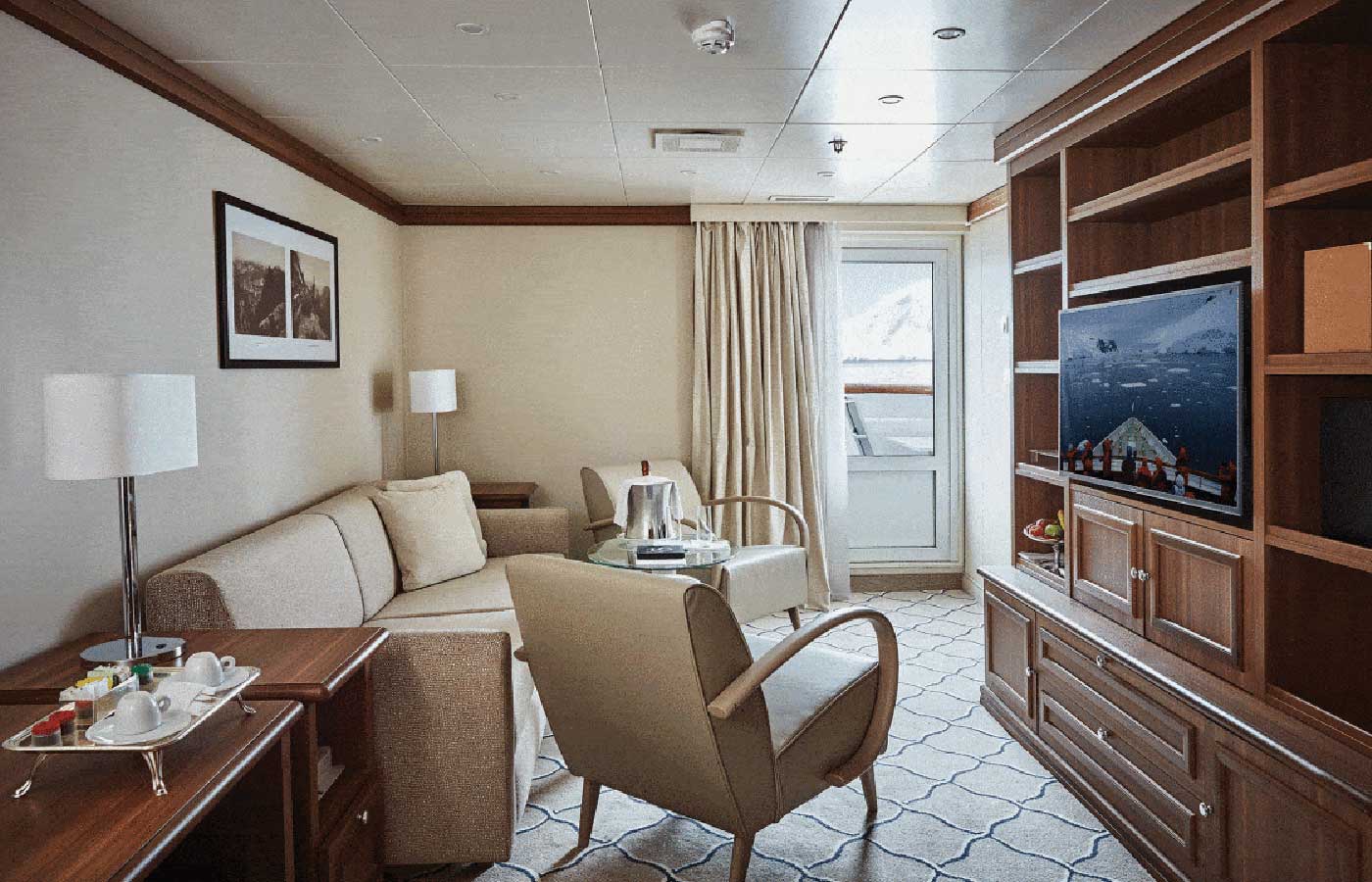 Grand Suite
Balcony with wooden parquet and patio furniture and floor-to-ceiling glass doors
Living room with sitting area
Twin beds or queen-sized bed
Marbled bathroom with full-sized bath and separate shower
618 sq ft including private balcony (86 sq ft)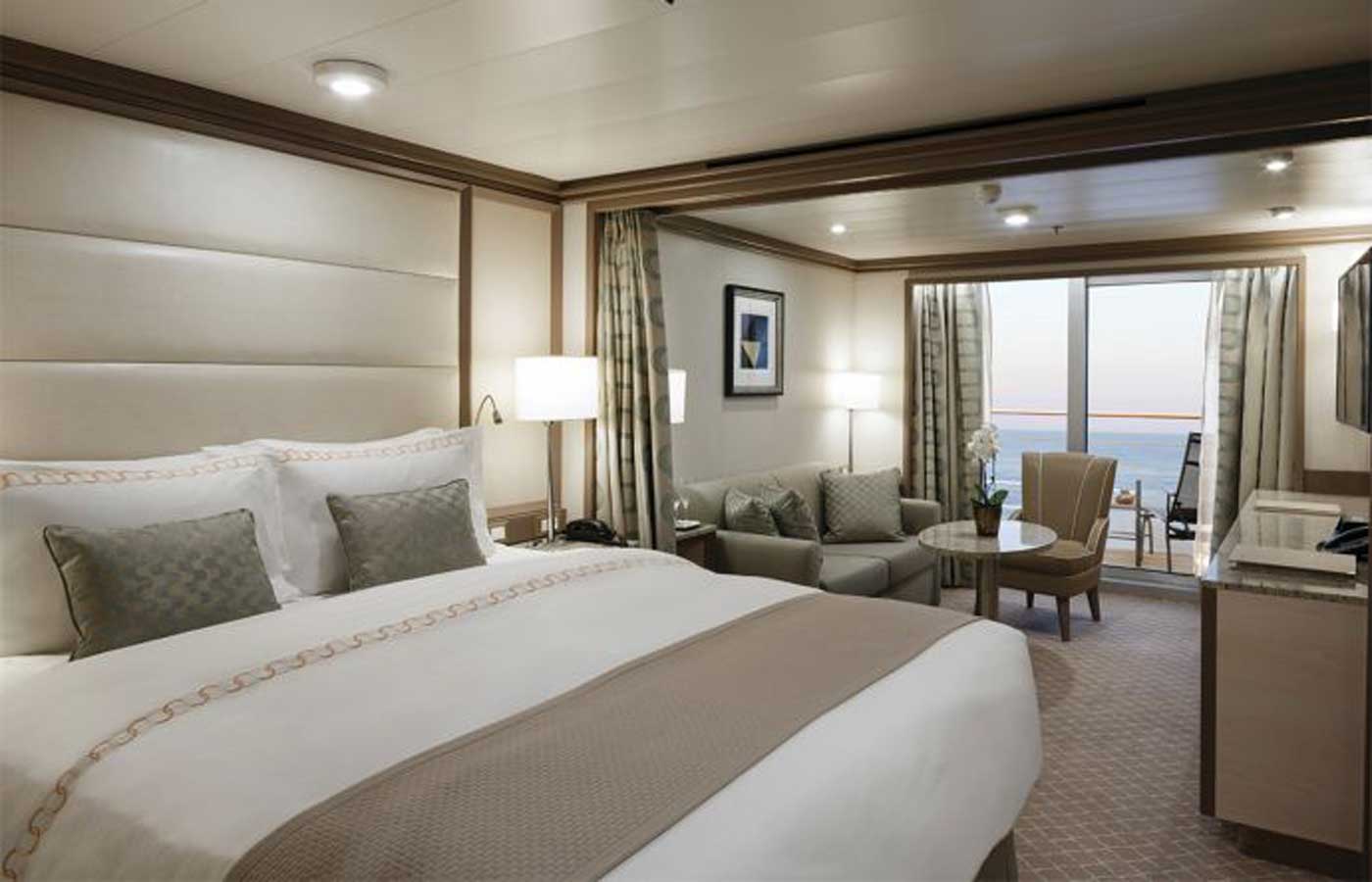 Silver Suite
Two French balconies with floor to ceiling glass doors
Living room (with convertible sofa to accommodate an additional guest)
Twin beds or queen-sized bed
Marbled bathroom with full-sized bath and separate shower
422 sq ft including two french balconies (30 sq ft)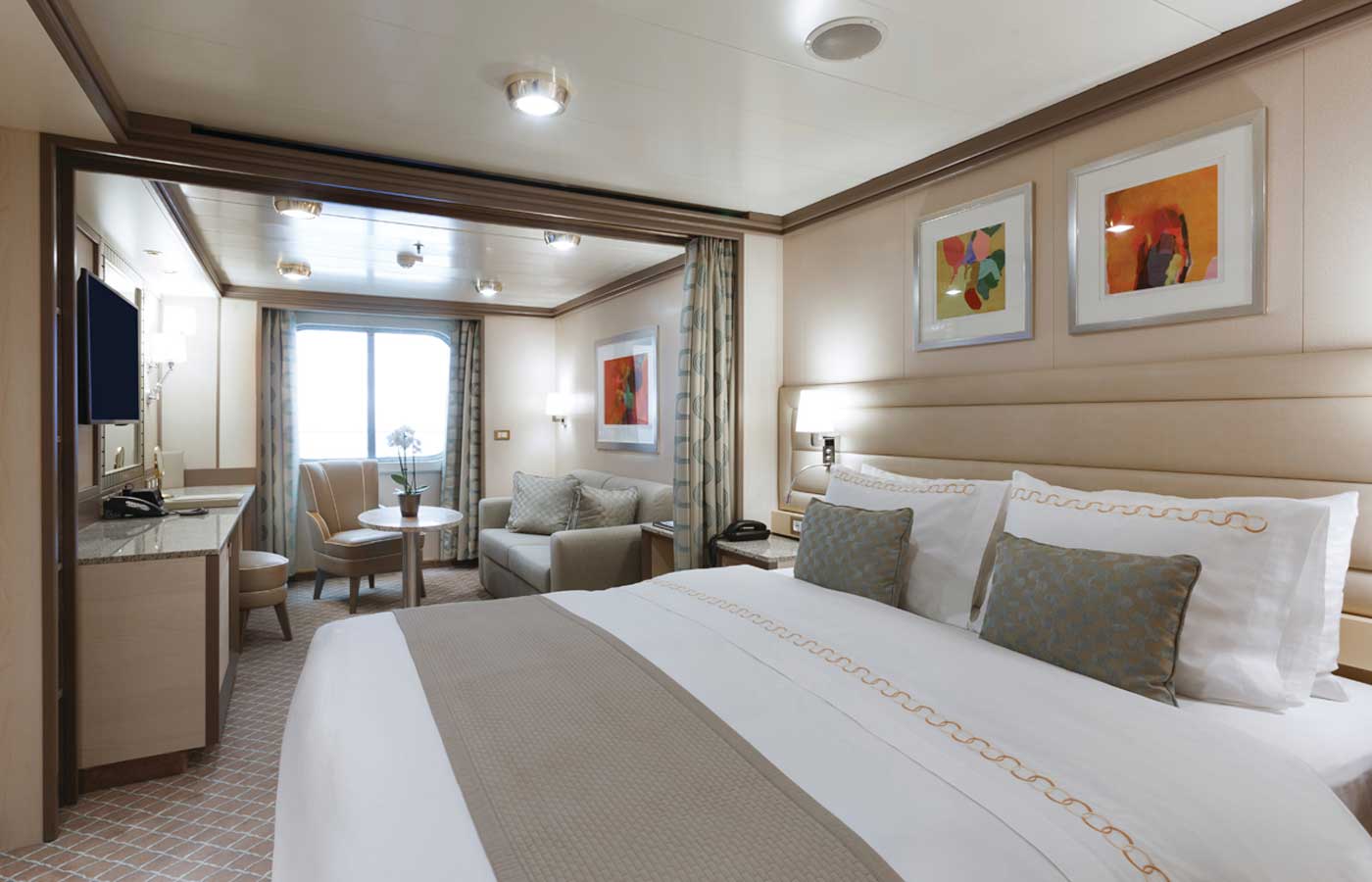 Medallion Suite
Balcony with wooden parquet and patio furniture and floor-to-ceiling glass doors
Twin beds or queen-sized bed
Marbled bathroom with full-sized bath and separate shower
400 sq ft including private balcony (86 sq ft)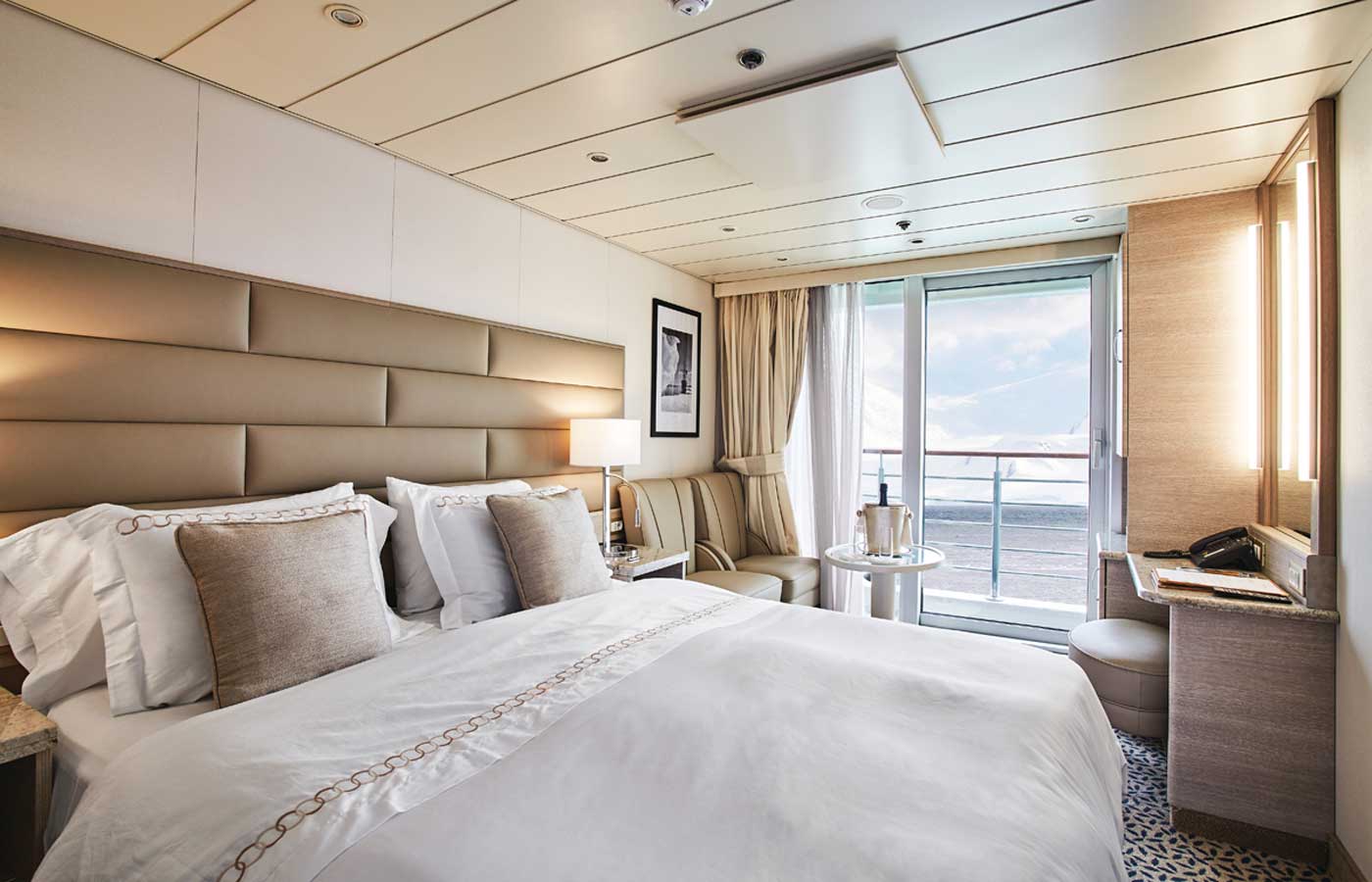 Veranda/Vista/View Suite

French balcony with floor-to-ceiling glass doors (Veranda Suite)
Large picture window providing panoramic ocean views (Vista Suite)
View window (View Suite)
Twin beds or queen-sized bed
Marbled bathroom with shower
Veranda Suite: 206-216 sq ft including French Balcony (16 sq ft)
Vista Suite: 192 sq ft with a large picture window
View Suite: 192 sq ft with view window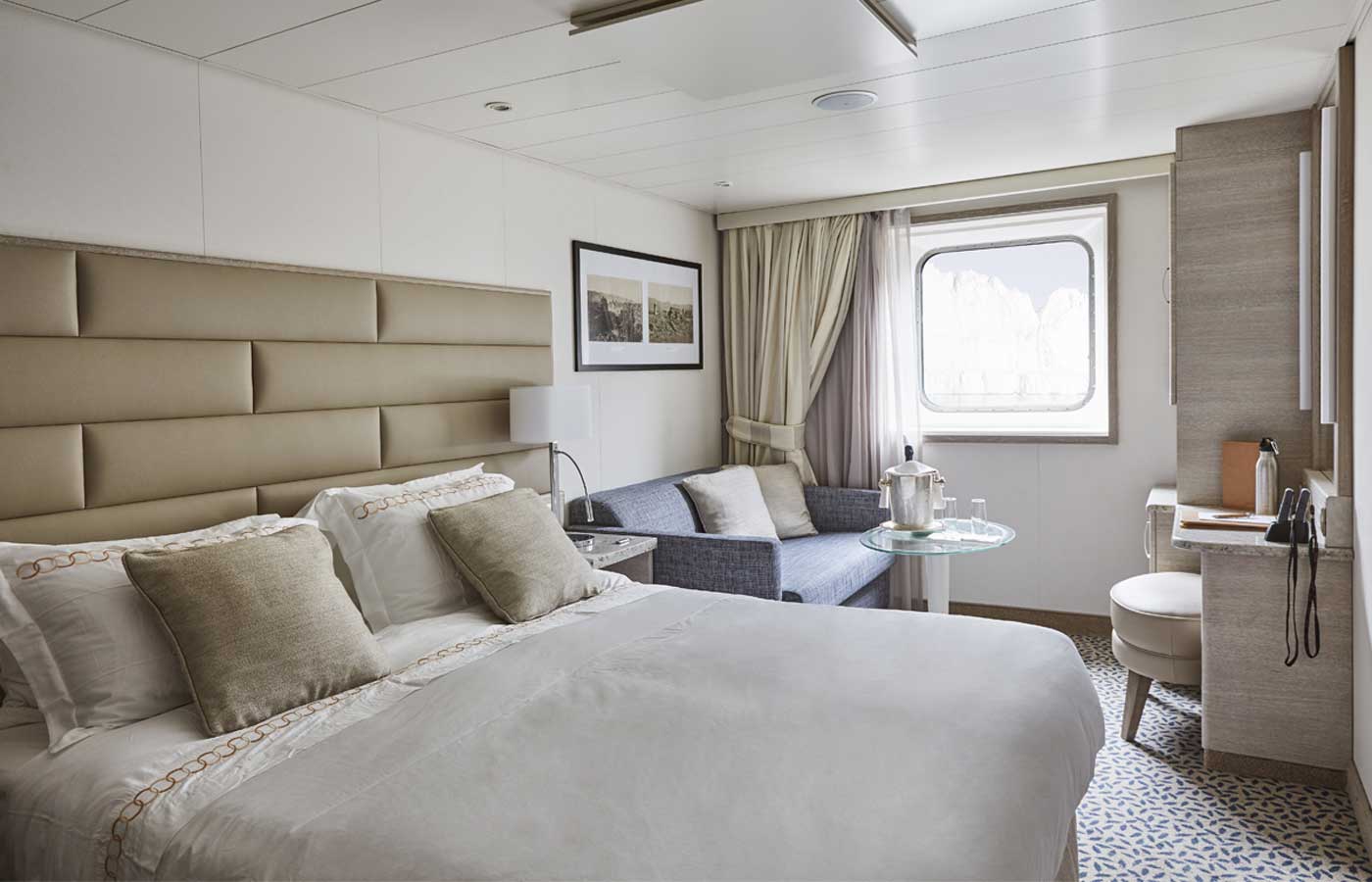 Explorer/Aventure Suite
View window (Explorer Suite)
Two portholes (Adventurer Suite)
Twin beds or queen-sized bed
Marbled bathroom with shower
Explorer Suite: 175-190 sq ft with view window
Adventurer Suite: 157-167 sq ft with two portholes
SAILING DATES
| Embarkation | Start Date | Destination | Disembarkation | No. of Days |
| --- | --- | --- | --- | --- |
| Ushuaia | 10th November 2021 | South Georgia and Antarctica | Ushuaia | 16 |
| Ushuaia | 26th November 2021 | The Falklands and Antarctica | Ushuaia | 13 |
| King George Island | 11th December 2021 | Fly and Cruise Antarctica | King George Island | 6 |
| King George Island | 17th December 2021 | Fly and Cruise Antarctica | King George Island | 6 |
| King George Island | 23rd December 2021 | Fly and Cruise Antarctica | King George Island | 6 |
| King George Island | 29th December 2021 | Fly and Cruise Antarctica | King George Island | 6 |
| Ushuaia | 06th January 2022 | Antarctica | Ushuaia | 10 |
| King George Island | 18th January 2022 | Fly and Cruise Antarctica | King George Island | 6 |
| King George Island | 24th January 2022 | Fly and Cruise Antarctica | King George Island | 6 |
| King George Island | 30th January 2022 | Fly and Cruise Antarctica | King George Island | 6 |
| King George Island | 05th February 2022 | Fly and Cruise Antarctica | King George Island | 6 |
| Ushuaia | 13th February 2022 | Antarctica | Ushuaia | 12 |
| King George Island | 27th February 2022 | Fly and Cruise Antarctica | King George Island | 6 |
| King George Island | 05th March 2022 | Fly and Cruise Antarctica | King George Island | 6 |
| King George Island | 11th March 2022 | Fly and Cruise Antarctica | King George Island | 6 |
| King George Island | 17th March 2022 | Fly and Cruise Antarctica | King George Island | 6 |
| King George Island | 28th November 2022 | Fly and Cruise Antarctica | King George Island | 6 |
| King George Island | 3rd December 2022 | Fly and Cruise Antarctica | King George Island | 6 |
| King George Island | 8th December 2022 | Fly and Cruise Antarctica | King George Island | 6 |
| King George Island | 19th December 2022 | Fly and Cruise Antarctica | King George Island | 10 |
| King George Island | 28th December 2022 | Fly and Cruise Antarctica | King George Island | 10 |
| King George Island | 6th January 2023 | Fly and Cruise Antarctica | King George Island | 6 |
| King George Island | 18th January 2023 | Fly and Cruise Antarctica | King George Island | 6 |
| King George Island | 24th January 2023 | Fly and Cruise Antarctica | King George Island | 6 |