SYLVIA EARLE
The brand new Sylvia Earle ship is designed with the protection and observation of Antarctica's rich marine wildlife in mind.
Due to sail in October 2021, Greg Mortimer's new sister ship honours the highly accomplished marine biologist, oceanographer and explorer, Sylvia Earle. As the first female chief scientist of the U.S. National Oceanic and Atmospheric Administration, and named by Time Magazine as its first Hero for the Planet in 1998 – this vessel pays tribute to Sylvia's long standing conservation efforts for marine protected areas and ocean wildlife. Sylvia Earle will be actively involved in the development of her namesake.
Whether it's gathering in the modern lecture theatre to learn about the wildlife that you are about to see, photographing whales from its viewing platforms or preparing for your next shore excursion, the Sylvia Earle takes expedition cruising to a new level.
At just 104 metres (340 feet) long, the Sylvia Earle ship carries a maximum of 120 expeditioners to the polar regions. As one of the smallest ships in the polar expedition cruising fleet, its size and modern ice-strengthened hull (Class 1A, one category below a full ice-breaker) give you the ability to explore those places that larger ships can't reach. In addition, thanks to its unique, patented X-Bow®, it is capable of fast, comfortable transit speeds with less fuel consumption and reduced emissions.
Why we like the Greg Mortimer

Honours the marine biologist, oceanographer and explorer, Sylvia Earle

X-BOW technology, which pierces waves for a smoother voyage

The ship carries a maximum of 126 passengers, ensuring everyone can land together

Exclusively designed for expedition cruising, providing an authentic experience

Less fuel consumption and reduced emissions than other Antarctic ships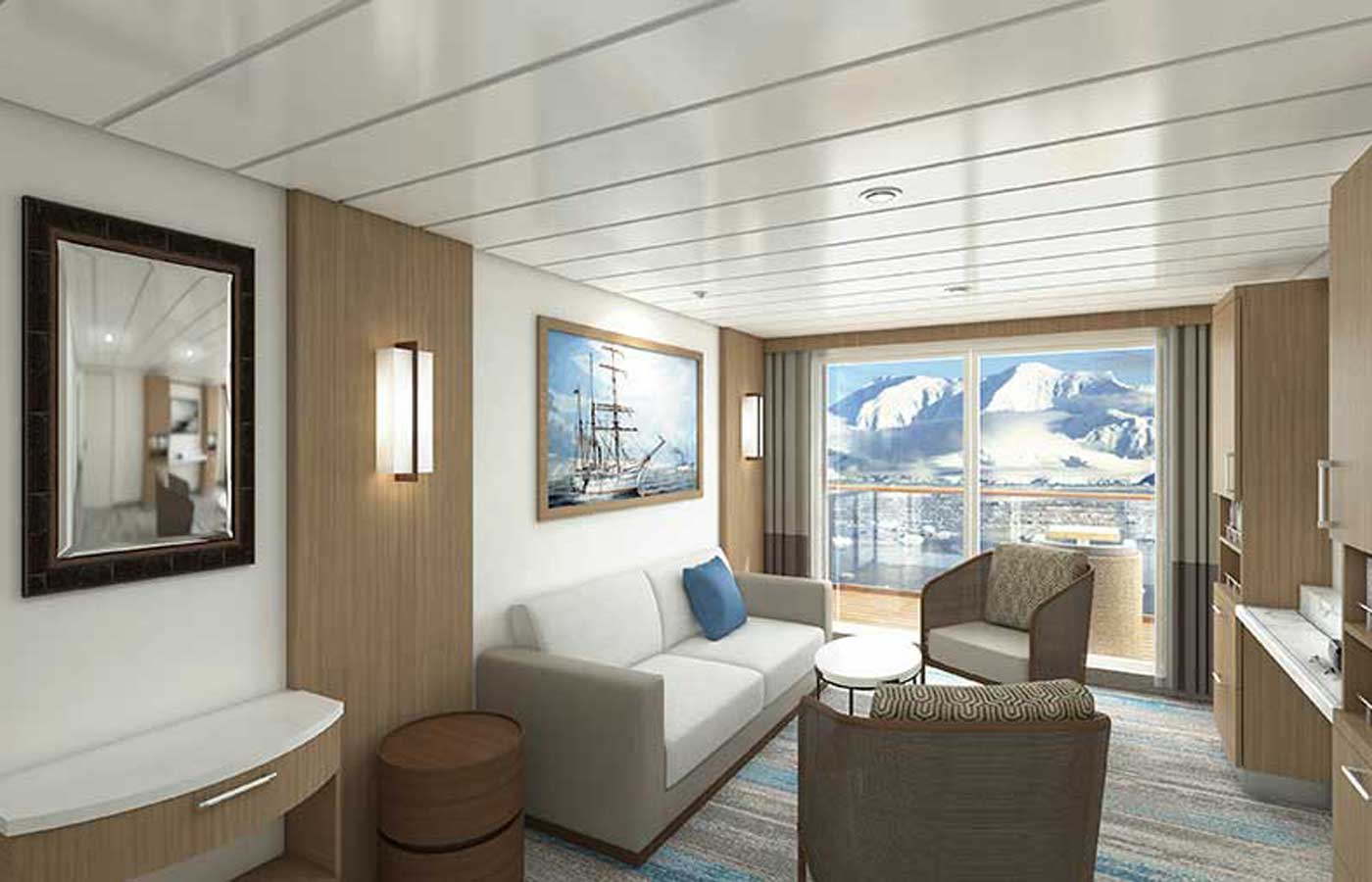 Captain's Suite
There is 1 Captain's Suite located on Deck 4
Cabin and balcony combined size of 44.5 m2 (480 sq. ft.)
Private balcony, en-suite and separate lounge area
Features a king or twin beds
Thermostat, safe, flat screen TV and more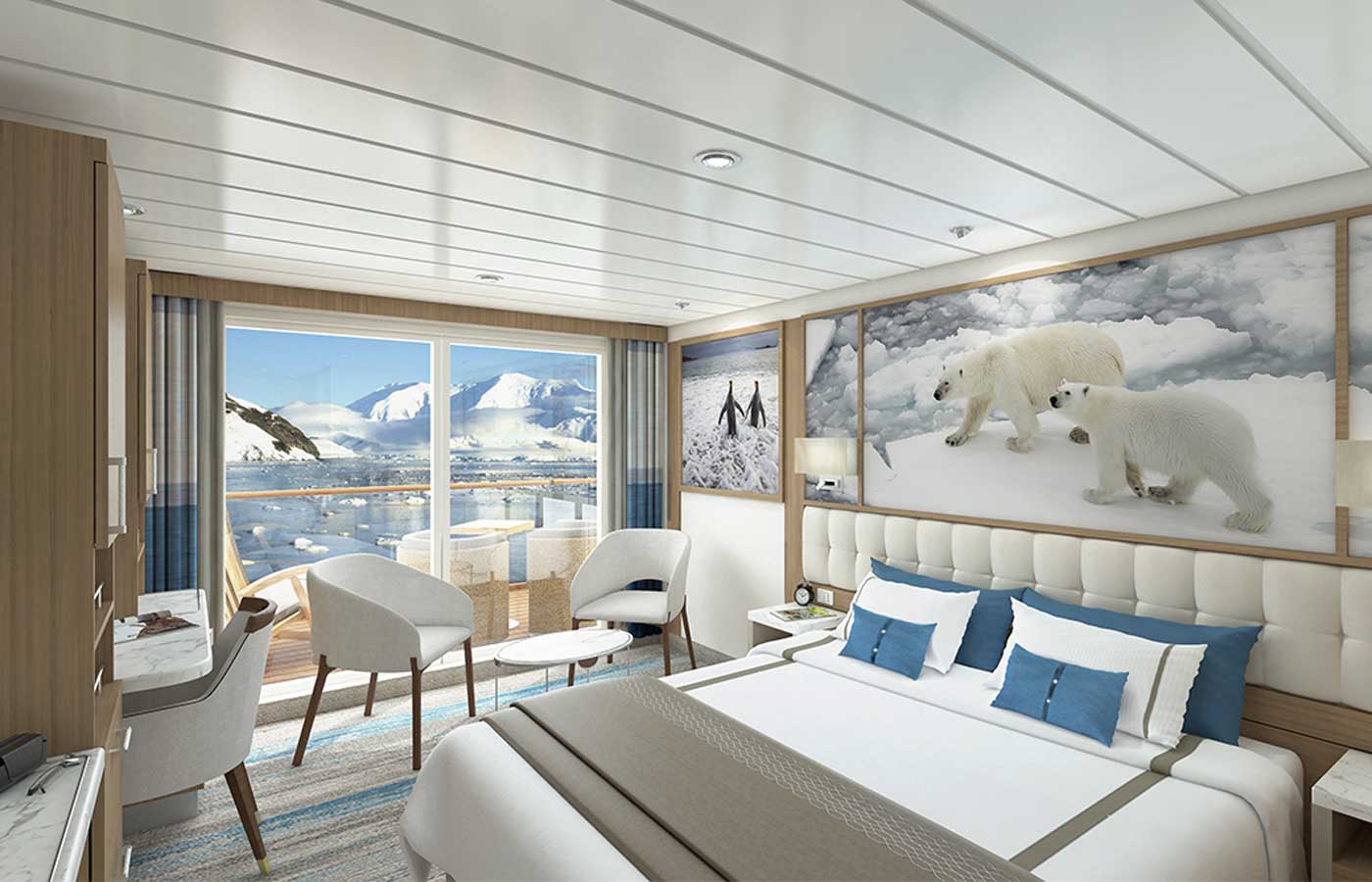 Junior Suite
There are 4 Junior Suites located on Deck 7
Cabin and balcony combined size of 43 m2 (460 sq. ft.)
Private balcony, en-suite and separate lounge area
Features a king or twin beds
Thermostat, safe, flat screen TV and more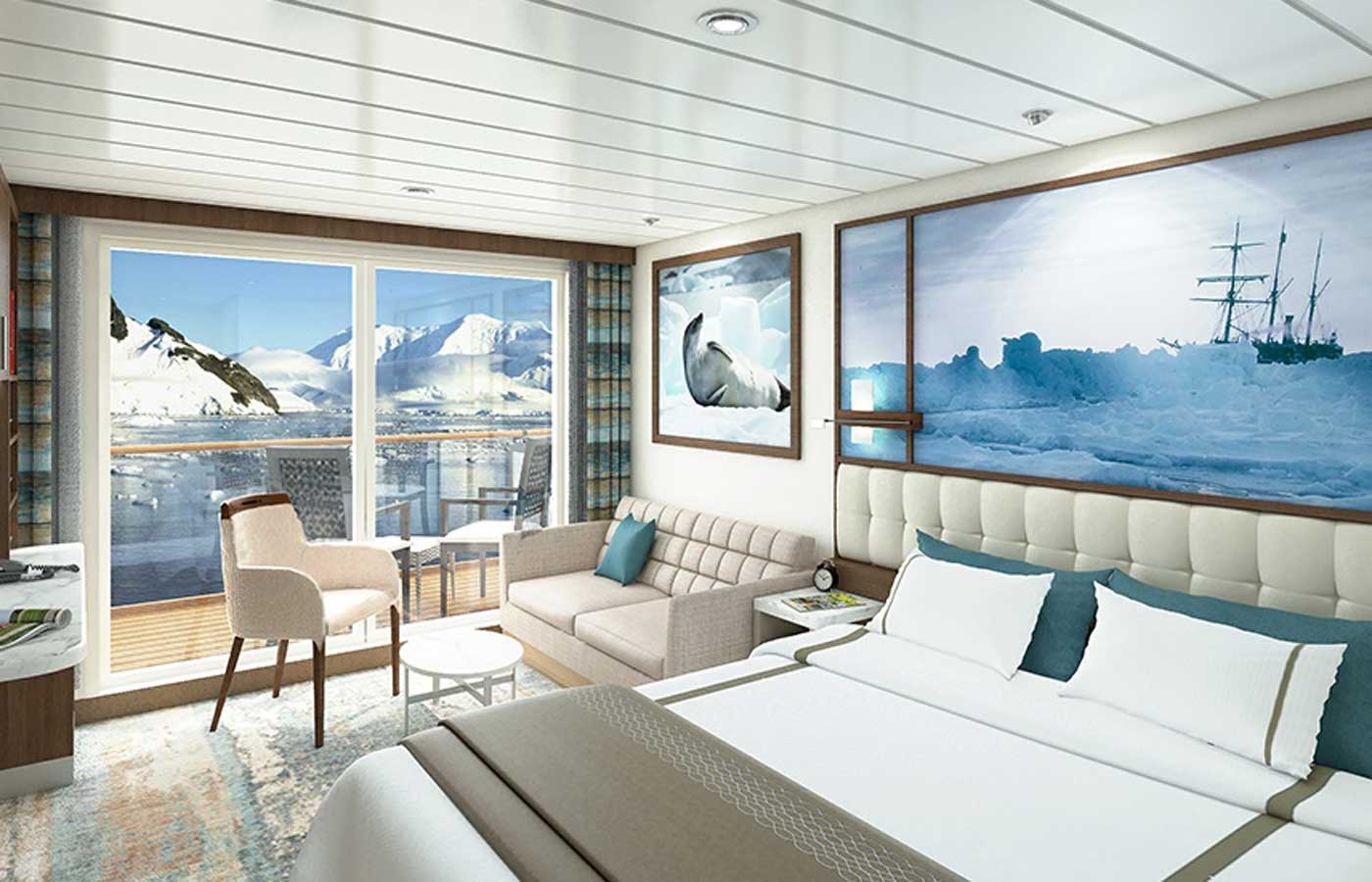 Superior Balcony Stateroom
The Superior Balcony staterooms are located on Decks 4 and 5
Cabin and balcony combined size of 28-37 m2 (300-405 sq. ft.)
Private balcony, en-suite and comfortable desk area
Features a double or twin beds
Thermostat, safe, flat screen TV and more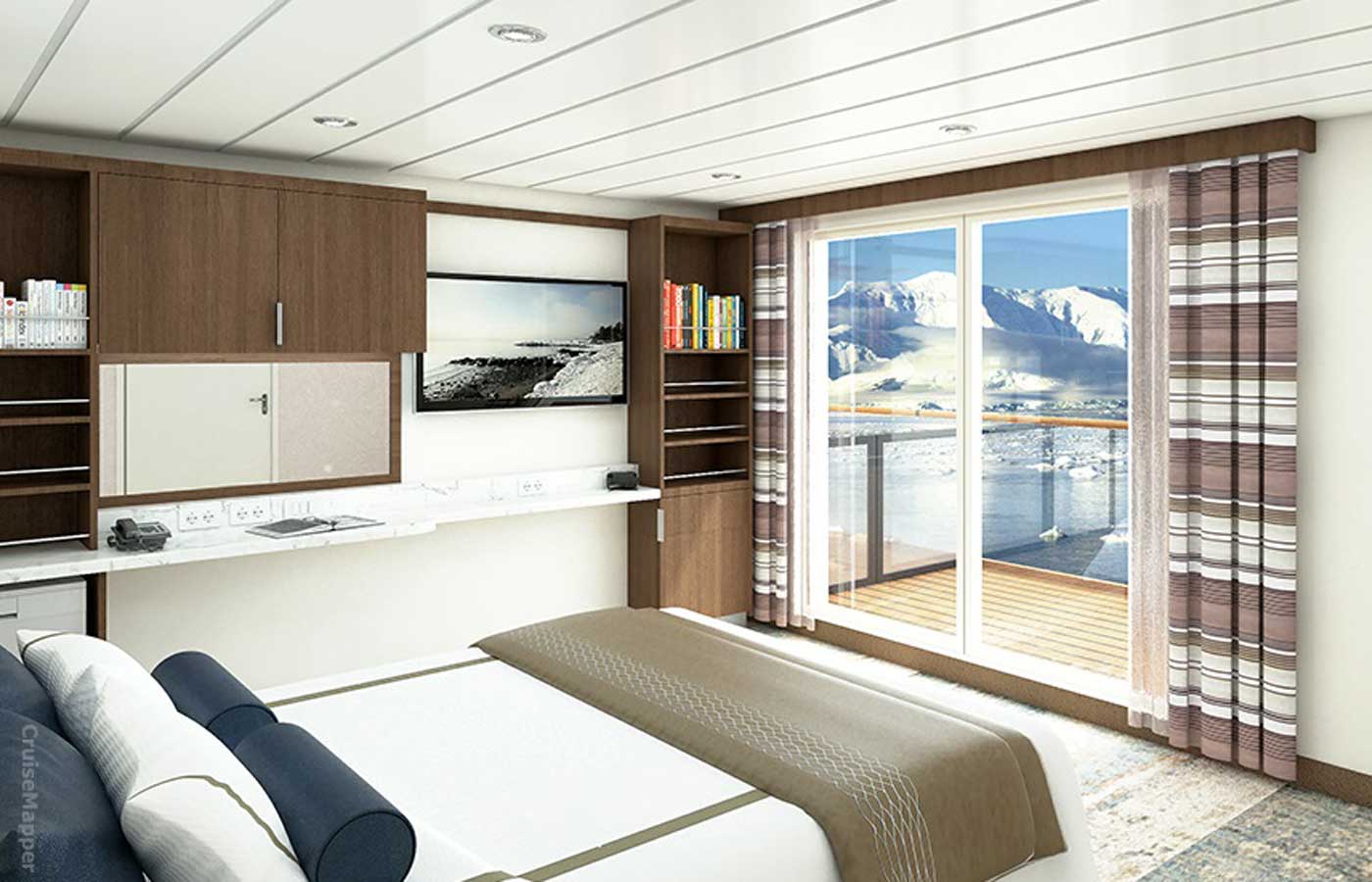 Balcony Staterooms A, B and C

The Balcony Staterooms are located on Decks 4 and 6
Cabin and balcony combined size of 21-24 m2 (225-270 sq. ft.)
The 23 Balcony Staterooms A are premium cabins, located in preferred positions
The 17 Balcony Staterooms B are standard cabins, fitted with interconnected features
The 11 Balcony Staterooms C are economical cabins
Private balcony, en-suite and comfortable desk area with double or twin beds
Thermostat, safe, flat screen TV and more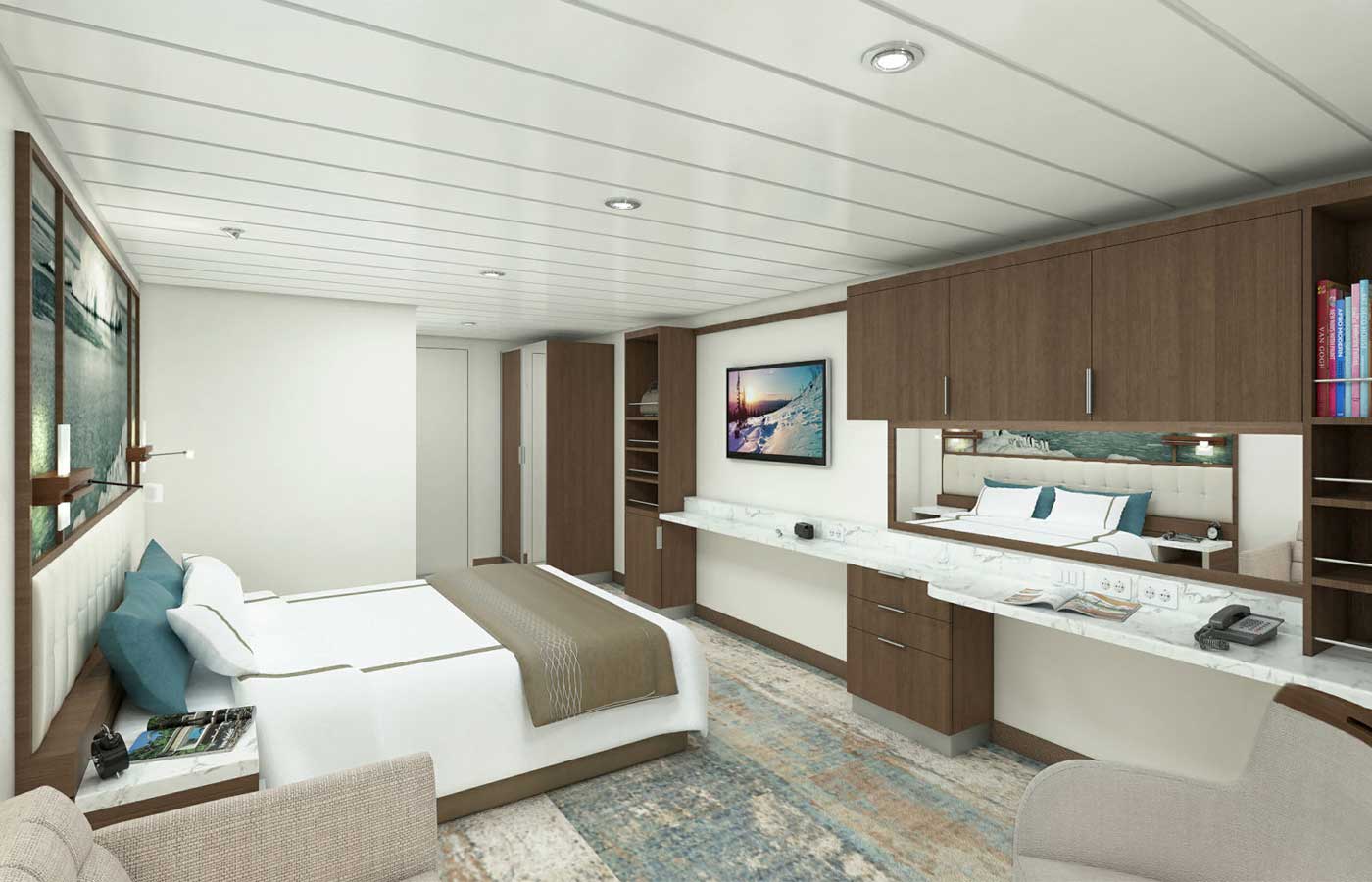 Superior Stateroom
The Superior Staterooms are located on Deck 7
Cabin size of 20-22 m2 (215-240 sq. ft.)
Features porthole windows
En-suite bathroom and comfortable desk area with double or twin beds
Thermostat, safe, flat screen TV and more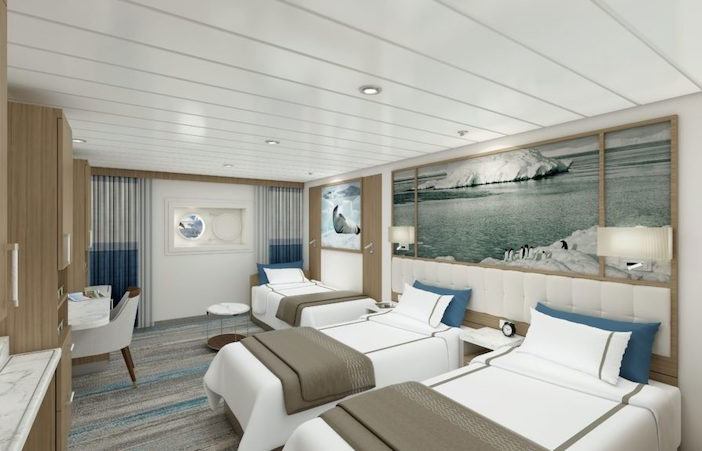 Aurora Stateroom
There are three Aurora Stateroom Twin cabins and four Triple cabins located on Deck 3
Cabin size of 16-22 m2 (170-245 sq. ft.)
Shared options available, perfect for adventure seekers
Features porthole windows
En-suite bathroom and comfortable desk area with twin or triple
Thermostat, safe, flat screen TV and more
SAILING DATES
| Embarkation | Start Date | Destination | Disembarkation | No. of Days |
| --- | --- | --- | --- | --- |
| Ushuaia | 29th October 2021 | Spirit of Antarctica | Ushuaia | 12 |
| Ushuaia | 8th November 2021 | Falklands & South Georgia | Ushuaia | 17 |
| Ushuaia | 23rd November 2021 | Spirit of Antarctica (Solar Eclipse) | Ushuaia | 16 |
| Ushuaia | 7th December 2021 | Spirit of Antarctica | Ushuaia | 12 |
| Ushuaia | 17th December 2021 | Falklands, South Georgia, Sandwich Islands & Antarctica (Holiday Package) | Ushuaia | 25 |
| Ushuaia | 9th January 2022 | Spirit of Antarctica | Ushuaia | 12 |
| Ushuaia | 19th January 2022 | Antarctic Explorer (Cruise/Fly) | Punta Arenas | 11 |
| Punta Arenas | 5th February 2022 | Antarctic Explorer (Fly/Cruise) | Ushuaia | 12 |
| Ushuaia | 15th February 2022 | Wild Antarctica (Cruise/Fly) | Punta Arenas | 12 |
| Punta Arenas | 24th February 2022 | Across the Antarctic Circle (Fly/Fly) | Punta Arenas | 13 |
| Punta Arenas | 6th March 2022 | Antarctic Explorer (Fly/Cruise) | Ushuaia | 10 |
| Ushuaia | 14th March 2022 | Antarctica Complete (Falklands & South Georgia) | Ushuaia | 23 |