Voted as one of Harper's Bazaar Top 25 Hotels in the World, and with numerous other awards under its belt, Bahia Vik is a premier hotel in Latin America. Set on a beautiful sweeping beach in Uruguay, this is the ideal place to relax and soak up the sun.

---
Although Uruguay is often overshadowed by its bigger and flashier neighbours, it has much to offer the discerning traveller. The country has not changed much in recent years and maintains much of its culture and heritage, along with a surprising selection of activities. Between October and March the sunshine beats down upon the sandy beaches and it is the ideal place to enjoy a holiday next to the sea. Bahia Vik is a stunning property on the coastline close to Jose Ignacio, and offers luxury amenities that are on par with any other 5* hotels throughout the continent. Splashes of colour, modern art pieces and stunning architecture combine to create a serene and captivating property which will provide an ideal base for a luxury holiday in Uruguay.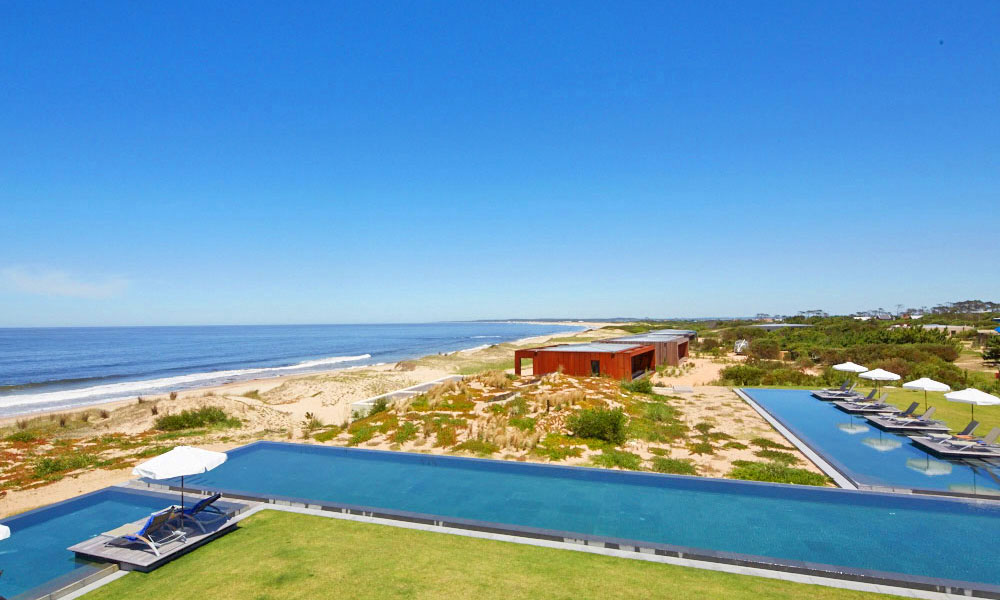 ---
NAME: Bahia Vik
LOCATION: On the beach, close to Jose Ignacio in Uruguay
NO. OF ROOMS: There are 10 hotel rooms situated in the main building, and 11 individual bungalows which are spaced across the beach.
FOOD & DRINK: Chef Marcelo Betancourt and his team serve a wonderful selection of refined, contemporary and creative dishes which are full of flavour and made using the freshest ingredients. This can include Uruguay's grass-fed meats, locally caught seafood and organically grown fruit and vegetables from the VIK properties very own farm.
OUTSTANDING FEATURE: The ultra-modern designs of both the exteriors and the interiors of each room or bungalow are impressive. Excellent use of colour, art and elegant features are a powerful combination.
BEST FOR: Escaping the crowds and experiencing a country which has changed very little over the last 100 years.

MUST DO ACTIVITY: Try your hand at polo – one of Uruguay's most popular sports. 

ECO CREDENTIALS: The hotel is part of a hotel group which has spent time and money on installing solar thermal panels which saves thousands of tonnes of CO2 emissions annually. The hotel proudly states that is it committed to preserving the environment.
---
Guests can indulge in horseback riding along the beach, among other activities on offer.
The interiors of the property are art-focused and unique.
The beautiful patio area is an ideal place to relax of an afternoon.
Bright and light, the reception area sets the tone for the rest of the hotel.
---
Would you like to visit Uruguay? Simply contact us for more information and let us create a tailor made holiday for you.