Young, dynamic and, in fairness, not everyone's cup of tea; the W Hotels always make an impression. Offering sleek contemporary interiors, sophisticated bars and a vibrant modern take on traditional luxury, the W Hotels of Latin America are perfect for travellers seeking comfort with a playful edge.
The W is a popular hotel brand amongst the Humboldt team. W forms part of the much larger Marriott group but offers a more refined glamour and sophistication with a cool and sexy edge. There are seven W Hotels in Latin America in total and we are big fans of each of them. Although larger hotel properties, each is unique in its décor and style, taking inspiration from the country in which it is located.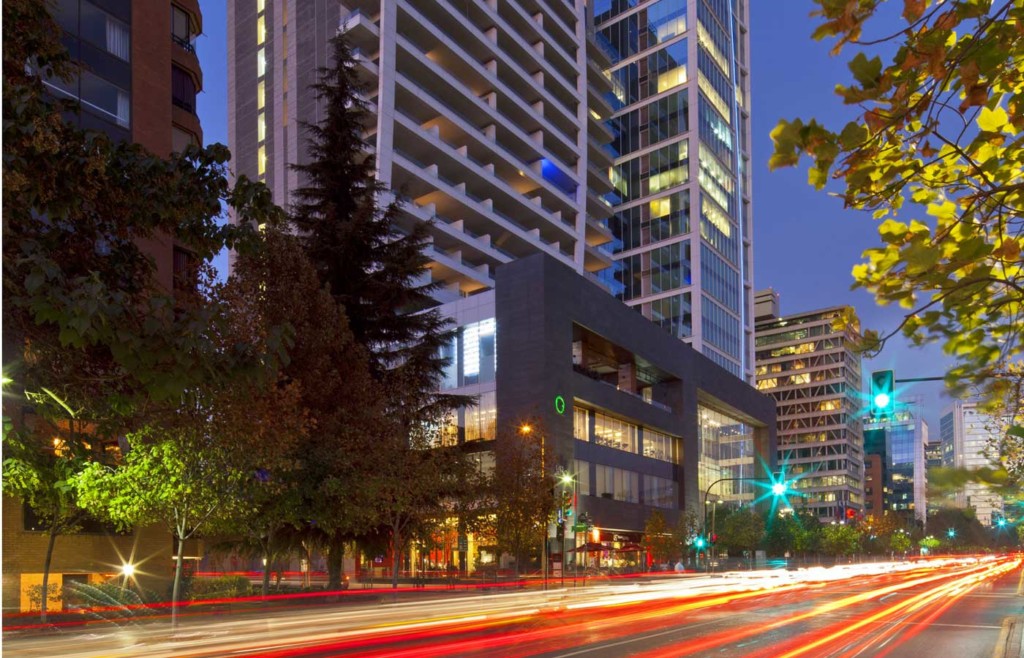 The first W to be opened in Latin America was in Santiago, Chile's capital city. Situated in the upmarket district of Las Condes, it is the perfect base for exploring on a luxury holiday in Chile. The hotel claims to be the trendiest in the city and we are inclined to agree. The hotel boasts a rooftop bar which offers stunning views over the city and the Andes mountains that surround it. For something a little more personal, there is an exclusive little Wine Tasting Room where the hotel's sommelier will help you to sample some of Chile's fine wines from their collection of a wonderous 1,600 bottles.
You can be sure to eat well on a luxury holiday to Chile and nowhere is this truer than at the W. With four dazzling restaurants, guests are spoilt for choice between La Terraza; Chilean food with a Mediterranean influence, tapas at the W Lounge, NoSo which serves French classics reimagined with a modern twist, and Peruvian-Asian fusion at Osaka restaurant. Between Chilean classics and daring fusion recipes, guests can enjoy a culinary journey around South America from the comfort of the hotel.
The 190 rooms at the W Santiago are categorised from Wonderful (a great place to start) up to Extreme Wow – the Presidential Suite featuring a 400 square foot private terrace, a separate, oversized living room and spectacular views. In fact, the views are a focal point in all of the rooms as the floor to ceiling windows showcase some of the best vistas Santiago has to offer. The décor is inspired by the landscapes of Chile and finishing touches include paintings by renowned Chilean artist Marcial Ossio.
If you wish to keep up with your exercise regime while travelling, the O2 Balance and Wellness Club offers all that you will need including yoga, pilates and state of the art gym equipment for a cardiovascular workout or weights session. The hotel's Whatever/Whenever service allows guests to have a personal training session during your trip, if that's really what you want to do with your holiday to Latin America! A more relaxed and very cool way to get your exercise is the rooftop lap pool which offers spectacular views of the Andes mountains as you get your laps in, or … you could lie on a sun lounger with a cocktail!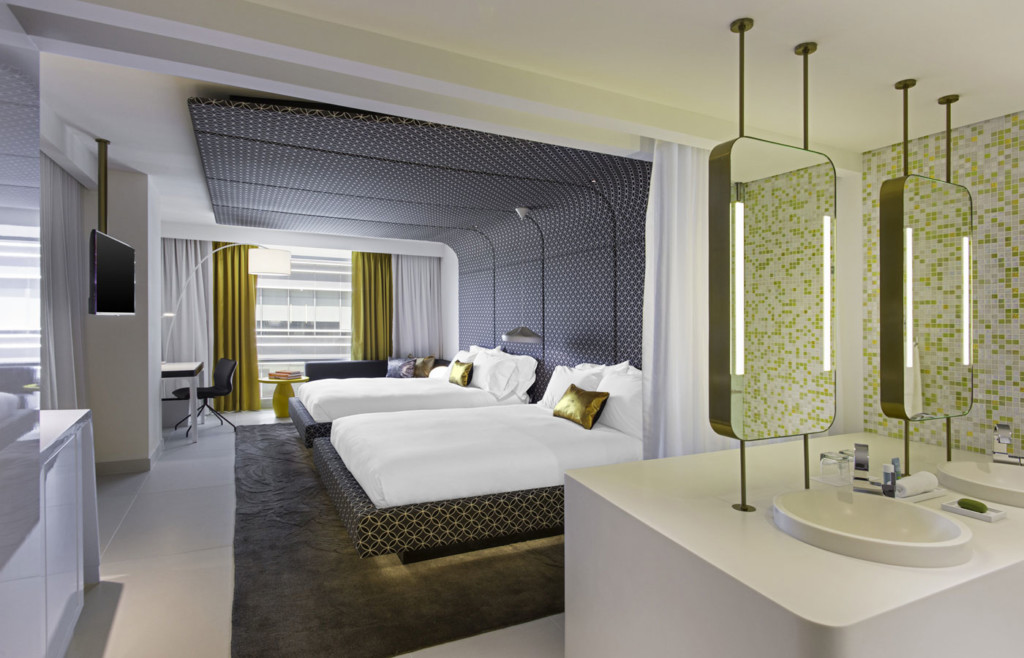 W's second South American venture was their Bogotá hotel. This is a cool and sophisticated hotel in a buzzing and growing city. Its location is a prime one, rubbing shoulders with embassies, restaurants and upscale boutiques in the Santa Barbara neighbourhood. The design inspiration comes straight from two of Colombia's most famous products; gold and emeralds, which really adds to the vibe in this modern luxury hotel.
Each of the rooms features touches of gold and floor to ceiling windows, making sure that no guest misses out on the great views. The Suites – Wow and Extreme Wow – boast striking feature walls which complete the feeling of glamour in this luxury hotel. Bliss amenities are an added touch of indulgence used in each room and the W signature beds really do make for a good night's sleep.
Facilities-wise the Bogotá offering is every inch as well-equipped as the Santiago hotel. The Market Kitchen serves fresh flavours in a relaxed atmosphere which perfectly matches with the coolness of Colombia's capital city. In the W Lounge, guests can sample signature cocktails – we recommend the Lulo using fresh lulo juice, a sharp and refreshing native fruit while listening to live DJ beats. The Away Spa is the perfect place to indulge in a treatment, take a sauna or enjoy the hydrotherapy pool for a truly relaxing experience. The FIT gym offers state of the art machinery and personal training sessions for the fitness fanatics.
The newest W hotel to open in Latin America is the W Reserva Conchal in Costa Rica. Located on the northern Pacific coast in the dry and picturesque Guanacaste region, nestled between the mangroves and beautiful beaches, it opened in late 2018. Once again, the local influence is strong in the décor with fresh, natural colours bringing in the surrounding rainforest and bright, tropical accents adding some Costa Rican zing. The 150 rooms all have floor to ceiling windows with views of either the ocean or the gardens. Extra touches include an espresso machine and a draft beer dispenser and suites include a plunge pool overlooking the ocean.
There are several dining options including seafood with a Thai twist at 10° Norte and local and international dishes at Cocina de Mercado. The Zona Azul beach club and restaurant is a vibrant lounge during the day and a hopping hideaway at night complete with DJ beats to match. The poolside bar, WET Deck is the perfect place to relax with a cocktail and enjoy a Pura Vida bowl – a Costa Rican take on a fashionable and healthy 'buddha' bowl.
Health and fitness are well catered for at this hotel and the Spa offers indulgent massages, body wraps and beauty therapies. Guests have 24-hour access to the cardiovascular equipment and the pool is also incredibly spacious. An extra bonus at this hotel is the 18-hole golf course located within the resort. Lessons are available and there is even a golf programme for juniors.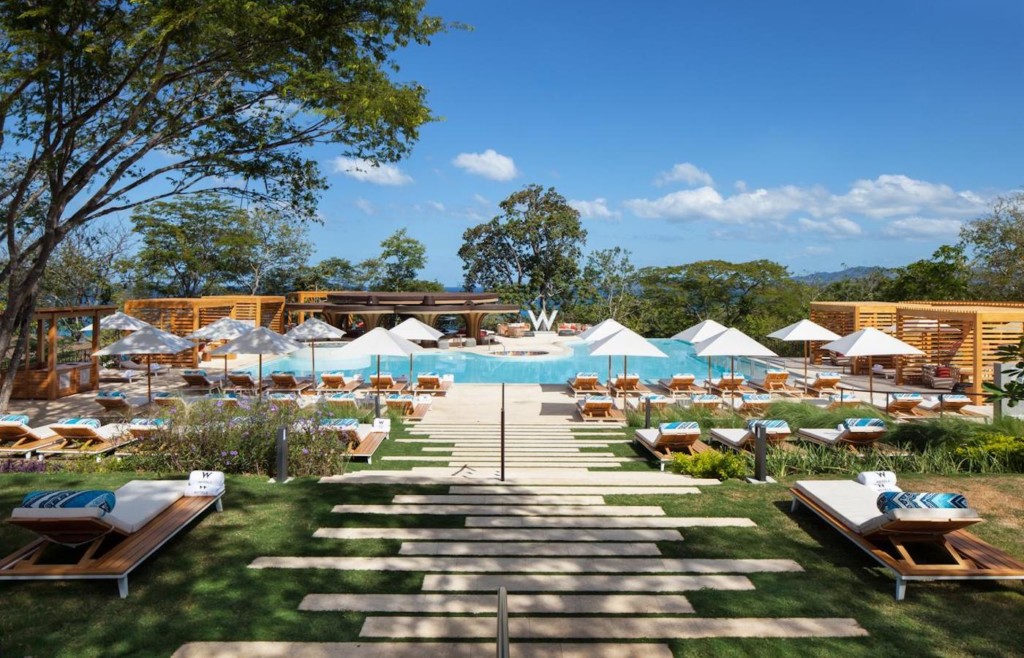 The W chain also boasts three fabulous hotels in Mexico: Punta de Mita on the Pacific Coast, Cancún on the Atlantic side, and a wonderful urban hideaway in Mexico City. Another favourite is the W's stylish tower hotel in Panama City's glamorous new town, ideally located for those using Panama City as a stop-off point in between Central and South American legs of a trip.
The W hotels in Latin America are off to a great start with the current selection and with a new W hotel coming to São Paulo, Brazil in the near future, here's hoping they open even more soon. The perfect fit for young couples or design-minded individuals looking for something a little more dynamic, W Hotels offer edgy style in abundance; always in prime locations with excellent facilities.
Are you planning a trip to Latin America? Learn more about the W Santiago here and click here for the W Bogotá. Contact us today to begin planning your luxury holiday with one of our dedicated travel specialists.