Carnivals and Festivals
This diverse continent has some of the best carnivals and festivals in the world covering ancient and religious cultures through to modern celebrations.
Nobody does a carnival like the Latin Americans and they certainly know how to party! Latin American carnivals and festivals are diverse and far reaching. Each country has several versions, varying from centuries old rituals to Christian traditions and modern day brilliance in the form of gay pride. With dance, history, religion or culture is your thing, there will be a Latin American carnival to suit your tastes.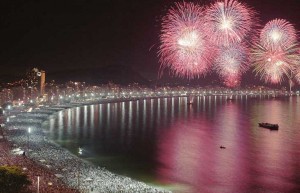 New Year
Cities all over Latin America celebrate the New Year in style.  You can expect extravagant firework displays, raucous all-night parties and plenty of dancing. You could find yourself watching a parade in Peru or barefoot in the sand at a beach party in Brazil along with a million other people all dressed in white. Either way, a New Year spent at a Latin American carnival will be an experience you'll cherish.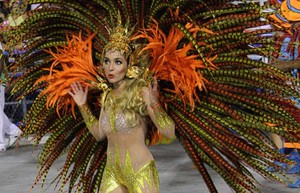 Rio Carnival
February is the month to travel if you want the original Latin American carnival experience. The best known of all is Rio Carnival, which begins 40 days before Easter and continues for 6 days of non-stop celebrations. Salvador, Recife, Olinda and many other areas of Brazil also host huge festivities attracting hundreds of thousands of partygoers during this time. You can even take part in the parade yourself.  Dance down the sambadrome dressed in a beautiful costume for a real bucket list experience.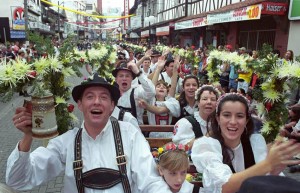 Oktoberfest in Blumenau, Brazil
Well known in Europe, this beer celebration began when German immigrants living in Blumenau, Brazil decided to host their own version of the popular festival. Now the event attracts almost 1 million people who come to feast on traditional German cuisine whilst drinking large steins of beer in a Latin American carnival like no other. Other highlights include a competition to see who can drink 600ml of beer fastest and the crowning of the most beautiful 'Oktoberfest Princess'.
Medellin Flower Festival
For two weeks in late July and early August, the Colombian city of Medellin is filled with colour as the annual Flower Festival takes place. This traditional festival celebrates the way of life in this vibrant region of Colombia by showcasing the best it has to offer. Stunning floral displays are just part of the attraction, with entertainment from local cattle ranchers plus irresistible local cuisine adding to the Latin American carnival atmosphere.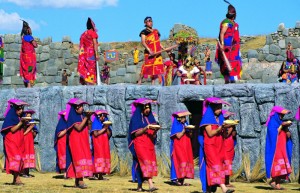 Inti Raymi, The Festival of the Sun
The Festival of the Sun is celebrated throughout the regions of the Andes in worship of the ancient Incan god 'Inti'. It takes place every year at the winter solstice, the 24th June, and the majority of the festivities are found in Cusco, Peru. Visitors will enjoy colourful costumes, traditional music, jubilant singing and of course, delicious local food in this truly spectacular Latin American carnival.
Tapati Rapa Nui Easter Island
The first two weeks of February sees the entire Easter Island community coming together for a unique celebration of their cultural heritage. This show is for the islanders' benefit and has not been altered for tourists, making it even more of an authentic Latin American carnival not to be missed. Music, dancing and traditional sports make up the main bulk of the festival and it's a chance for the islanders to really let their hair down. Tribes compete against each other and whilst males show off their masculinity by taking in part in triathlons and shows of strength, the woman perform traditional dances to Polynesian music.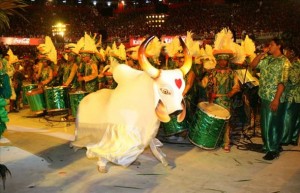 Parintins Folklore Festival
Situated in the heart of the Amazon, 'Boi Bumba' celebrates the unique culture of the people who live in this fascinating environment through ancient stories, myths and legends. Throughout the festival storytellers, huge floats and extravagant costumes fill the streets, many of which are modelled on the colourful wildlife and tribes of the rainforest. This Latin American carnival attracts huge crowds, and for good reason.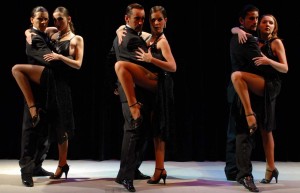 Buenos Aires Tango Festival
It is almost impossible to visit Buenos Aires without coming across a tango show at some point.  This sensual, passionate dance is performed in bars, theatres and even in the middle of the street. August signals the start of the annual 18 day Tango Festival – where competitors show off their best moves to beat competitors and win the crown. The opening ceremony alone is spectacular, attracting thousands of people from all over Argentina to one of the best carnivals in Latin America.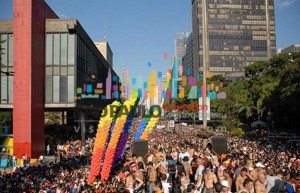 Gay Pride Sao Paulo
The celebration of Gay Pride in Sao Paulo is the biggest of its kind in the world. Attracting an astonishing 5 million people in 2015, this parade grows in popularity every year. Taking place in May or June, revellers take to the streets to party the night away wearing spectacular outfits and outrageous make up in rainbow colours. Throughout the 2 weeks of the festival, visitors can expect powerful presentations and vibrant ceremonies all leading up to the fabulous parade in one of the most flamboyant Latin American festivals.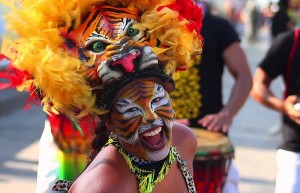 Carnival de Barranquilla Colombia
Colombia's biggest folklore festival, the Barranquilla Carnival is an energetic show of colour, dance and music which takes place 40 days before Easter. With a strong focus on traditions and celebrating the culture of Colombia, this Latin American carnival was declared a Masterpiece by UNESCO, preserving its origins forever. For 4 full days, people from all over the country take to the streets causing Barranquilla to come to a complete standstill whilst parades, dance processions and groups of musicians carve their way through the crowds.