Beach Holidays
Clean, white sands, gently waving palms, relaxation and activities, Latin American beaches have it all.
Boasting tropical coastlines along the Caribbean Sea, secluded coves with turquoise waters surrounded by lush vegetation and wide stretches of deserted sandy shores, Latin America has some splendid beaches to suit all tastes. Beaches for surfing, beaches for scuba diving, beaches for sunbathing… you name it, it has it. From the best beach destination, Brazil, with over 5000 miles of coastline to Caribbean Colombia or the less-visited but spectacular, Uruguay there are big-hitters and plenty of hidden gems just waiting to be discovered on a Latin American beach holiday.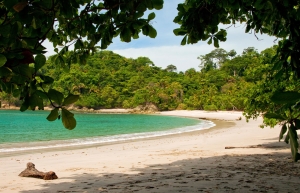 Tamarindo, Costa Rica
Take some time out in this super laid back beach resort on the tropical Costa Rican coastline. Surfers gather here to catch a wave or two before retiring to the shore for tropical juice cocktails, and to watch some of the best sunsets on the planet. This trendy town has a selection of bars which ooze style and luxury, whilst maintaining an air of relaxed glamour. For some of the best dining experiences in the whole country, the restaurants of Tamarindo are a must visit, offering fresh seafood and delicious stews.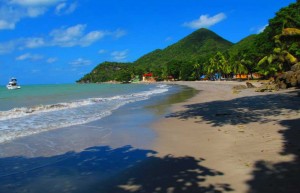 San Andres, Colombia
San Andres epitomises Caribbean paradise, in a UNESCO biosphere reserve off the coast of Colombia. An island of coconut palms and crystal clear waters, it doesn't take long to see the attraction. It has a unique and fascinating creole culture, setting it apart from the Colombian mainland. With some of the best diving and scuba diving in the Caribbean and beautiful deserted beaches, it is well worth a visit on a beach holiday to Latin America.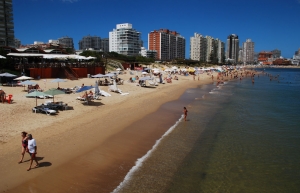 Punta del Este, Uruguay
A favourite with celebrities, Punta del Este is fast being internationally recognised as an exclusive and stylish beach resort. During the day, sun worshippers laze on the white sands and at night music plays and lanterns are lit along the shore for the many beach parties that take place. Once you've soaked up enough sun, a number of chic shopping opportunities await, as does the interesting museum and café of Casapueblo. Further afield it is possible to visit sea lion colonies and the iconic 'Mano de Punta del Este' sculpture. Glamourous and feisty, and with an impressive list of private properties, this little peninsula is a great place for a stylish beach break.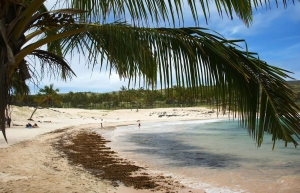 Easter Island, Chile
This unique island off Chile is not the first place called to mind when thinking of beaches but it is certainly worth consideration. The three main beaches on the island offer pristine sands, beautiful palm trees and excellent surfing and body boarding. Anakena is the main beach and has everything from warm, calm water to a touch of history as it was here that the first king of the island landed. If you are looking for something quieter and more intimate head to Ovahe; smaller and more secluded or Pea; best for surfing, body boarding and spotting sea turtles.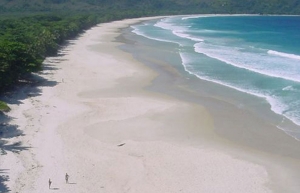 Rio and around, Brazil
The famous beaches of Copacabana and Ipanema are what springs to mind when thinking of Rio de Janeiro. However, some of the best beaches are found further along the coast from Rio. Elegant Buzios, made famous by Brigitte Bardot's visits in the 1960s and now known as South America's answer to St Tropez is a beautiful resort 2 hours north of Rio. To the south, the Costa Verde (Emerald Coast) offers many stunning beaches. The beautiful town of Paraty with its cobbled streets, pastel coloured buildings and sandwiched between the rainforest and the Atlantic Ocean is the jewel in the crown of the Costa Verde. You will fall in love with Paraty, its beautiful beaches and islands dotted out to sea. The island of Ilha Grande, located off the Emerald Coast offers unspoilt beaches, treks through the rainforest and fantastic surfing.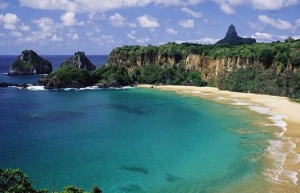 Fernando de Noronha, Brazil
This archipelago of 21 islands off Brazil's north coast is one of the most amazing places in the world. Stunning, pristine beaches, beautiful turquoise waters and some of the best diving on the planet make it a must-see on any tailor-made trip to Latin America. The islands and waters that make up this area were Brazil's first marine reserve and as such the environment is very important here. The charm of this is taken into consideration in every aspect of the island and it is always a privilege to be part of such a special place.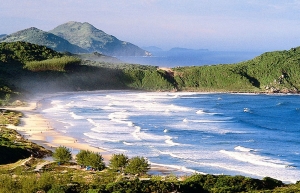 Praia do Rosa, Brazil
Praia do Rosa lies to the south of Brazil and has much to recommend it, not least of all Baia Bela which has been dubbed one of the most beautiful bays in the world. The seas offer excellent surfing opportunities as well as the chance to see Southern Right Whales between June and November. Despite all of these attractions, Praia do Rosa remains relatively untouched and certainly one of the less visited beaches in Brazil, making it a perfect place to head for relaxation.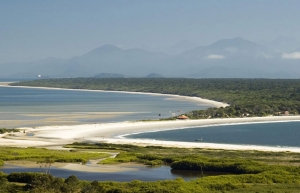 Ilha do Mel, Brazil
The name Ilha do Mel or honey island conjures up images of a romantic getaway and the island itself does not disappoint. Situated lies off the coast of the state of Parana in the south of Brazil it is a beautiful hour glass shaped island, free from cars and pollution. The island is perfect for those looking to relax or equally for exploration as it has a number of walking trails out to attractions such as the 18th century Portuguese fort or Farol das Conchas lighthouse from where you can obtain a good perspective of the island.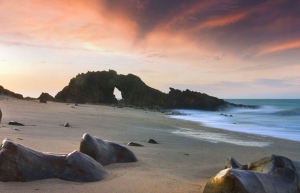 Jericoacoara, Brazil
Jericoacoara is a little piece of heaven up on Brazil's north-east coast. Its laid-back, unpretentious vibe makes it a popular place to relax for a few days or a couple of weeks if you have the time! The vast beach is a great place to spend the day and make sure you gather with the locals on the huge sand dune to watch the sunset, preferably with a caipirinha in hand. Jeri, as it is known, is famous for water sports, in particular kite surfing for which it is one of the best destinations in the world. The nearby beach of Cumbuco also offers great kitesurfing, the mix of big dunes and flat sea, as in Jeri, building up a great wind for this popular sport.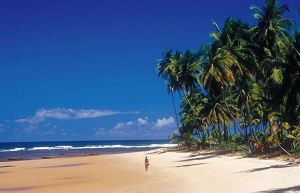 Bahia, Brazil
In the state of Bahia in the north of Brazil, you will be spoilt for choice when it comes to beaches. One of our favourites is Trancoso, popular with celebrities and locals alike, it is Brazil's coolest beach destination. Offering luxury hotels, chic boutiques and a fantastic beach this charming town is not to be missed. The Marau Peninsula is in the south of Bahia and a perfect beach destination close to the vibrant city of Salvador. Set in an idyllic area of islands, mangroves, palm trees and lakes, it offers deserted beaches and stunningly unspoilt scenery as far as the eye can see. Corumbau translates as 'away from all worries' in the native Pataxo-Indian language and this phrase perfectly sums up the essence of this beautiful beach hideaway. The appeal of this place is its stunning remote setting, coupled with true Brazilian hospitality.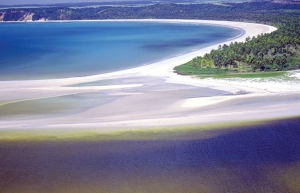 Alagoas, Brazil
For the best of untouched Brazil, you cannot go wrong with the state of Alagoas in the north. Little visited by international tourists and stunningly beautiful, it offers unspoilt beaches and perfect tranquillity. There are many reefs along the coastline and these, coupled with crystal clear waters offer excellent snorkelling and opportunities to see fish and sea creatures in their natural habitat.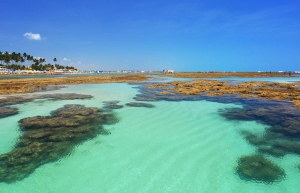 Porto de Galinhas, Brazil
Porto de Galinhas is one of the most famous beaches in Brazil and according to many, also the best, an accolade it regularly wins. Once a small fishing village, it is now the playground of Brazil's rich and famous. The natural pools and reefs make it an ideal destination for those wanting to snorkel and add much to the beauty of the place.